Marina Milojević
|
02.11.17
|
09:52 PM
Breitling introduces a brand new version of its most popular Colt, which has been one of the Breitling's most accessible models, for a long time. The entry-level, quartz-powered new Breitling is said to be dedicated to thrill-seekers.
This military-inspired sports watch, for the first time ever, arrives with an ultra-light and ultra-sturdy case, made from Breitling's proprietary alloy named Breitlight, which is 3.3 times lighter than titanium, and no less than 58 times lighter than steel. Featuring an ultra-technical, masculine, black design, the model is dubbed Skyracer, which is a subtle tip of the hat to the plane flying under Breitling's colors in the Red Bull Air Race.

MXS-R Skyracer plane of the Breitling Racing Team
flown by aerobatics rising star Mika Brageot
The highly efficient and ultra-reliable Colt Skyracer measures 45mm in diameter. Its state-of-the-art case makes it exceptionally resistant to scratches, violent shocks, traction, and corrosion. Moreover, Breitlight, which possesses superior anti-magnetic and anti-allergenic properties, is also more comfortable to wear than any other metal. The case accommodates a thermocompensated SuperQuartz movement, Caliber 74, which is no less than ten times more accurate than any standard quartz. Just like all other Breitling's movements, the SuperQuartz is chronometer-certified by the COSC, and proven to be extra-reliable.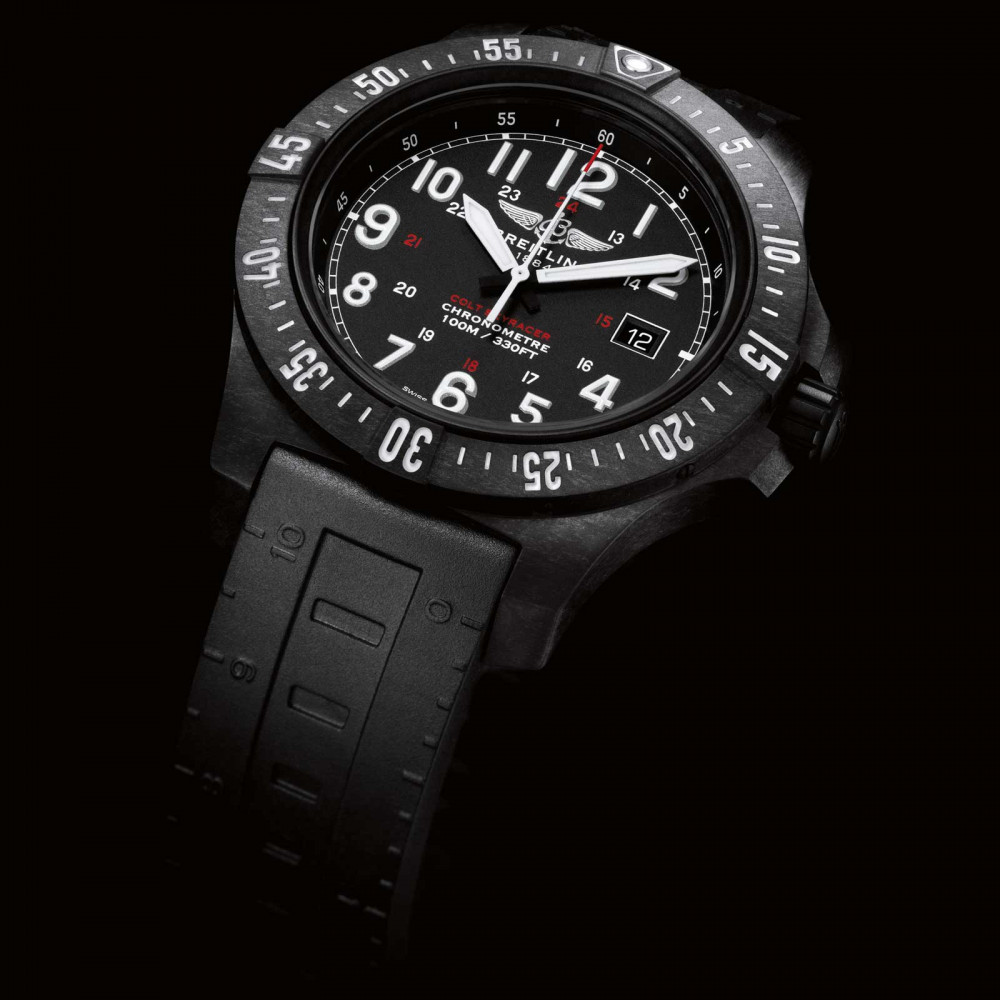 Having all the qualities of an authentic instrument for professionals, Breitling Colt Skyracer, a highly legible timepiece. Its dial, marked with white luminescent hands and indications set against a deep black backdrop, is enlivened with red accents reminiscent of instrument panels in military airplanes. The dial also features an additional, 24-hour military scale.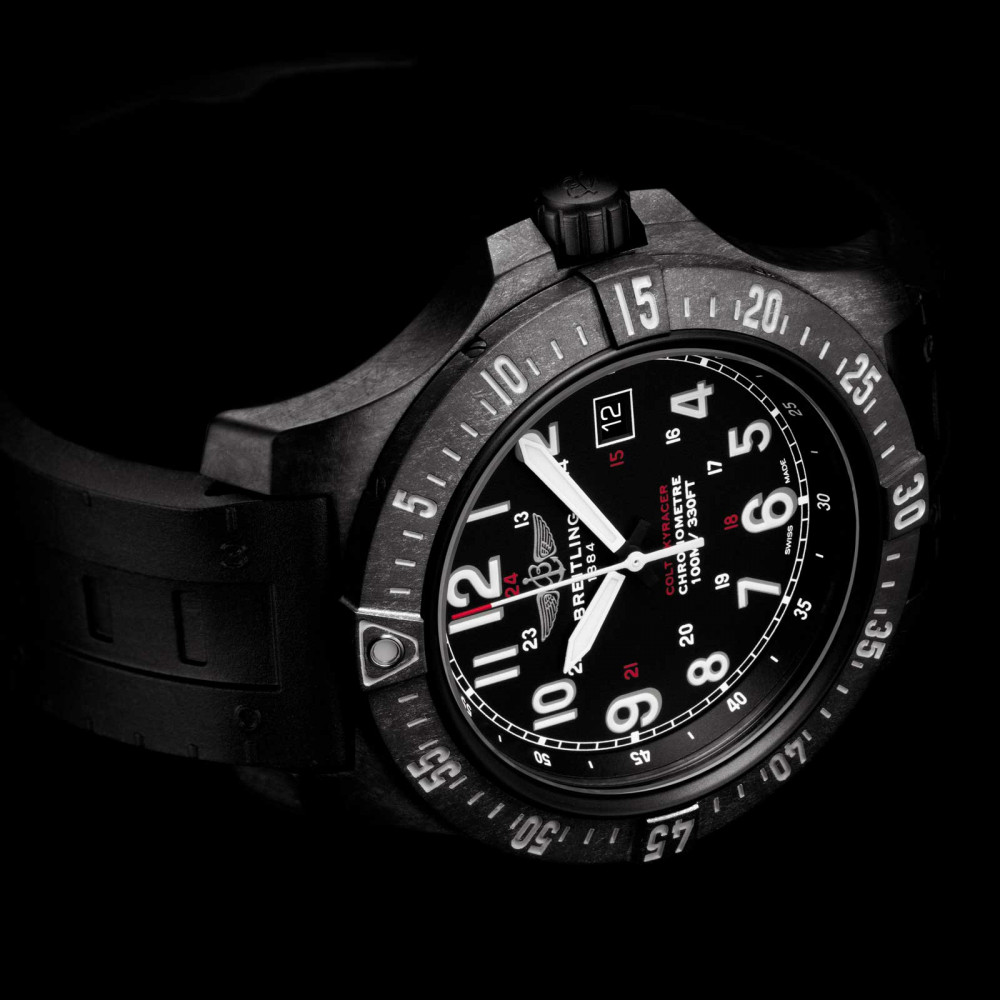 Breitling Colt Skyracer is water resistant to 100 m (330 ft) and equipped with Breitling's signature rotating rider tab bezel, which serves to memorize times. The exclusive black rubber strap bears various measurement scales, which can come handy to thrill-seekers and adventurers: 1:25,000 and 1:50,000 scales on the 12 o'clock strap section, centimeters and inches on the 6 o'clock section. A special removable fastening system allows the wearer to quickly detach each of the sections and use it as a measuring instrument.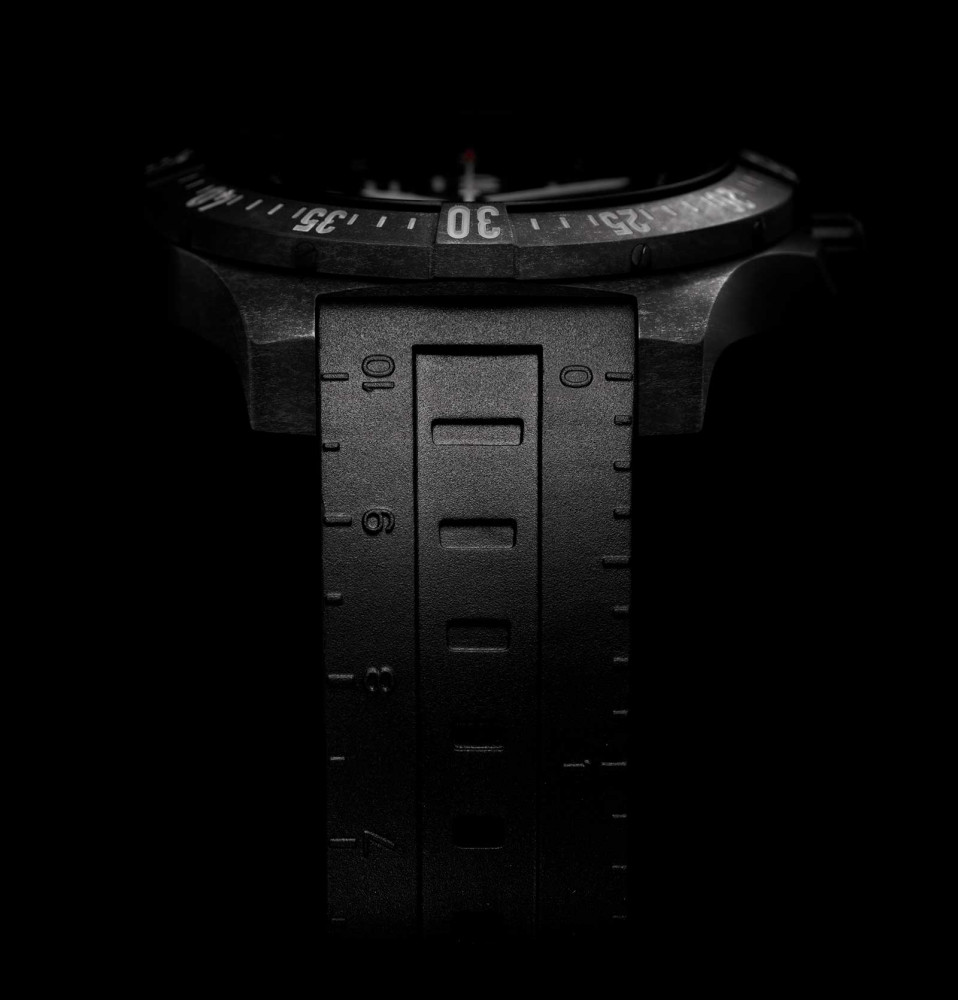 Breitling Colt Skyracer, reference number X74320E4|BF87|293S|X20S.1. Price upon request at Breitling online.
Breitling collections
Advertisement
Right now 100+ watches on sale!
Latest News from Breitling