Marina Milojević
|
02.19.17
|
07:55 PM
Just in time for BaselWorld 2017, Harry Winston introduces a new member of its Avenue Collection – the Avenue Classic Cherry Blossom. The iconic Avenue collection is a homage to New York's Fifth Avenue, which is also home to the very first Harry Winston Salon. Classic lines and rectangular cases, inspired by Art Deco, distinguish all watches belonging to this prestige collection, a bridge to the magnificent past of Harry Winston. The latest addition to the range, Avenue Classic Cherry Blossom, unites the beauty of nature with the architecture of Harry Winston's Fifth Avenue Flagship Salon in New York. While its elegant 18-karat white gold case echoes the stately stone façade of the Fifth Avenue Salon, and its tree supporting arches, the dial reveals a glorious scenery inspired by the Japanese Sakura season.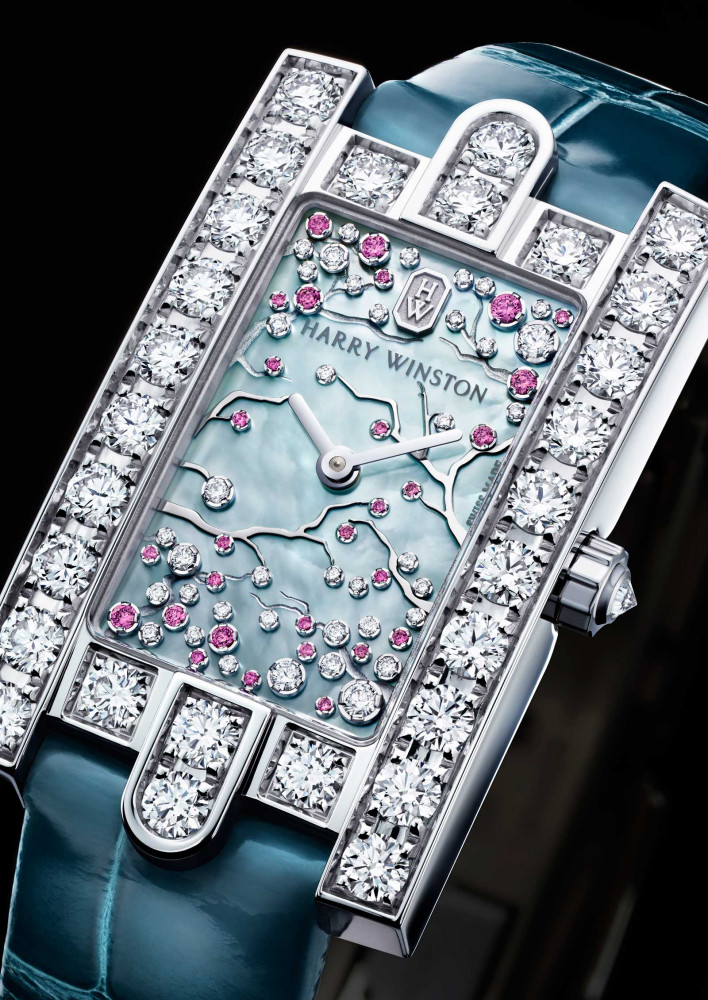 This year, Harry Winston designers have found inspiration in the seasonal blooming of the cherry blossom tree. The amazing floral motif is also a kind of a tribute to Mr. Winston, the legendary jeweler and creator of the Harry Winston brand, who often translated beauties of the nature into high jewelry diamond designs. In Japanese tradition, the delicate white and pink flowers of the Sakura announce the arrival of spring, while also symbolizing the renewal of life and optimism. However, since they bloom only for a short time, their fallen petals serve as a reminder of our own mortality, and of how precious life really is.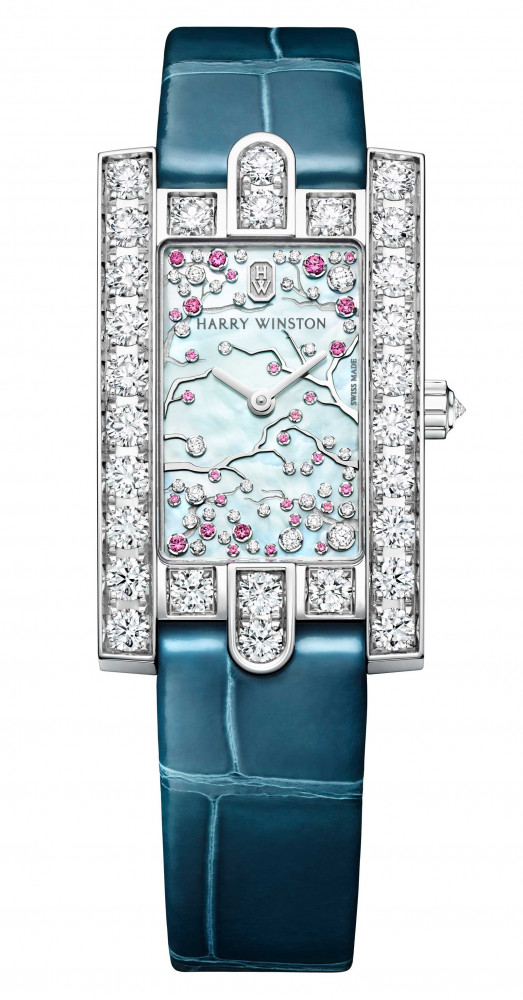 The dial of the Avenue Classic Cherry Blossom depicts the flowering of the cherry tree. The background is crafted from pale aquatic green mother-of-pearl, while the natural iridescence of the nacre portrays clouds on a spring day. A swarm of 39 brilliant-cut white diamonds and 29 brilliant-cut pink sapphires, scattered across the dial, represent the flowers and petals of the cherry blossom tree. Some of the flowers are attached to the white gold branches, while others appear to be floating gently to the ground. The diamonds are cut in different sizes to create a sensation of depth and movement.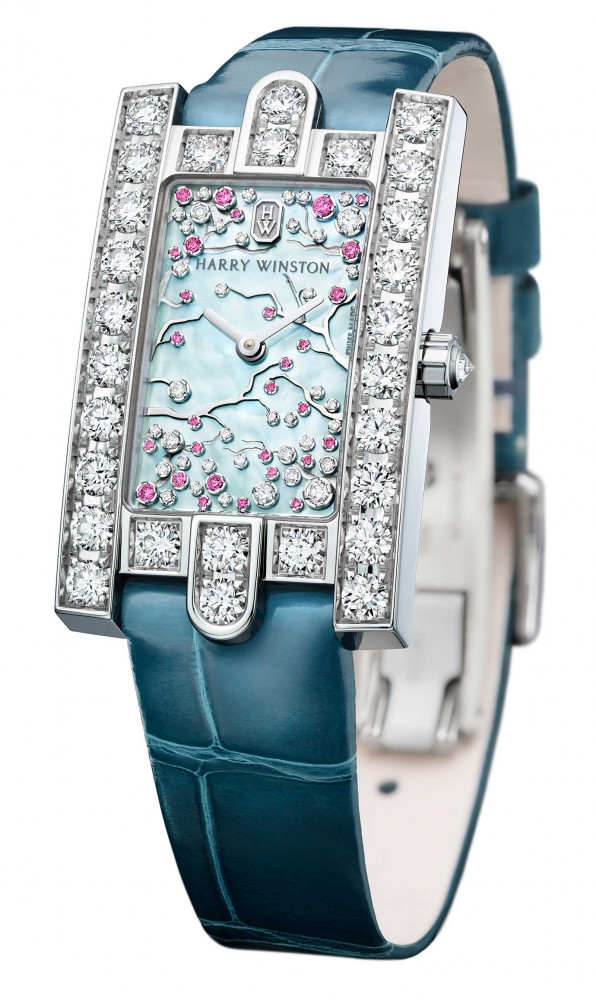 The watch is housed in an elegant white gold case, evocative of the stone façade of Harry Winston's Salon. The 18karat white gold case is set with 29 brilliant-cut diamonds. Placed on the dial at 12 o'clock, the letters HW are housed in an octagonal frame, recalling the shape of Mr. Winston's favorite diamond cut - the emerald cut. The case is mounted on a green-blue alligator leather strap, with the exclusive 18-karat white gold buckle set with 6 brilliant-cut diamonds.
Harry Winston Avenue Classic Cherry Blossom, reference number AVEQHM21WW286, is powered by quartz movement HW1044. The watch measures 21.15 mm x 36.1 mm in dimensions, and is 6.68 mm thick. Water resistant to 30 meters.
Photos courtesy of Harry Winston.
Advertisement
Right now 100+ watches on sale!
Latest News from Harry Winston