Marina Milojević
|
05.11.17
|
12:43 PM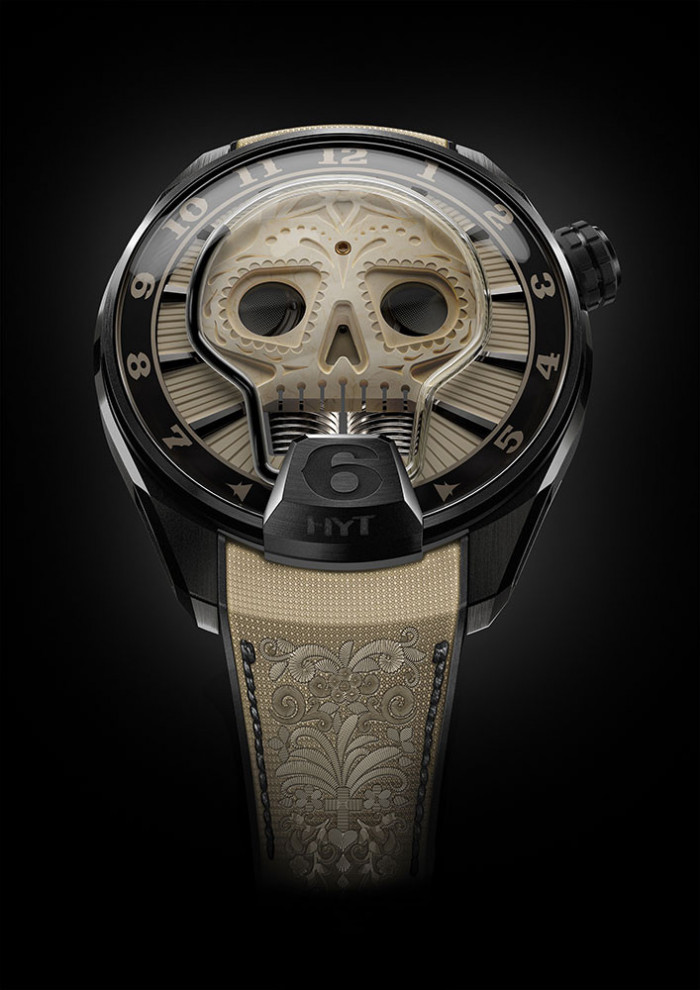 HYT, the famous contemporary watch manufacture known for creating exclusive hydro-mechanical timepieces, has just released the amazing new HYT Skull Vida, a watch created from rare and precious Siberian mammoth ivory! The extraordinary new creation, which belongs to HYT's highly successful Skull Collection, celebrates the passing of time in the most original way. As a modern day memento mori, every watch from this range features a large skull motif on the watch face. Playing with codes of life and death, it measures the passing of time, while reminding us of our own mortality and the importance to seize every minute of the day.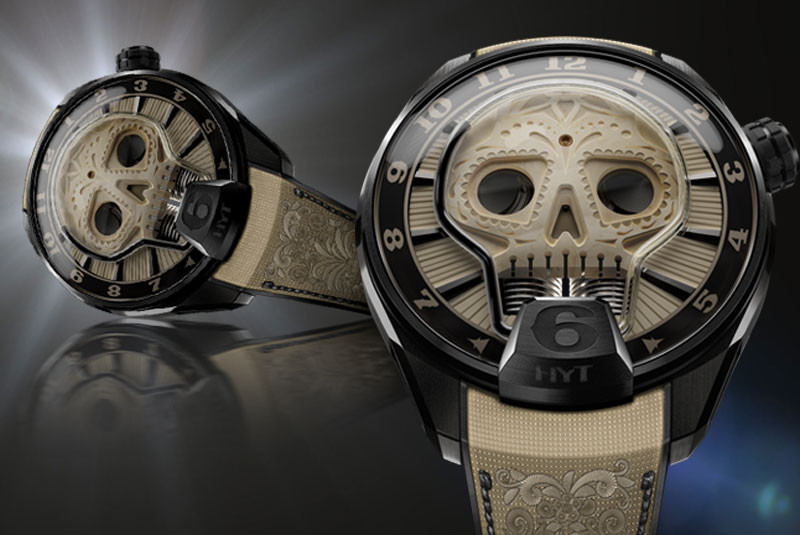 Due to the preciousness of the raw material, the HYT Skull Vida arrives in HYT's most restricted limited edition ever – in just five exemplars. Each of them is completely unique, as they're made from organic material – mammoth ivory from many millennia ago - shaped by a hand.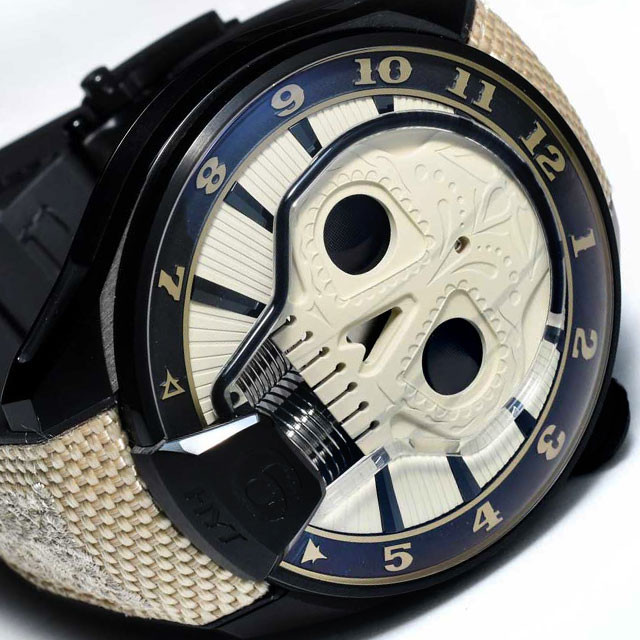 "Our first Skull collections fell within the tradition of Memento Mori, reflecting in particular the Mexican culture of Dia de los Muertos, where death is celebrated in the same way as life, in a celebratory communion of the passing of time," recalls Grégory Dourde, CEO of HYT. "However, we felt that we could go even further still by literally combining life and the unique flow of time with our fluid technology and a dial made from an authentic material, a true living sculpture. The Skull Vida was born from this all-encompassing, holistic vision."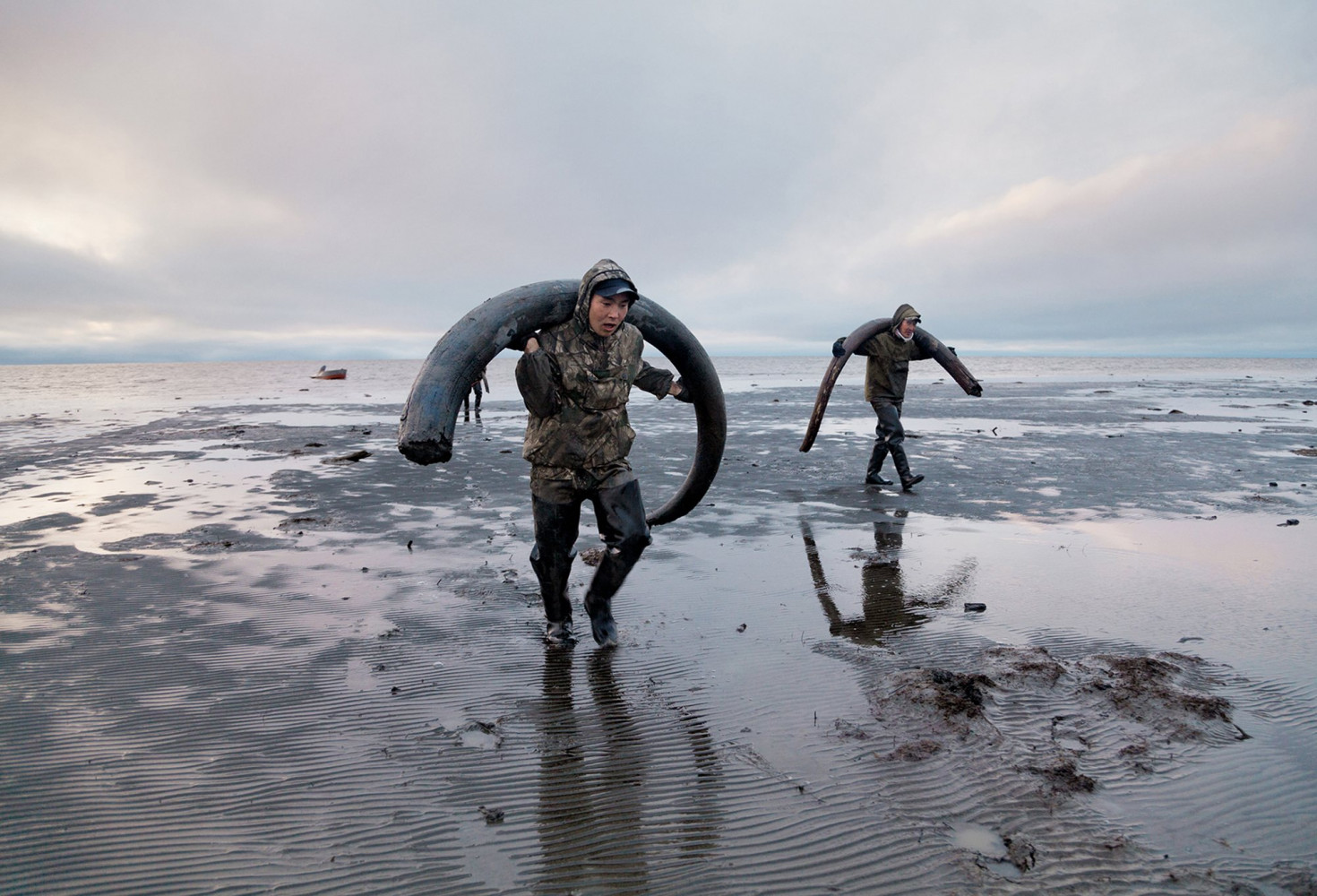 Mammoth Tusk Hunters photo by Evgenia Arbugaeva
Visit her website to see the complete gallery of amazing Mammoth Hunter photos.
But, one may ask, shouldn't we be concerned about using prehistorical materials in our watches? Wouldn't these remains be better served for viewing in a museum? The answer is more than surprising. Following a global ban on the trade in elephant ivory, Russia started mining the remains of its long extinct woolly mammoths to offer an ethical alternative for ivory. Woolly mammoths are thought to have first appeared on the earth 4.8 million years ago, and became extinct at least 3,600 years ago. Scientists believe there may be as many as 150 million dead mammoths frozen beneath the Siberian tundra. In fact, every year, when the tundra melts in summer, Siberian locals scour the area in northern Siberia looking for mammoth tusks. The majority are exceptionally well-preserved as they have been held captive in ice for 15,000 to 30,000 years. The ivory sourced this way sells for as much as $1,900 per kilogram.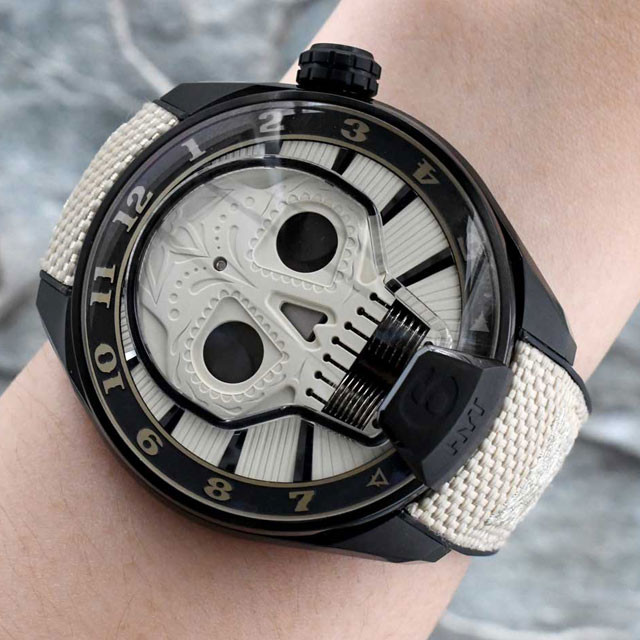 The amazing new HYT Skull Vida is housed in a 51 mm black DLC titanium case with polished, micro-blasted and satin-finished finishes. The watch is, of course, powered by HYT's exclusive hand-wound movement (28,800 Vph, 4 Hz, 35 jewels) providing black retrograde fluidic hours, seconds, and 65-hour power reserve with indication. The seconds are displayed in the left eye socket, while the power reserve is on the right. The separation point of two immiscible liquids indicates the hours, and gives a good estimate of the minutes – this model doesn't have a precise minute indicator. Water resistant to 50 meters.
HYT Skull Vida, reference 151-DL-48-NF-BB, is available in a 5-piece limited edition. The watch is mounted on a beige embroidered fabric strap with a DLC titanium deployant buckle. The suggested retail price is USD $95,000. More information at HYT.com.
HYT collections
Advertisement
Right now 3 watches on sale!
Latest News from HYT