Marina Milojević
|
12.12.16
|
06:03 PM
The house of Jaquet Droz welcomes the upcoming Chinese New Year, and its ruling sign – the Fire Rooster.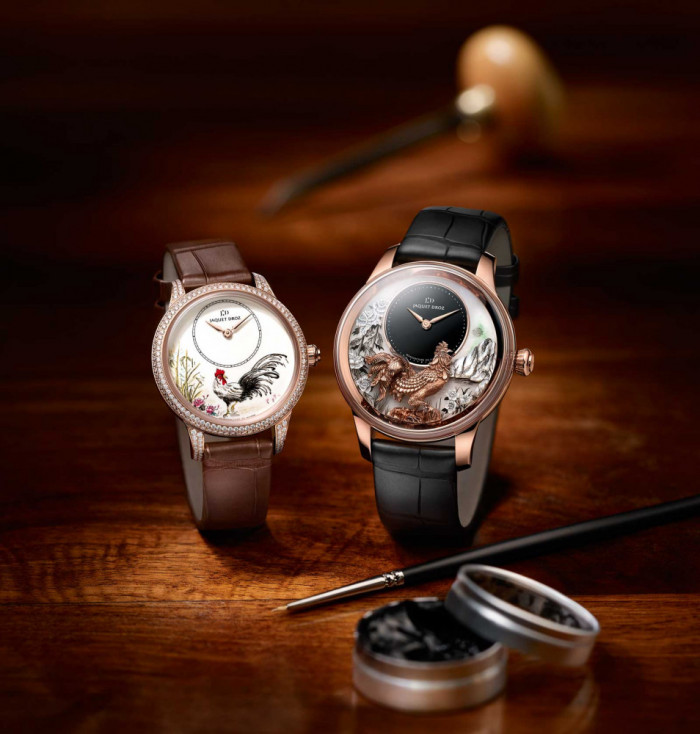 As the Chinese calendar turns, after the Year of the Monkey comes the Year of the Rooster, which begins January 28, 2017. To mark this special occasion, which is a time to honor deities as well as ancestors, Jaquet Droz unveils four spectacular models. Each of them also celebrates the brand's historic ties with China, and exemplifies collaboration between its numerous Ateliers d'Art. Needless to say, the rooster timepieces go with the great naturalist tradition cherished by Jaquet Droz.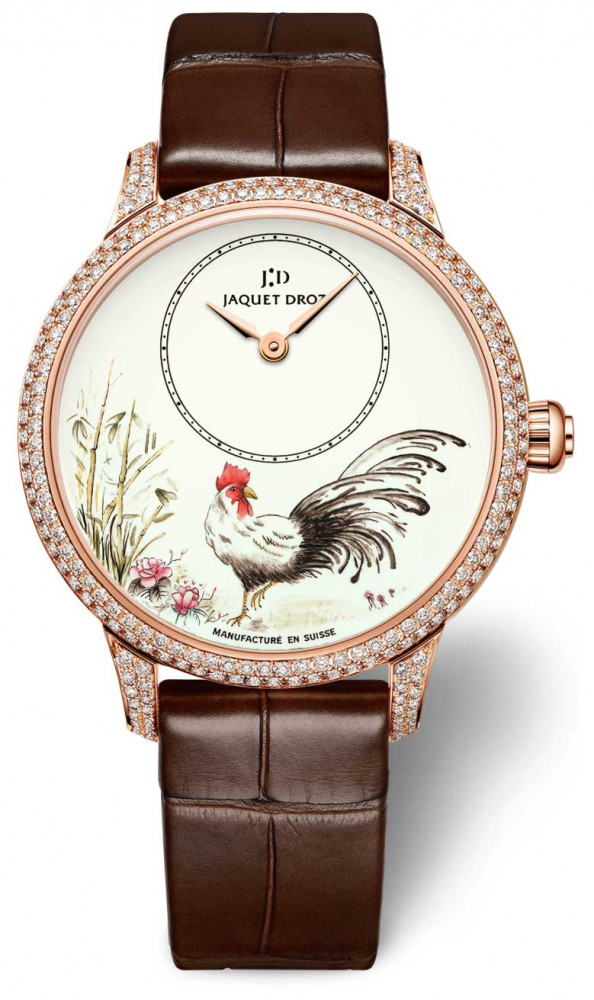 Jaquet Droz Petite Heure Minute Rooster J005003222 – 28 pieces
35mm 18-karat red gold with 232 diamonds, total of 1.23 carat.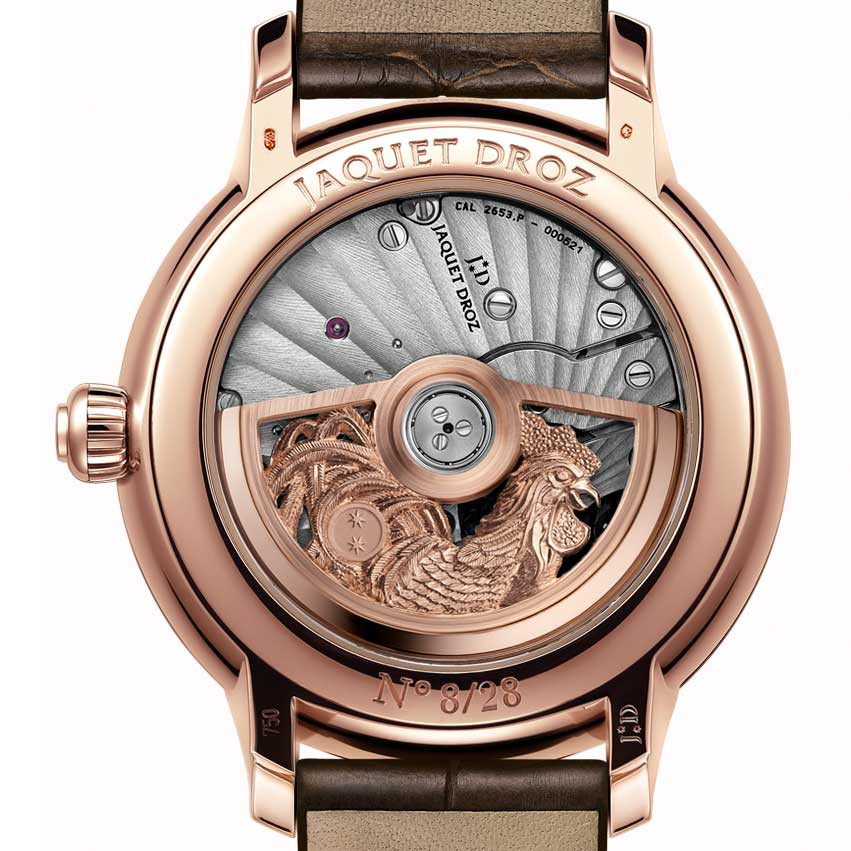 The craftsmen of the Ateliers d'Arts have created two new models, each based on the emblematic Petite Heure Minute, and each available in two versions. Two of the models pay tribute to miniature painting, while the miniature sculpture technique was used for the other two models. The beautifully painted dials of Jaquet Droz Petite Heure Minute models were created using Grand Feu enamel technique. The dals are housed in 39 mm red gold cases, and set with diamonds for the 35 mm model. The miniature image of a rooster, surrounded by peonies, a flower that represents springtime renewal, appears in the center of the dial. The watercolor style painting also reveals bamboo shoots, which symbolize a hope that the upcoming year will be filled with happiness.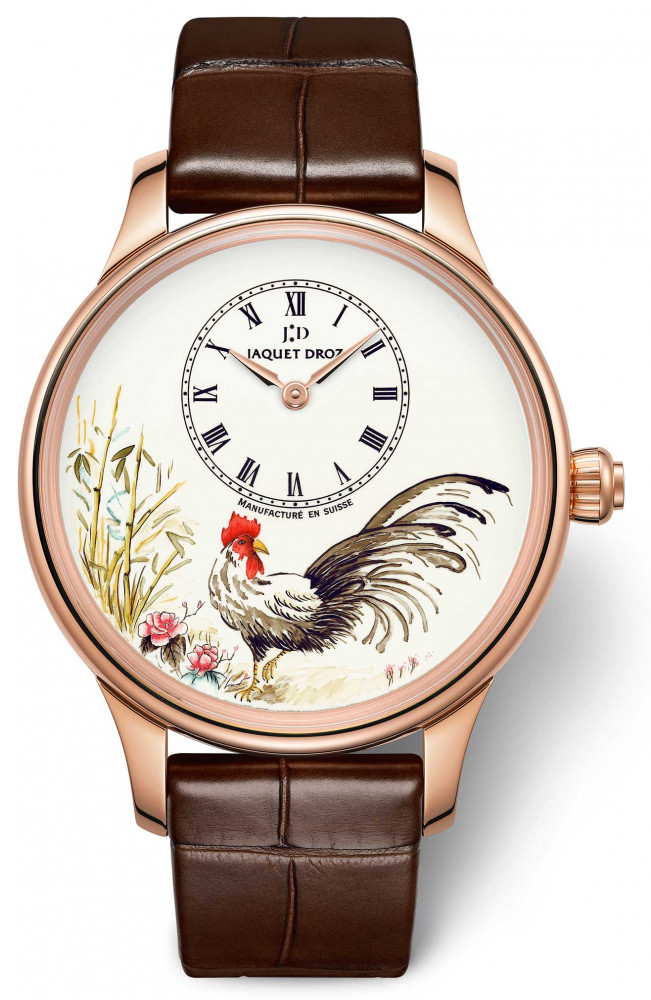 Jaquet Droz Petite Heure Minute Rooster J005013216 – 28 pieces
39 mm 18-karat red gold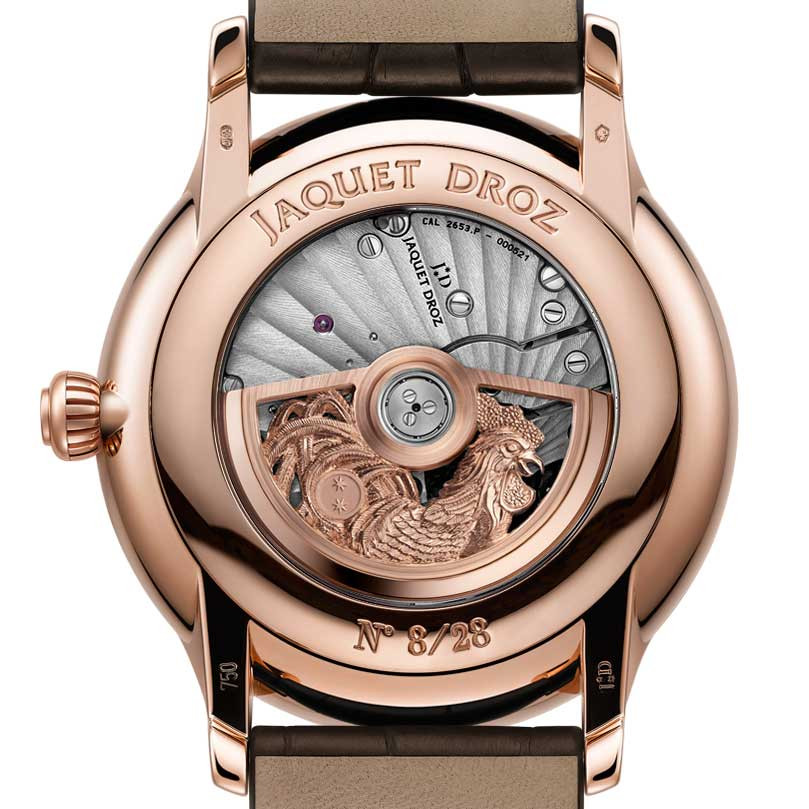 Two other models, decorated using the miniature sculpture technique, include a 28-piece limited edition Petite Heure Minute Rooster made red gold. Its marvelous dial is inlaid with jadeite and mother-of-pearl, which are hand-engraved in the Jaquet Droz workshops. In addition, the dial is patinated and hand-painted in monochromatic shades that enhance each relief. Let me also note that, in Asia, jade is the symbol of luck and health, so this watch also conveys a hidden new year's wish.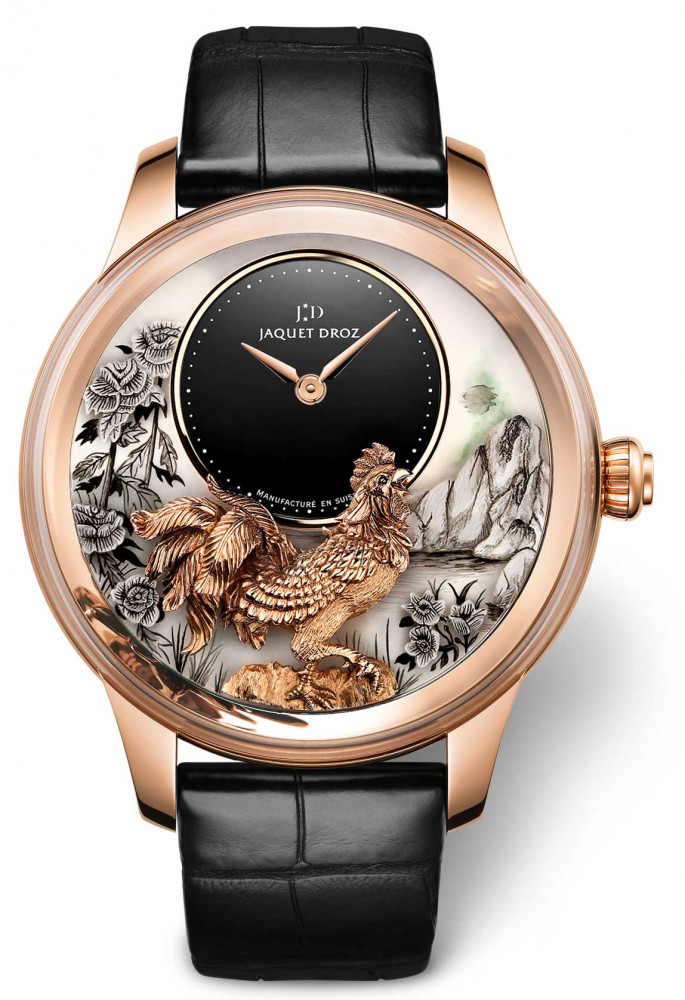 Jaquet Droz Petite Heure Minute Relief Rooster J005023282 – 28 pieces
41 mm 18-karat red gold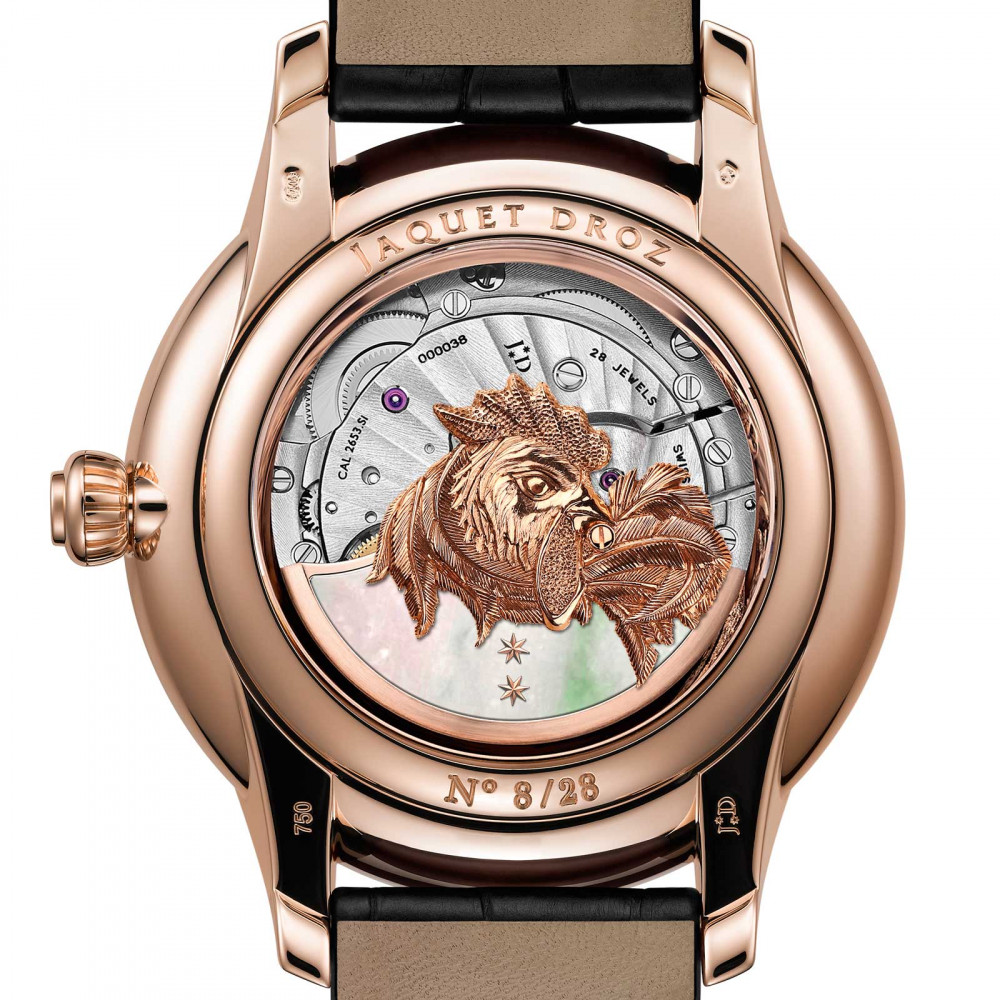 Jaquet Droz has also created a limited edition of eight entirely hand-painted relief pieces, decorated with realistic paintings of a rooster. Its glistening colorful feathers beautifully complement the radiance of the diamonds featured on its bezel and lugs. The sun is depicted rising in the mist, behind the sloping mountainside and delicate peony petals, rendered in a black and white. This captivating landscape is also repeated on the oscillating weight, which is crafted in gold, engraved, patinated and decorated in jadeite.
Jaquet Droz Petite Heure Minute Relief Rooster J005024282 – 8 pieces
18-karat white gold case set with 272 diamonds, total of 1.02 carats.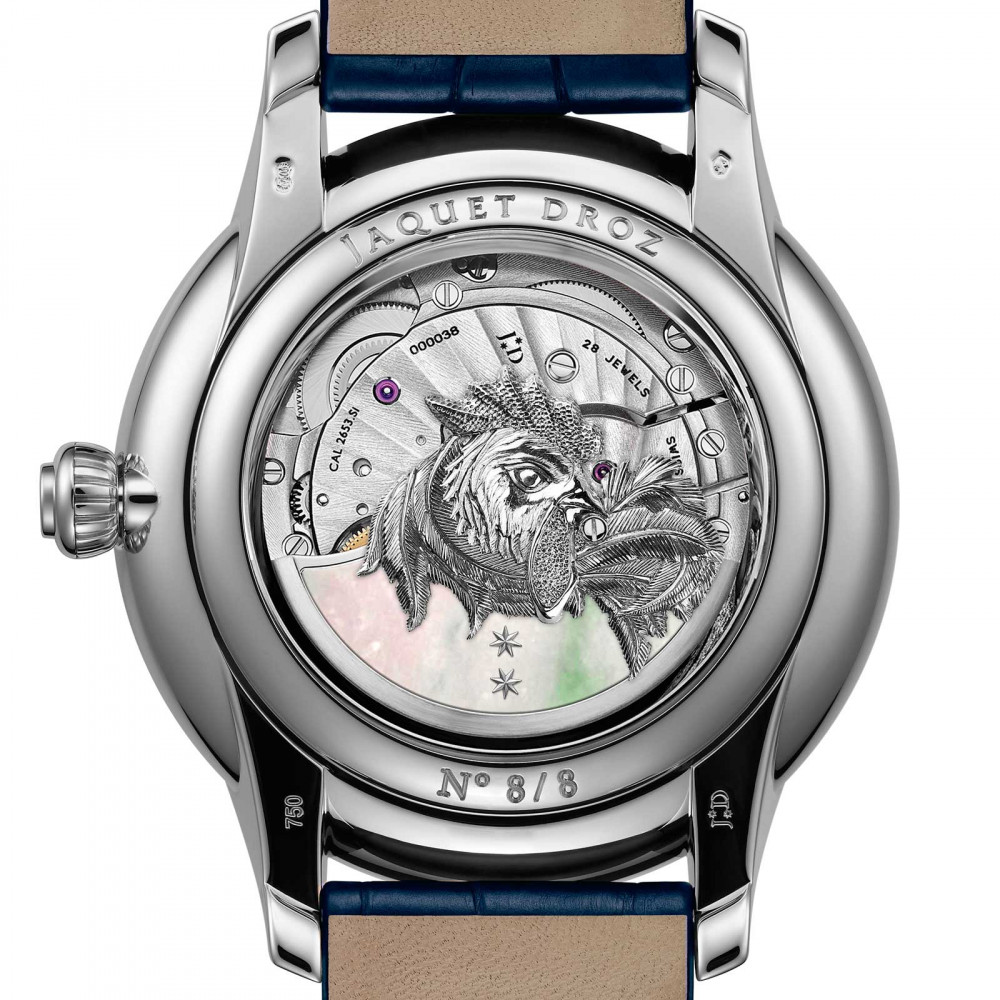 Each of these four models features a movement with a double barrel and a silicon escapement. The self-winding mechanical movement Jaquet Droz 2653.Si (or Jaquet Droz 2653.P for the miniature painting versions) features a 22-karat red gold oscillating weight with hand-engraved rooster applique. It beats at a frequency of 28,800 vibrations per hour, and provides around 68 hours of power reserve.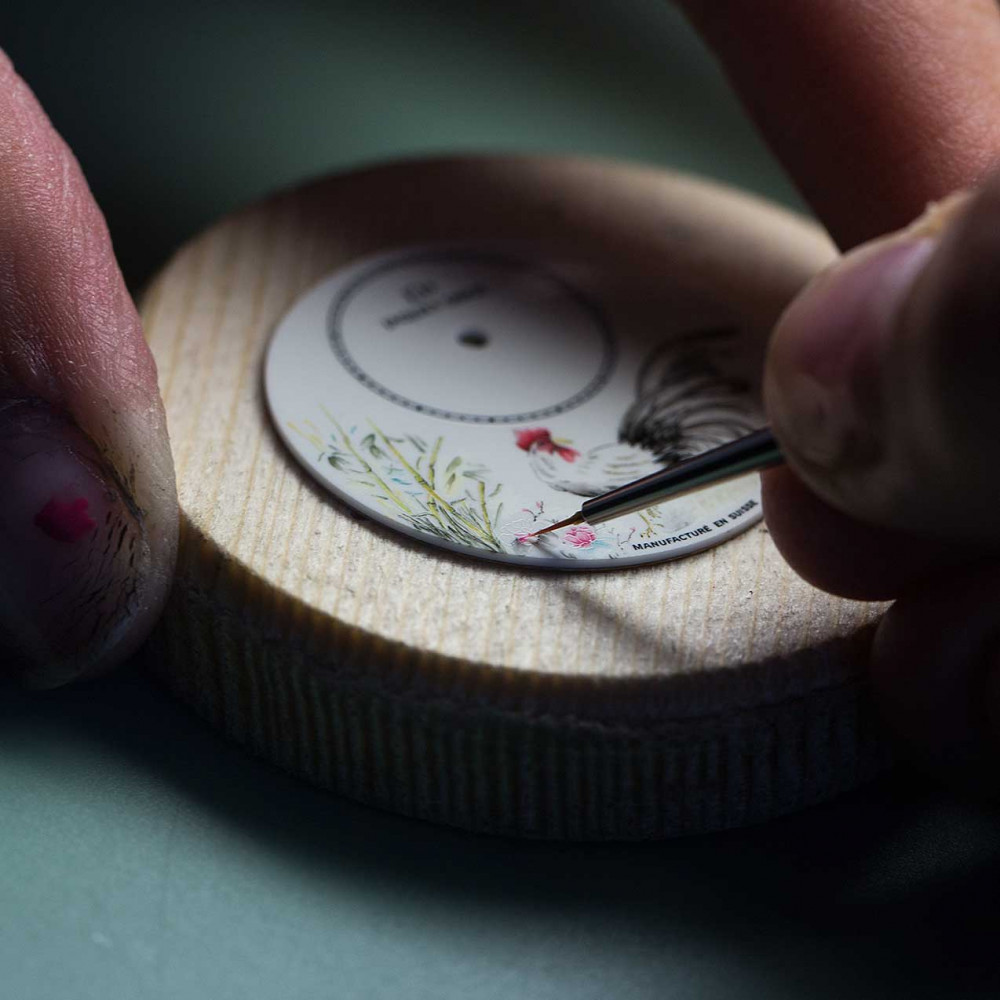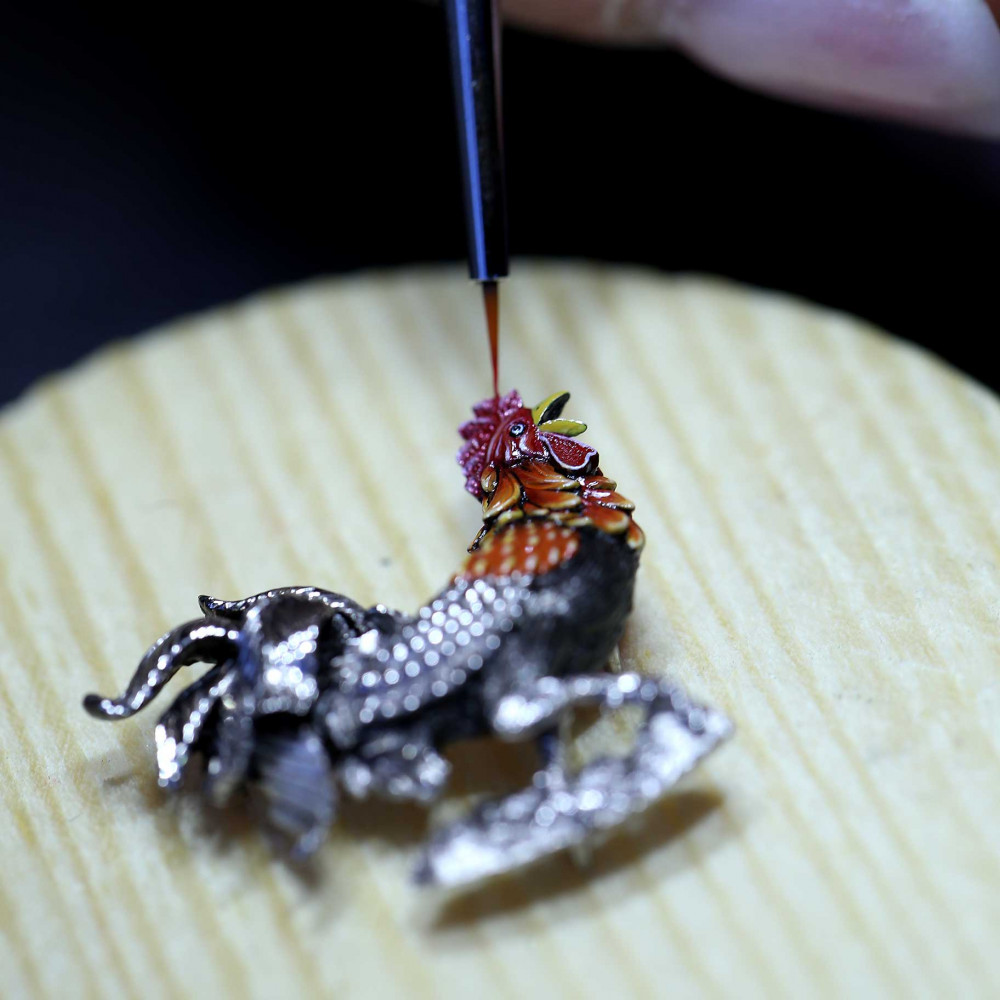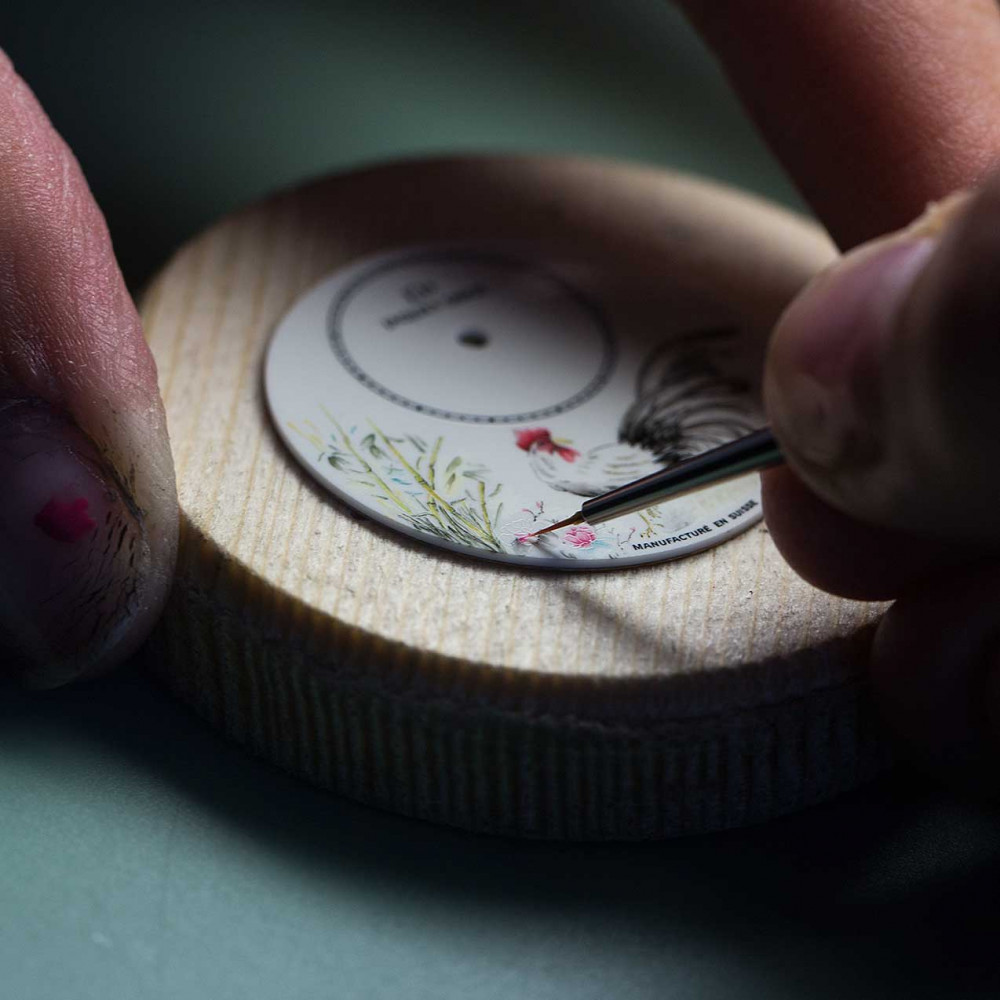 Jaquet Droz collections
Advertisement
Right now 37 watches on sale!
Latest News from Jaquet Droz