Marina Milojević
|
03.16.17
|
03:08 PM
BaselWorld 2017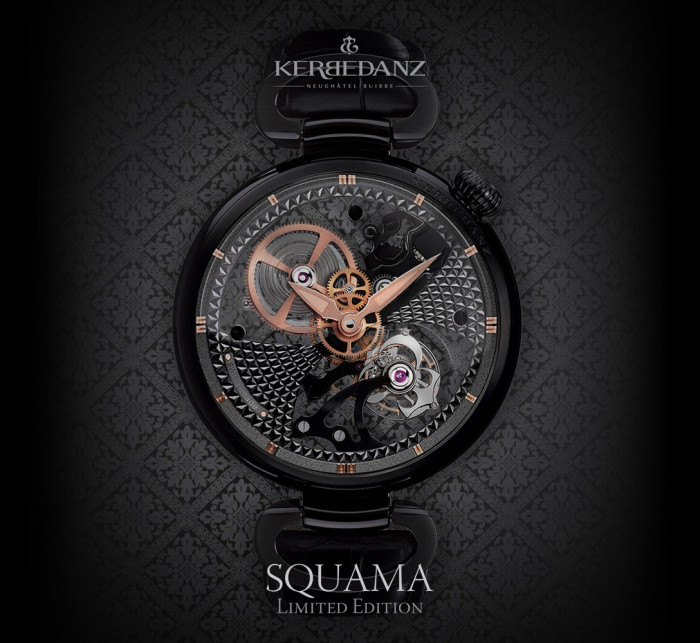 The house of Kerbedanz, known for its ultra-limited, mythically-charged timepieces, introduces the new version of the Squama Tourbillon. Scheduled to come out in March 2017, the Squama Tourbillon features a mysterious, deep black design punctuated with reptilian contours. As announced by the brand, the new timepiece continues to express its passion for a variety and intensities of blacks, as well as its proficiency in the art of skeletonization.
The dark art concept extends on the new Squama Tourbillon, whose magnificent open-worked dial features a fish scale decoration. Through its all-black collection, Kerbendanz is adding a complete line of the most avant-garde techniques with regards to the treatment of gold. The Squama Tourbillon is made from blackened gold, coated with a layer of 100 shades of black. The brand has used the DLC treatment to increase the hardness of the watch and make it more resistant to friction and different ravages of time.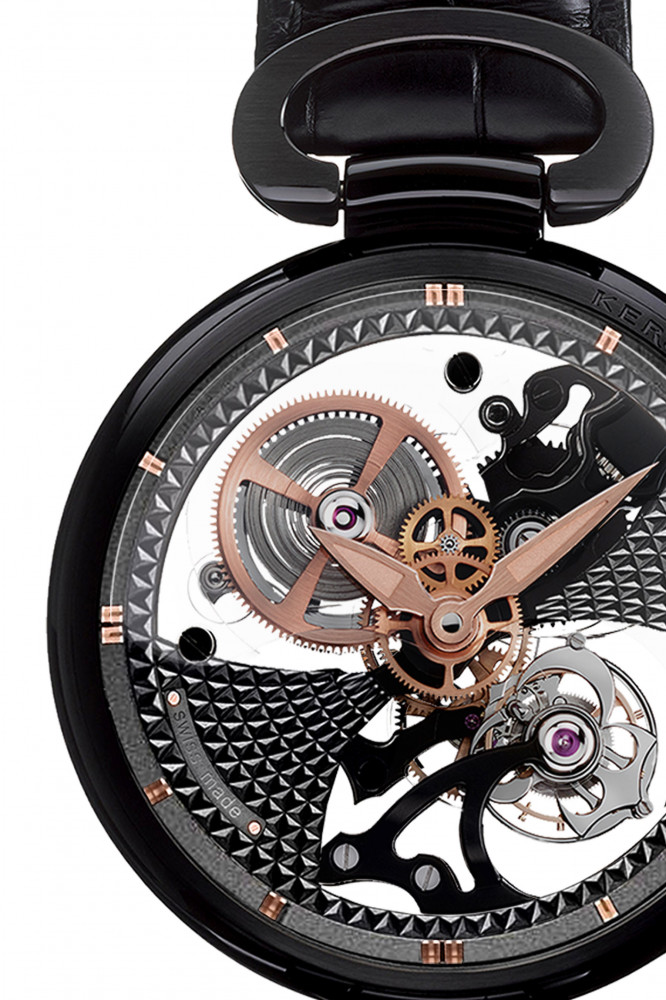 This black and rose gold skeleton timepiece features polished rose gold hands and wheels on a deep black case and textured dial with a snake skin patterns, symbolizing the fertility or a creative life force.
"Many mythical creatures, such as dragons, combine snakelike qualities with features of humans or animals. In Greek mythology, Echidna was a half-woman, half-snake monster whose offspring included several dragons. Cecrops had a man's head and chest on a snake's body and was a culture hero to the Athenians. In Toltec and Aztec mythology, Quetzalcoatl, the Feathered Serpent, held an important place. In medieval Europe, people told tales of the basilisk, a snake with a dragon's body that could kill merely by looking at or breathing on its victims. Melusina, another figure in European folklore, was part woman, part fish and snake and had to spend one day each week in water."
The Squama Tourbillon is generously sized at 46mm in diameter. Its blackened case, fitted with a sapphire crystal front and back, houses the manually wound tourbillon movement KRB-02. Due to the absence of a traditional dial, the movement - conceived, skeletonized and decorated by KERBEDANZ and Concepto - is completely exposed from both of its sides. Assembled from 341 components, 19 jewels, it beats at a frequency of 21,600 beats per hour, and provides about 72 hours of power reserve.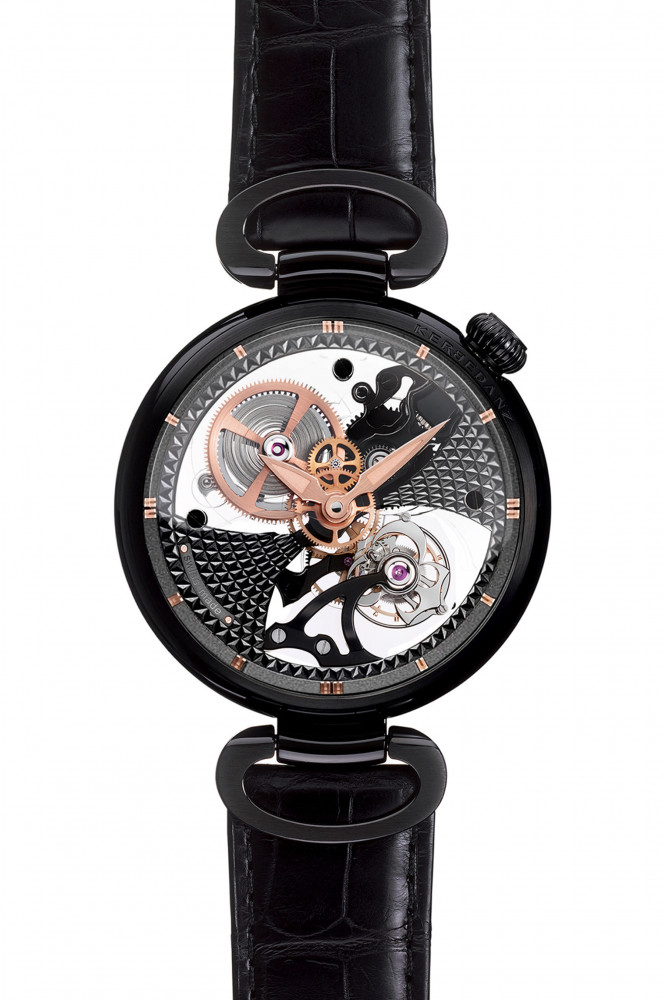 The massive sculpted gold dial is hand-guilloched and finished with a fish scale decoration. The indices, hands, and small gears are made from rose gold. A black alligator leather strap with a double folding clasp in DLC-treated 18-carat gold completes the creation. Available in a limited edition of 42 pieces, from March 2017. For more details, visit Kerbedanz.com.
Latest News from Kerbedanz