Marina Milojević
|
07.12.11
|
12:20 AM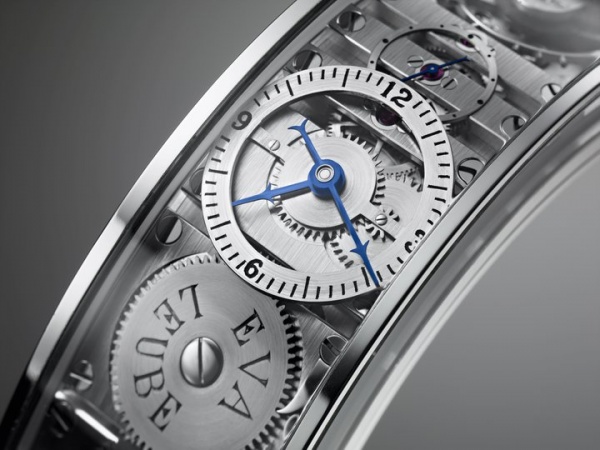 Eva Leube is an independent watchmaker. She's born in Germany, where she obtained her Master Watchmaker diploma, but today works in Australia, where she set up her own workshop in 2007 to build unique handmade watches with complicated mechanisms. Eva completed a Rolex course in Geneva, worked for Rolex Australia and even for and Thomas Prescher and the Ulysse Nardin in Switzerland. She recently unveiled her first piece and named it after her son – Ari.
The watch is born from a vision to have a timepiece that so elegantly curves around the wrist that it looks almost like a piece of jewelry. The sapphire crystal glass is used on both sides of the watch, to allow for the uninterrupted view on the rounded movement. The balance dominates the upper portion of the dial, the center is reserved for hours and minutes sub-dial, while the bottom reveals small crown wheel, used for winding and time setting.
There is one slight detail that truly distinguishes this watch from most other hand-wound pieces: it features a mainspring with a sliding bridle, which is normally seen on automatic winding movements. The ratchet wheel has hand-engraved inscription "Eva Leube", which serves as a marker that indicates the watch is fully wound when engraving is on the top of the ratchet wheel.
The inspiration for this watch came from an old pocket watch movement that Eva had. It was a Record 302, distinctively curved in a manner of fashionable men's watches of the 1930's. The curve of the movement was the greatest watchmaking challenge in creation of this watch. Eva designed and made the technical drawings for the complete watch and its mechanism, and she built the movement herself, including the crown and the buckle. Sapphire glasses are imported from Switzerland and the bracelets are custom-made by hand in Germany.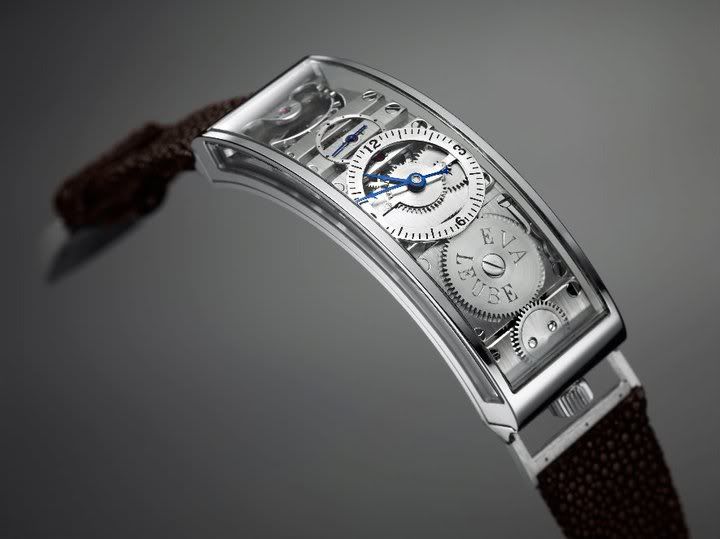 The watch is available in 18-carat white gold or platinum, fitted with a golden dial. It boasts proportions of 52.44 x 21.6 millimeters and has 8.45 millimeters in height. Inside of the case beats manual-wound movement engraved, just like the case, by the hand of master engraver John W. Thompson. The movement is built on 209 components, 18 jewels, and offers 40 hours of power reserve.
Pictures by Juergen Jeibmann.