Marina Milojević
|
08.20.13
|
05:41 AM
Michele is introducing the newest addition to the Serein Collection – the Serein 16 diamond models in stainless steel and dual-tone 18-carat yellow gold plating.
Unlike the classic Serein watches that measure 40 mm in diameter, the new Serein 16 Diamond is more elegant and distinguished by a slender profile and moderate dimensions of 36 mm x 34 mm. These gorgeous feminine watches are graced with 88 sparkling white diamonds (approximately weighing 0,50 carats), and their affordable price makes them ideal entry-level luxury watches. If you don't have a lot of money to put down on a timepiece, but you still want a genuine luxury watch, Michele Serein 16 Diamond could be just what you're looking for.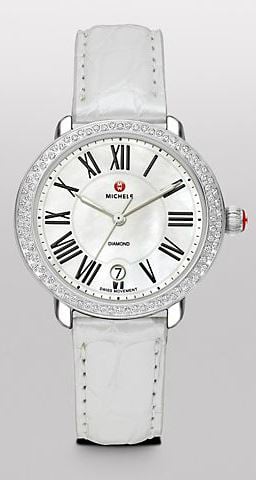 The the stainless steel case of this watch is topped by scratch-resistant sapphire crystal, and it carries a reliable Swiss-made high-quality watch movement. The mechanism drives indications for hours, minutes, a seconds hand, and a date indicator. This elegant and timeless wristwatch is paired with a noble mother-of-pearl dial with bold black Roman numerals and Michele's signature logo, at 12 o'clock position.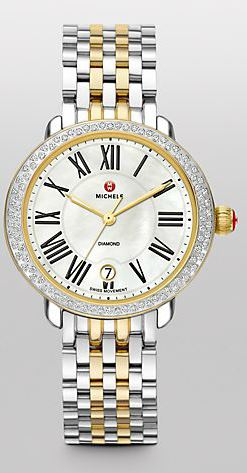 Michele Serein 16 Diamond is delivered on the stainless steel bracelet, which is interchangeable with any 16mm Michele strap. The 18carat gold-plated and stainless steel model is delivered on a two-tone bracelet.
Serein 16 Diamond Two-Tone is priced at $2,145.00, while the Serein 16 Diamond Steel retails at $1,795.00. Steel on leather is $1,695.00, while the Two-Tone on leather retails at 1,845.00. Michele Serein 16 Diamond watches are already available for purchase at Michele.com. Each of these timepieces is water resistant to 50 meters (or 5 ATM) which means they are for swimming, white water rafting, non-snorkeling water related work, and fishing. If you're into snorkeling and water sports, look for water resistance rating of at least 100 meters.
Author: Marina Milojevic
If you like our blog why don't you join our Facebook page or follow us on Twitter @luxoiscom.
If you use one of my articles on your own website or blog, then please credit me and provide a link back to the original.
Michele collections
Advertisement
Right now 100+ watches on sale!
Latest News from Michele