Marina Milojević
|
07.11.11
|
01:01 AM
Saskia Maaike Bouvier, the name and the brand often announced as the maker of amazing watches created by a woman for women, is a creator of the beautiful The Summer & Winter Time Collection.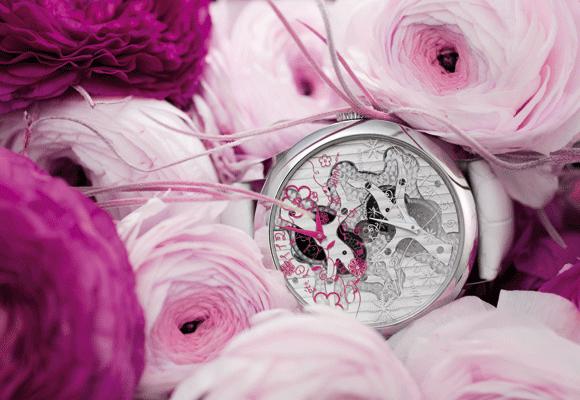 The collection embraces six different models in 8-pieces limited editions. This is actually the Saskia maaike Bouvier's ladie's first watches collection in limited editions. We have to agree with the brand that these are the watches ne notices from a distance but has to admire closely. The basic design comes in a multitude of colors, used to enhance details on the openworked dial and paint leather bracelets from both sides. But when you come closer, a watch reveals more delicate face, decorated with flowers and snowflakes, along with a duo of beautifully formed bridges, in the shape of three branches.
The whole idea behind this interesting design is to provide a perfect manner to switch from summer to wintertime and yet avoid adjusting the watch. Therefore, the upper dial shows the summer time, while the lower one informs the wearer about the wintertime. An extra little leaf, bestowed by the central movement, indicates the seconds for both seasons.
Pink & white: SmB 901_01, Mirror turquoise: SmB 901_02, Colors variation I: SmB 901_03
These rather large watches have 45-millimeters in diameter. Each of the offered variations is available in a limited edition of only 8 pieces. They're all crafted in white gold except Mirror turquoise and Colors variation I watch, which are made in stainless steel. From the case-back, the watches are engraved with their individual numbers, but rather large portion of the back is left free for personalization, allowing the buyer to truly customize the piece. The watches are exclusively manufactured in Switzerland and built upon SmB 901 automatic movement, which is based on a Swiss ETA 2892 automatic. They are mounted on leather hand-sewn straps with folding buckles.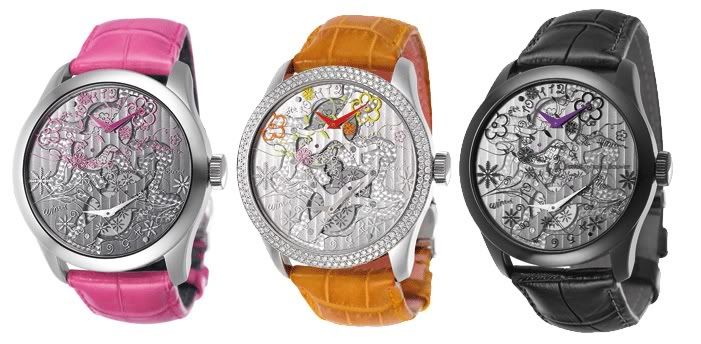 Pink pearl & silver: SmB 901_04, Pastel variation I: SmB 901_05, Black: SmB 901_06
The watches retail for about 18,000 Swiss Francs in steel, 36,000 Swiss Francs in white gold, and 48,000 Swiss Francs in gold with diamonds.
Saskia maaike Bouvier has recently been honored as the first woman candidate in the prominent council of watchmakers - the Horological Academy of Independent Creators. She started her carrier ad Agenhor, a manufacture specialized in development of complicated movement modules, and her own company was launched in 2004. Her watches are based on ultra-reliable ETA 2892 classical movement, often enhanced by an additional module she develops on her own. Enjoy her latest catalog: