Luxois |

01.22.09

|

11:52 AM





Well, here we are, it's 2009 and we thought it would be a great idea for us, the watch enthusiasts, to try to give an answer to a simple question: Which are the world's most expensive watches in 2009? So, we decided to take all the luxury watchmakers' catalogues that we have received and browse them in order to find the most expensive timepieces that you can buy today.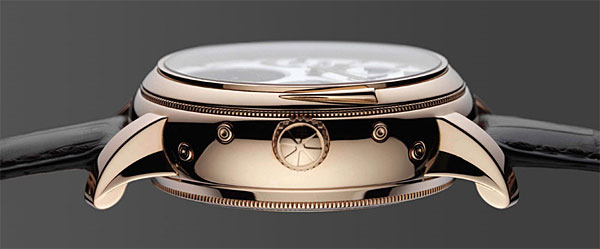 In compiling the top 10 most expensive watches of 2009 list, our team had a pretty hard job. Since we are more fascinated with mechanical men's watches than with the ladies' watches dripping with jewels, we decided to give the priority to the timepieces that represent unique masterpieces in the watchmaking industry.
Most of you agree that a watch is a watch. It's purpose is just to tell time. But, for some people a watch is much more. It symbolises one's social and financial status. Most of these watches are more expensive than a car or even a house. Yes, the watches can be very expensive, so read on to learn more about the most expensive watches of 2009.
1. Patek Philippe Sky Moon Tourbillon Ref. 5002 P
Price: $1.49 million (1,06 million EUR)
The most expensive modern wristwatch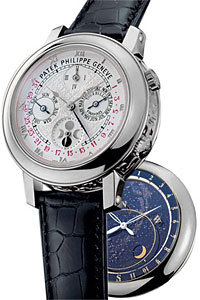 A platinum Patek Philippe tourbillon watch became the most expensive modern wristwatch to be sold at auction when it fetched HK$11.75 million ($1.49 million) in Hong Kong on April 10, 2008.
The "Ref. 5002 P Sky Moon Tourbillon" wristwatch with a double dial is considered the most complicated wristwatch ever produced by the renowned Swiss watchmaker. Only two such watches are made every year, one in platinum and one in rose gold. The watch, made in 2003, was bought by an Asian private buyer at the Sotheby's auction.
The previous auction record for a modern wristwatch was a Vacheron Constantin Tour de l'Ile, ranked 2nd on this list, which was sold by the auction house Antiquorum for $1.4 million in Geneva in 2005.
The Sky Moon Tourbillon Ref. 5002 is the most complicated wristwatch ever produced by Patek Philippe and also the workshop's first double-face wristwatch. Its movement consists of 686 parts, some of which are microscopically small. This rare and exceptional timepiece features mechanical movement that must be manually wound, a minute repeater with tourbillon escapement, chime with two cathedral gongs activated by a slide piece in the case, perpetual calendar with retrograde date hand, hours and minutes of mean solar time, day, month, leap year by hands and moon age. The platinum case measures 42.8 mm.
2. Vacheron Constantin Tour de l'Ile
Price: $1.4 million (994,000 EUR)
World's most complex watch ever made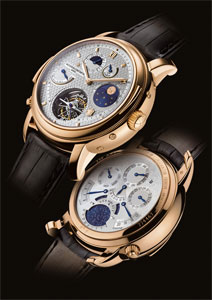 Of all the wristwatches imagined and produced by Vacheron Constantin to celebrate its 250th anniversary, the Tour de l'Ile is a study in superlatives. Calling this a "Grande Complication" model is a dramatic understatement: it is, in fact, the world's most complex watch ever made, with its original combination of 16 complications that can be read off on a double-face display. Its design-engineers have developed a calibre smoothly integrating a series of grand horological complications and astronomical indications in order to make it a genuine wristwatch that is perfectly suited to and comfortable on the wrist.
It took the Vacheron Constantin design-engineers and the watchmakers over 10,000 hours of research and development to create this sheer masterpiece of horological technique, named in reference to one of the historical sites of the venerable firm, located next to the current Maison Vacheron Constantin on the Quai de l'Ile. An additional statistic provides an instant glimpse of the density of this exceptional calibre: no less than 834 parts are housed within a case measuring 47 mm in diameter.
The gold case with its hand-soldered lugs, which maintains beautiful and harmonious proportions despite its substantial content, is now distinguished by a symmetrical double protuberance on either side of the bezel. This miniature horological marvel, which will go down in the history of the wristwatch and of watchmaking in general, is produced in a strictly limited edition of just 7.
3. Hublot One Million $ Black Caviar Bang
Price: $1 million (727,000 EUR)
The quintessence of "invisible visibility" in a uniform range of black tones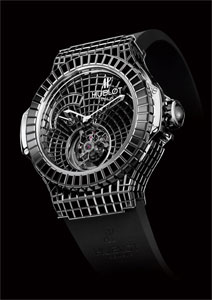 Swiss manufacturer of luxury watches Hublot has recently introduced one million dollar watch Black Caviar Bang. This watch's setting is very complex. The difficulty resides in the unusual lines of the Big Bang case - round but with sharp angles. The white gold, one-piece construction of the case does not reveal one grain of gold, and the diamonds, cut in mysterious ways, seem to hold together as if by magic. The only visible feature is the black and deep tones of the diamonds, shining in their harmonious alignment.
This unique piece, which houses a Tourbillon, symbolises the fusion between watchmaking and jewellery, tradition and technology, glittering and invisibility. The vibration which emanates from it gives rise to an emotion tinged with fascination.
Creating this exceptional watch demanded over 2000 hours of meticulous work, from design to final adjustment, without forgetting the research and development, programming of the machines, choice of tools, diamond cutting, optical checking of each part, and setting and casing.
The case, in 18kt white gold, is covered with 322 black diamonds (25 carats). The crystal is an AR-coated sapphire, as is the display back. The bezel, done in 18kt white gold, is covered with 179 black diamonds (6 carats). Movement is the Hublot caliber HUB Solo T, a 1 minute Tourbillon Volant, manual-wind with special black finishing. The watch has 24 jewels, beats at 21,600 bph and has a power reserve of 120 hours. The bracelet is rubber with an 18kt white gold closure covered with 30 black diamonds (3.5 carats). The watch is manufactured in limited edition of just one piece.
4. Louis Moinet Magistralis
Price: $868,000 (631,000 EUR)
One of a kind watch with real pieces of the Moon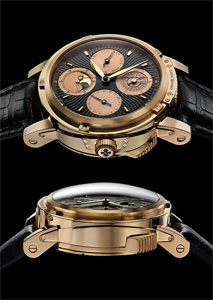 Swiss watchmaker Louis Moinet has recently presented a watch with real pieces of the Moon! These pieces are from a lunar meteorite that was ejected from the Moon 2,000 years ago. The meteorite has been authenticated by the University of California. Moonstone is an extremely rare material that is even more expensive than gold and platinum combined.
The movement of Magistralis was created a hundred years ago. Designed in the Vallee de Joux, it was made in Geneva and bears the Poincon de Genève quality hallmark. It beats at 18,000 vibrations per hour and features a (double-bladed) self-compensating balance and a flame-blued Breguet balance spring.
The case is made of 5N and 3N 18-carat rose gold. Its brand-signature design stands out especially for its crown guard (patent pending) and its chronograph button guard at 12 o'clock. The perpetual calendar function displays the day, date and month over four years.
Magistralis is an extraordinary watch representing the expert craftsmanship of the time-honoured art of Haute Horlogerie. It is one of a kind, unlike any other, and will never be repeated.
5. Blancpain 1735, Grande Complication
Price: $800,000 (582,000 EUR)
Six masterpieces merged in a single construction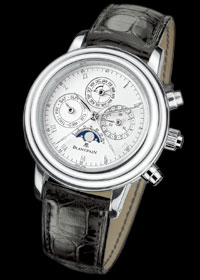 Blancpain's expert watchmakers devised a daunting challenge: merging their six earlier masterpieces into a single construction. For no other reason than the secret pleasure of outdoing themselves. Despite countless doubts and dead ends, talent and preservance ultimately got them there. After six years, against all odds, fulfillment was at finally hand. In homage to the year of foundation of the House of Blancpain, they called the new watch 1735. Almost magical in its intricacy, its movement's original design comprises an impressive 740 parts and components.
A truly inspired achievement, the Blancpain 1735's horological wizardry provides a rare and altogether convincing demonstration that, at least for the best watchmakers, impossibility is only relative.
The 1735 is the fruit of a year of loving labor by a single watchmaker. With its 740 individual hand-finished components, the 1735 remains the world's most complicated automatic winding wristwatch produced in a series. The platinum case measures 42 mm, the strap is croco leather. Movement is the automatic Caliber 1735, with 950 platinum rotor and a power reserve of 80 hours.
6. Breguet pocket watch 1907BA/12
Price: $734,000 (540,000 EUR)
The most expensive pocket watch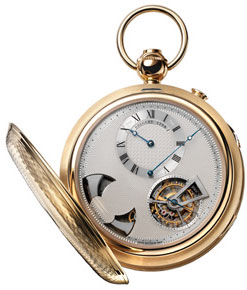 Breguet is one of the oldest and most respected names in the watchmaking industry, the company being around for more than 225 years and being credited for the invention of one of the most famous watch complication, the tourbillon.
Although it's now a part of the Swatch group of companies, the Swiss watchmaker keeps coming up with all sorts of extremely special timepieces, some of them instantly becoming a collector's item, due both to their high (sometimes enormous) price tags, as well as their one-of-a-kind features.
Breguet Classique "Grande Complication" pocket-watch in 18-carat yellow gold features grand strike and tourbillon, hand-engraved and hand-wound movement with 2-way rotating crown, off-centred chapter ring, centre minute hand, silvered gold dial, hand-engraved on a rose-engine and sapphire caseback.
Breguet's Grand Complications pay tribute to the two-century-old equivalence between Breguet watchmaking and advanced mechanical science. Building a grand complication confronts watchmakers with a maze of technical difficulties that challenge not only their skills but also their powers of invention. Thinking and working in four dimensions, generations of Breguet watchmakers have demonstrated the summit of their art in repeaters, perpetual calendars and tourbillon watches. Breguet protects its latest developments in perpetual calendars with two patents.
7. Audemars Piguet Grande Complication
Price: $526,000 (395,000 EUR)
Audemars Piguet most expensive timepiece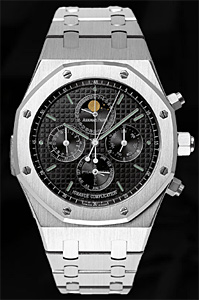 Audemars Piguet is another manufacturer of expensive Swiss watches. Tradition, excellence, daring: it is based on these three fundamental values that Manufacture Audemars Piguet perpetuates the art of Haute Horlogerie. At each stage of its history, it has proved capable of adopting the latest avant-garde technologies and of placing them in the service of hand craftsmanship, thereby creating exceptional timepieces.
Audemars Piguet Royal Oak Grande Complication is a selfwinding watch that features perpetual calendar indicationg the day, the week, the moon phases, the month and the leap years.
It also features minute repeater, split-seconds chronograph and small seconds at 9 o'clock. 18-carat white gold case and bracelet, transparent sapphire caseback. Water-resistant to 20 metres. Limited production.
Reference No: 25865BC.0.1105BC.01
8. Ulysse Nardin Genghis Khan
Price: $490,000 (351,000 EUR)
World's first wristwatch featuring a Westminster chime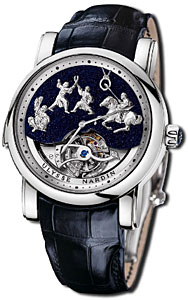 In 2002 Ulysse Nardin proudly presented a watch beyond all considerations of practicability, a piece of art more than a mere timepiece; the Genghis Khan, world's first wristwatch featuring a Westminster chime with minute repeater, automatons and tourbillon.
A dial made of massive onyx features four figures, meticulously chased from gold. The figures show Mongolian warriors, thus explaining the watch's strange name, which remembers the founder of the largest empire in humankind's history, Genghis Khan (born 1155, or 1162, or 1167; died 1227). Each time the Westminster chimes or the repeater is engaged, the figures are fighting with their characteristically curved swords or trying to catch a small ring with a spear, while riding a impressively crafted horse.
The visible one minute Tourbillon is integrated into the aventurine dial. Opaque or translucent, containing crystals that were engendered by fire in molten glass, aventurine scintillates, subtyl flecked with all possible shades of red, yellow and grey. Forged by human hands, often compared to the philoshopher's stone, aventurine contains the secrets of the master jeweler's aclhemy.
All this is encased in 18k gold of 42 mm diameter, and in spite of its repeater activation slider it is watertight down to 30 meters.
9. Parmigiani Fleurier Toric Westminster
Price: $334,000 (239,000 EUR)
The watch with a musical movement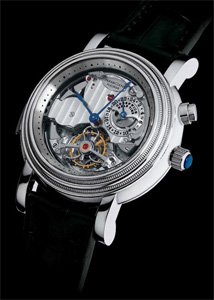 Less known Swiss watch manufacturer Parmigiani Fleurier has created a fairly large number of high-end, hand-made timepieces over the years. One of the extraordinary models Parmigiani has launched recently is the Toric Westminster model, designed to reproduce on a much smaller scale the movement and chime of the famous Westminster Abbey clock.
Parmigiani Fleurier Toric Westminster watch is equipped with a minute repeater that strikes the hours, quarters and minutes on four gongs to the tune of the Westminster chimes.
Furthermore, Toric Westminster features the GMT function with rapid correction by push-button indicates a 24-hour second time zone and the prestigious tourbillon that smoothes out position errors of the escapement.
It's also quite interesting to note the fact that the design of the bridges and the finishing carried out conveys the beauty of the movement. Although the design and functions are the first to draw the customer's attention, the interior of the Toric Westminster is equally important.
Toric Westminster mechanism, codenamed PF255.01, features no less than 42 jewels, has a diameter of 27 mm, works at a frequency of 21.600 vibrations per hour and offers users an overall power reserve of min 75 hours.
10. Girard-Perregaux Opera Three
Price: $316,000 (226,000 EUR)
Ultra-miniaturized music box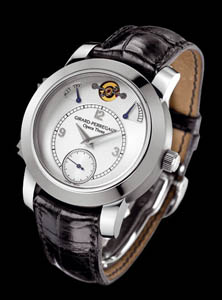 Girard-Perregaux is one of the few authentic Swiss watch manufactures. For over two centuries now, Girard-Perregaux has been renown for its many remarkable creations, among them the emblematic Tourbillon with Three Gold Bridges. From the research and development stage right through to the final adjustments made by master watchmakers, Girard-Perregaux continues to enrich its heritage through its Haute Horlogerie collection.
Opera Three model was launched way back in 2003 and it is a device that actually incorporates an ultra-miniaturized music box.
This Girard-Perregaux Haute Horlogerie Opera Three watch in platinum features a 43 mm case with an elegant silver dial shown here on a black alligator strap. The Girard-Perregaux Haute Horlogerie Opera Three also features a mechanical manual wound movement with an hourstriker complication and the ability to play two separate melodies, a power reserve indicator and sub seconds.
It's important to mention that the device works at a frequency of 28.800 vibrations per hour (4 Hz), and provides a power reserve of minimum 50 hours.
The Opera Three watch is able to sound the passing hours with a melody. The movement's miniature carillon is composed of a keyboard with 20 blades and a drum whose surface has around 150 hand-mounted pins. A selector allows a choice between two different tunes. A lever can disconnect the sound or allow it to play upon demand.
The music played can be personalized to taste. The Opera Three watch from Girard-Perregaux is yet another one of those ultra-expensive timepieces that almost break the half-a-million barrier.
HONORABLE MENTIONS
IWC Grande Complication Ref. IW927016
Price: $230,000 (165,000 EUR)
One of the world's most demanding wristwatches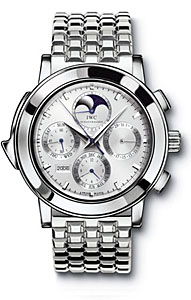 IWC Grande Complication Ref. IW927016 consists of total of 659 mechanical parts, 71 of them jewels, twelve patents and 21 functions and displays, including a perpetual calendar for the next 500 years, together with perpetual moon phase display made of polished goldstone representing a star-stubbed night sky. Working inside the case are a chronograph and a highly complex minute repeater activated through an all-or-nothing piece slide.
This wonderful invention chimes out the time in crystal-clear tones, which are activated by the slide on the left-hand side of the case. Two tiny, precision-made hammers are released and chime the time in hours, quarters and minutes on two gongs. The striking mechanism is a technical tour de force. Initially, the chimes were inaudible outside the solid platinum case, so the glass was freely suspended on a platinum membrane to enable it to amplify the vibrations produced by the gongs via the sound transmission pin.
The case, too, finished in solid platinum with a fineness of 95 percent or 18 ct. rose gold, is first-class. Despite the complex design of the case, the Grande Complication is unaffected by superficial water splashes. Production limited to 20 watches per year.
A. Lange & Sohne Datograph Perpetual
Price: $152,000 (110,000 EUR)
A unique timepiece for the moment and for eternity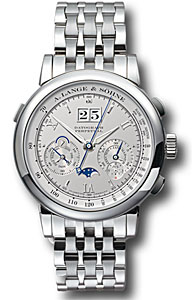 In the Datograph Perpetual, Lange combines two classic complications - the chronograph (for short time measurements) and the perpetual calendar - in one landmark watch that is also enriched with many of the manufactory's acclaimed new-era attributes.
This masterpiece by Lange is the first wristwatch that incorporates a chronograph and a perpetual calendar. It no doubt represents the most classic combination of complications, capturing the moment, the present, and eternity. Additionally, it is endowed with all of the features that make Lange timepieces so distinctive. It owes its harmonious personality to the subtly offset symmetry of the solid-silver dial.
The Datograph Perpetual can stop times of up to 30 minutes with an accuracy of one-fifth of a second.
The movement is the automatic Caliber L952.1. The platinum case measures 41mm. When fully wound, the spring barrel of the Datograph Perpetual has a power reserve of 36 hours. The accuracy of the watch originates from a glucydur balance with eccentric poising weights, a Lange balance spring, and with a frequency of 18,000 semi-oscillations per hour. The watch consists of 556 individaul parts that must be assembled and adjusted to interact flawlessly in a time-consuming process.
If you like our blog why don't you join our Facebook page or follow us on Twitter @luxoiscom.