Marina Milojević
|
03.24.11
|
07:04 AM
TAG Heuer finally unveiled their secret Apollo Project watch.
It is a new TAG Heuer Mikrotimer Flying 1000 Concept Chronograph, the world's first mechanical wrist chronograph to measure and display 1/1,000th of a second.
The new watch is still a concept, since more development will be needed to ensure the maximum precision and over-time reliability. The concept relies on 11 patents pending, and offers a whole range of watchmaking innovations. The new movement is possibly one of the most sophisticated "Grande Complication" ever developed in mechanical watchmaking.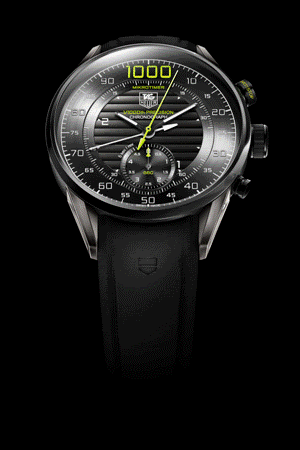 The core of this watch vibrates at 3,600,000 beats-per-hour. That is 150 times faster than the standard chronograph, and even 10 more faster than the brand's previously launched CARRERA MIKROGRAPH 1/100th Second Chronograph, which was the world's first mechanical chronograph with a foudroyante central hand displaying 1/100th of a second. This new movement is the fastest mechanical movement ever designed, making this watch the single mechanical piece to measure sporting events like the Formula 1, where extreme accuracy means a lot.
The watch is spectacular in motion. As you can see on the presentation movie, the yellow central chronograph hand rotates very fast around the dial, completing astonishing 10 rotations per second. The same hand is used to indicate the 1/1000th of a second and 1/100th of a second, as shown on the graduated scale, which circles around the dial. The smaller central hand indicates the minutes, as well as the 1/12th of a minute on a 150-second scale. A sub-counter at 6 o'clock indicates 1/10th of a second, and it is calibrated to 5 seconds.
The watch features an exceptional sporty design and very nice black color scheme. It is presented in 45mm wide case made in black coated titanium carbide. The face of a watch is protected with double anti-reflective curved sapphire crystal, which is also used on the case-back to allow direct view of the black decorated movement. The dial is coated in black and decorated with "Côte de Genève" pattern, featuring big yellow 1000 numeral and monochrome Tag Heuer logo, at the upper portion. Water resistant to 100 meters, the watch is completed with black rubber strap.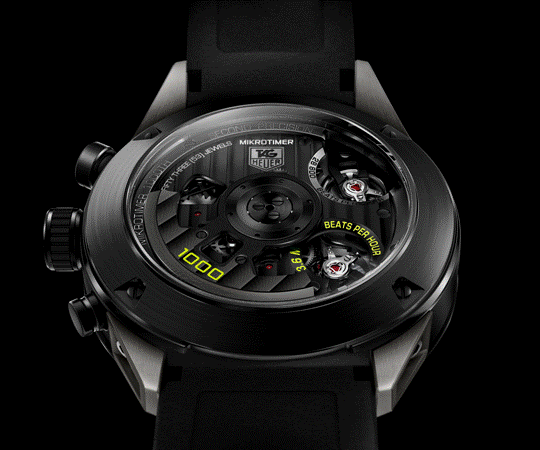 TAG Heuer collections
Advertisement
Right now 100+ watches on sale!
Latest News from TAG Heuer