Marina Milojević
|
11.27.17
|
03:42 AM
Just in time for the upcoming SIHH 2018, the house of Van Cleef & Arpels announces the launch of its magnificent new creation, the Lady Arpels Planétarium. Described as a planet suite for a lady's wrist, the beautiful new timepiece is inspired by the iconic Midnight Planétarium watch, which was introduced exactly four years ago. Just like its predecessor, the Lady Arples Planétarium puts an entire planetarium on the wrist, with six of our solar system's planets revolving around a miniaturized representation the sun in real time.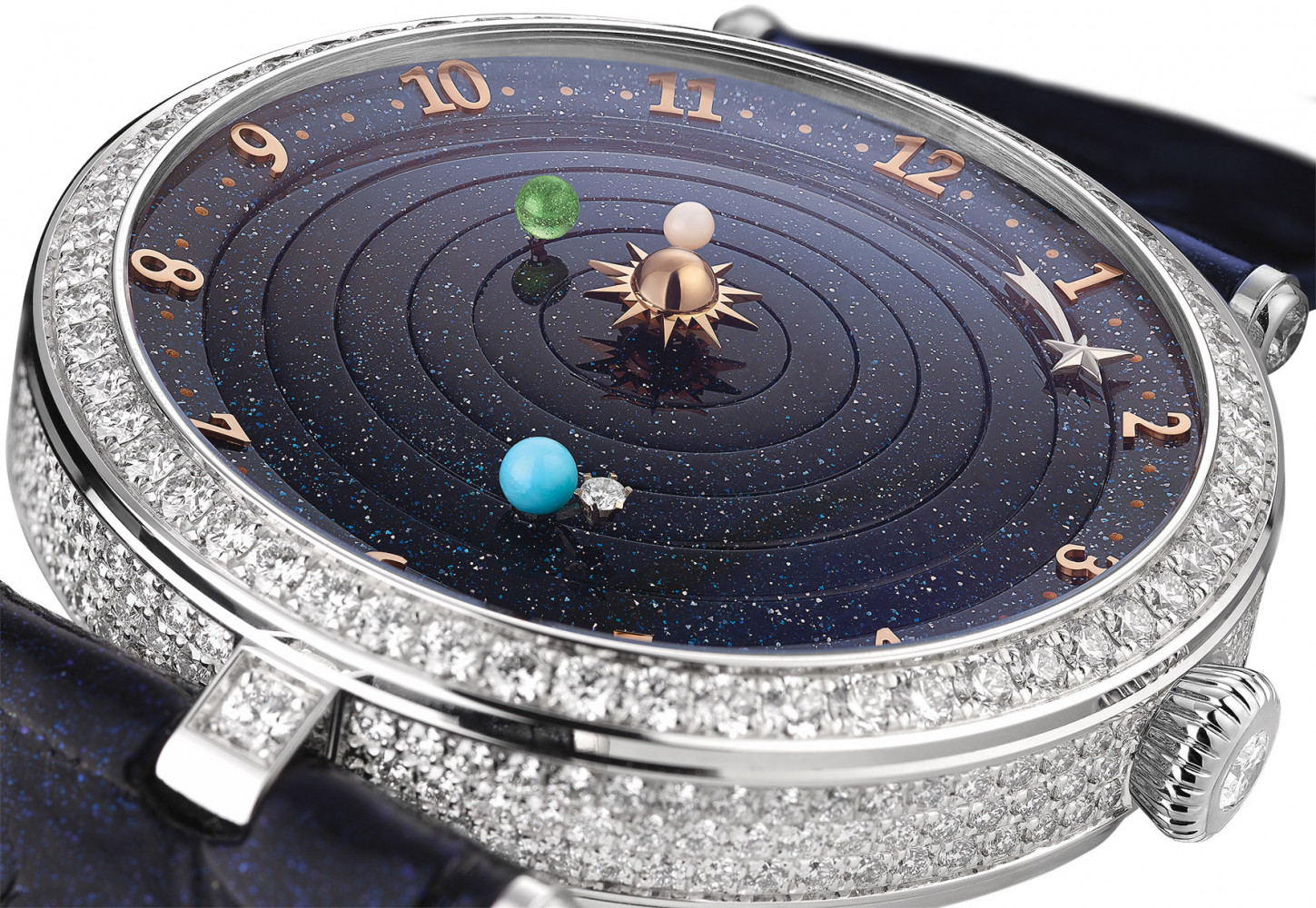 This highly poetical timepiece forgets about the conventional passage of time. It does not indicate the hours nor minutes. Instead, it tracks the movement of planets in the solar system. Something like a feminine version of the cosmos, the Lady Arpels Planétarium watch illustrates the Sun its closest planets, along with Earth's natural satellite – the Moon. Each of these heavenly bodies travels across the dial at its actual speed. Arm yourself with patience and you'll notice how Mercury completes one full rotation in 88 days, Venus in 224, Earth in one year, and Saturn in no less than 29 years.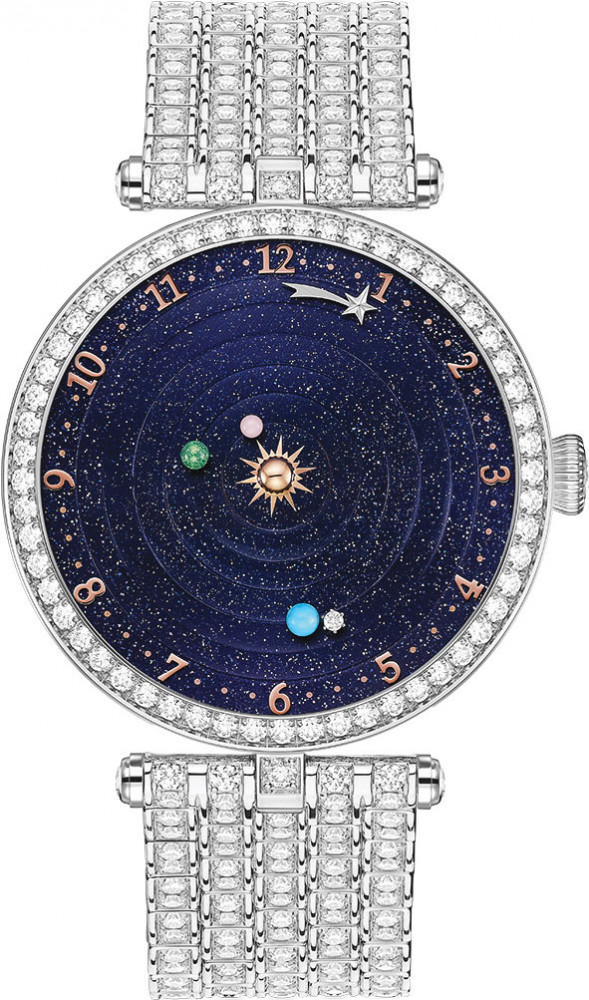 The gorgeous Lady Arples 38-mm case is crafted from white gold and set with diamonds in the bezel and sides. The dial is made from seven aventurine discs placed in concentric circles, while the plants of different volumes are made of different materials: Sun of pink gold, mother-of-pearl Mercury, turquoise Earth, Venus of green enamel, Moon of a single diamond. The planetary spectacle is enriched with a shooting star in rhodium-plated gold, which indicates time in a poetic way. The back of the case indicates the day, month and year, via two apertures.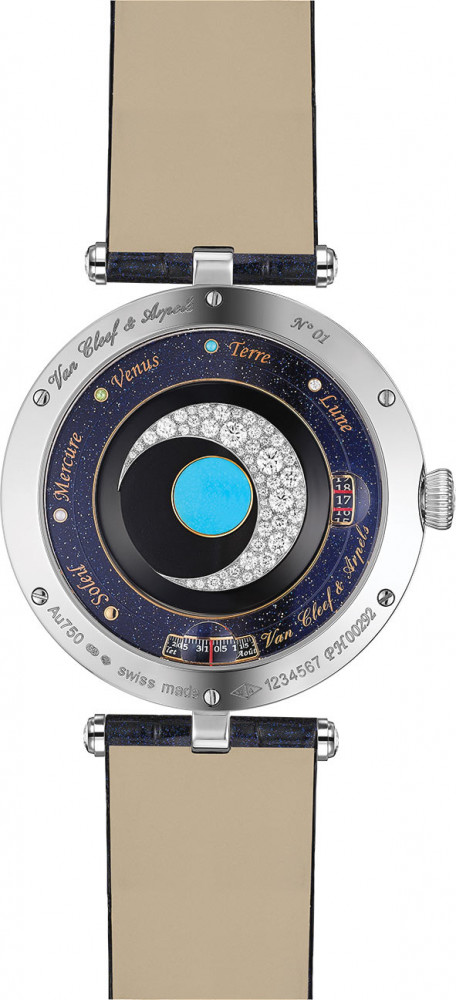 Van Cleef & Arpels Lady Arpels Planétarium houses the same in-house movement as the Midnight Planétarium watch, only redesigned for this smaller size, with an exclusive module developed in collaboration with Christiaan van der Klaauw. The watch is available in two distinct variants – one with a blue alligator strap with a white gold pin buckle, and the other on a white gold bracelet set with diamonds.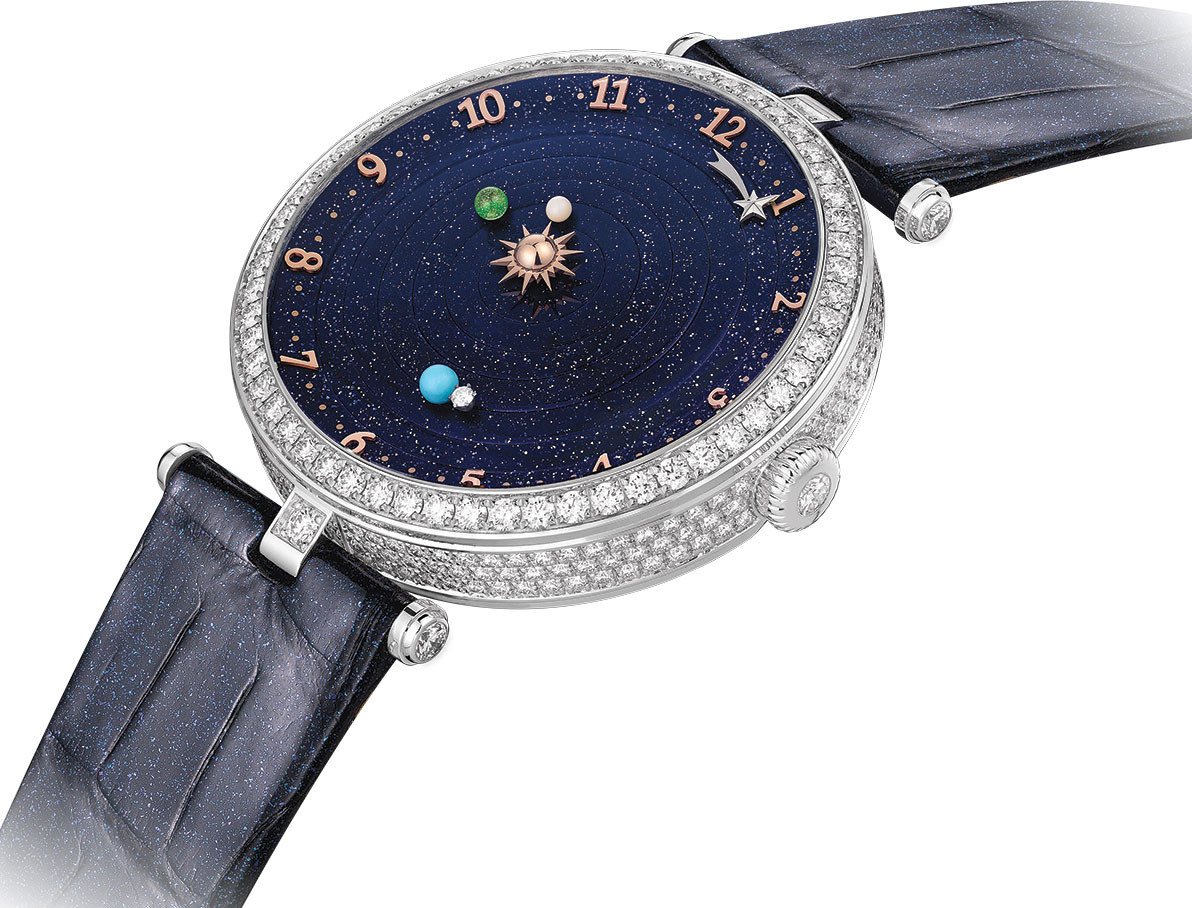 Courtesy of Van Cleef & Arpels for SIHH 2018.
Van Cleef & Arpels collections
Advertisement
Right now 100+ watches on sale!
Latest News from Van Cleef & Arpels