Marina Milojević
|
09.10.12
|
07:18 AM
Van Cleef & Arpels has just unveiled a new watch based on the piece that Pierre Arpels created for himself in 1949. This discrete and sophisticated watch is now revamped in a contemporary interpretation.
Pierre Arpels (1919-1980) was one of the founders and runners of the Van Cleef & Arpels jewelery business and a person who opened the brand's first boutique at 22 place Vendôme. For the renowned Parisian luxury brand, this new watch is actually the return to the history and deep reflection into their heritage and classic watchmaking values.
Here's a short animated story of Pierre Arpels and his precious watch:
The discrete Pierre Arples watch was even then envisioned as the embodiment of simplicity – a perfect circle, as one of the most plain of geometric figures. Circle is a perfect line, one of the fundamental shapes in the universe, and a form with no beginning and no ending. Symbolically, a circle stands for piece, perfection and eternity. The watch he created is suitable for day and for night, for all men and all occasions. It is an timeless elegant piece in an extra-thin case, designed to sit discreetly on the wrist, going almost unnoticed.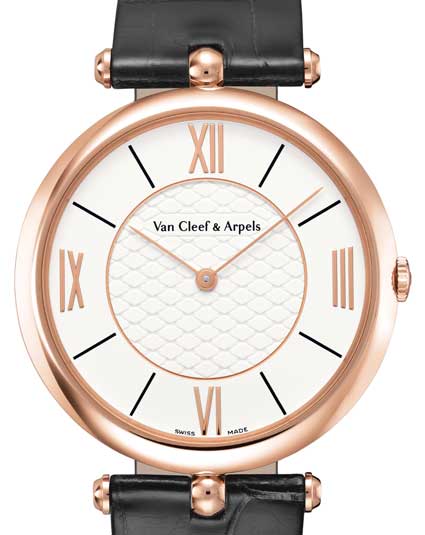 Pierre Arpels, who had an appreciation and passion for art, wanted to make this watch harmonious and delicate by removing two lateral attachments that were typically used at that time to mount a watch-case on a bracelet. Instead of them, Pierre Arples's watch had only one ultra-thin attachment on each side of the case, which appeared almost like disappearing....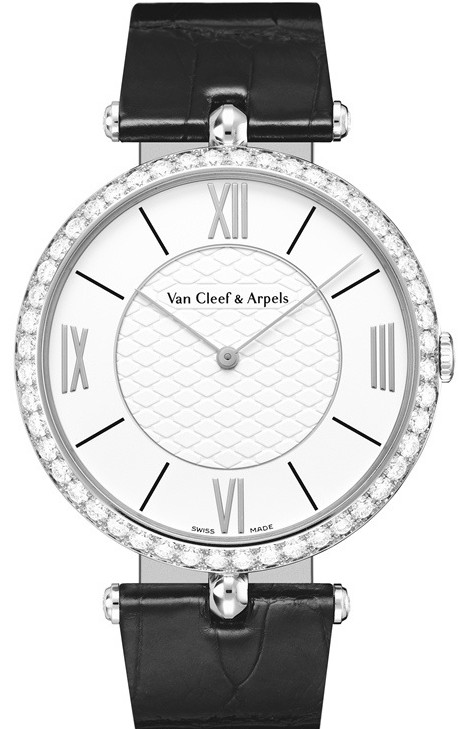 More than 60 years since Pierre Arples created the original watch, Van Cleef & Arpels has offered a new modern interpretation that truly embodies the spirit of its creator. The matte white dial has a distinctive vintage appeal, having the Roman numerals indicating the hours, in the spirit of classic watchmaking tradition. The centre of the dial is decorated with the honeycomb  pattern of a black-tie shirt front, which is one of the Van Cleef & Arpels hallmarks. The outer rim of the dial is lacquered and embraced with slightly beveled case. The crown is set with a diamond and the bracelet is made according to Pierre Arpels's instructions – in patent black alligator skin.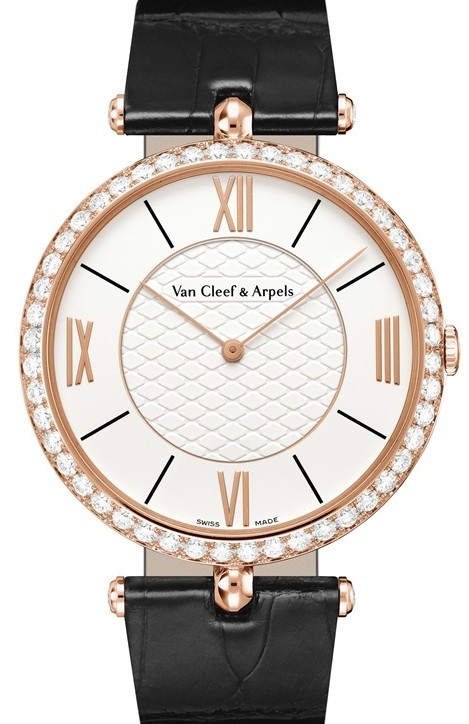 The watch is available in two basic variations – in pink or white gold and in 38 or 42 mm in diameter. Both variants are powered by the mechanical manual winding movement Piaget 830 P. In addition to these basic variants, there is also a diamond-set version, featuring a bezel decorated with DEF/VVS diamonds.
Enjoy watching the short story of an extraordinary man.
Author: Marina Milojevic
If you like our blog why don't you join our Facebook page or follow us on Twitter @luxoiscom.
If you use one of my articles on your own website or blog, then please credit me and provide a link back to the original.
Van Cleef & Arpels collections
Advertisement
Right now 100+ watches on sale!
Latest News from Van Cleef & Arpels