Marina Milojević
|
07.23.19
|
08:41 PM
Maison Hermès has just announced the launch of a special limited edition Arceau Grands Fonds timepiece with a unique glass micromosaic dial adorned with an exotic fish motif. The Arceau watch, created by Hermès' legendary designer Henri d'Origny in the 1978, lends its dial to the expertise and creativity of the Maison's finest artists. This time, the watch is fitted out with a handcrafted glass micromosaic dial that reveals a naturalistic motif representing the theme of the Grands Fonds scarf designed in 1992 by French artist Annie Faivre.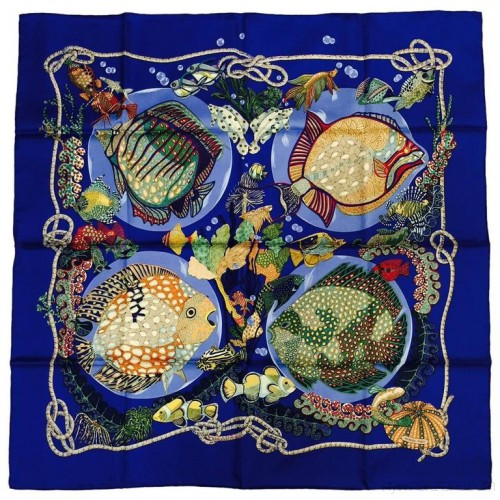 Crafted by Hermès Horloger artisans, the Acreau Grands Fonds watch requires more than a month of work for a single dial. The glass micromosaic technique is extremely delicate and it goes through a number of complex phases. First, the artisan selects glass tesserae of various colors, cuts them and melts in an oven, at a temperature of more than 700 °C. This results in the creation of filaments, which will be carefully arranged on a dial base, using nothing but marble powder, lime, and linseed oil to assemble the tiles. A scalpel is used on a dial base to openwork the areas where the filaments will be inserted. The glass strands of various colors and sizes are then cut into small squares and placed on the dial using a wooden peg. The next step is drying, and it lasts for no less than one month. The goal is to obtain a dial with a perfectly flat surface.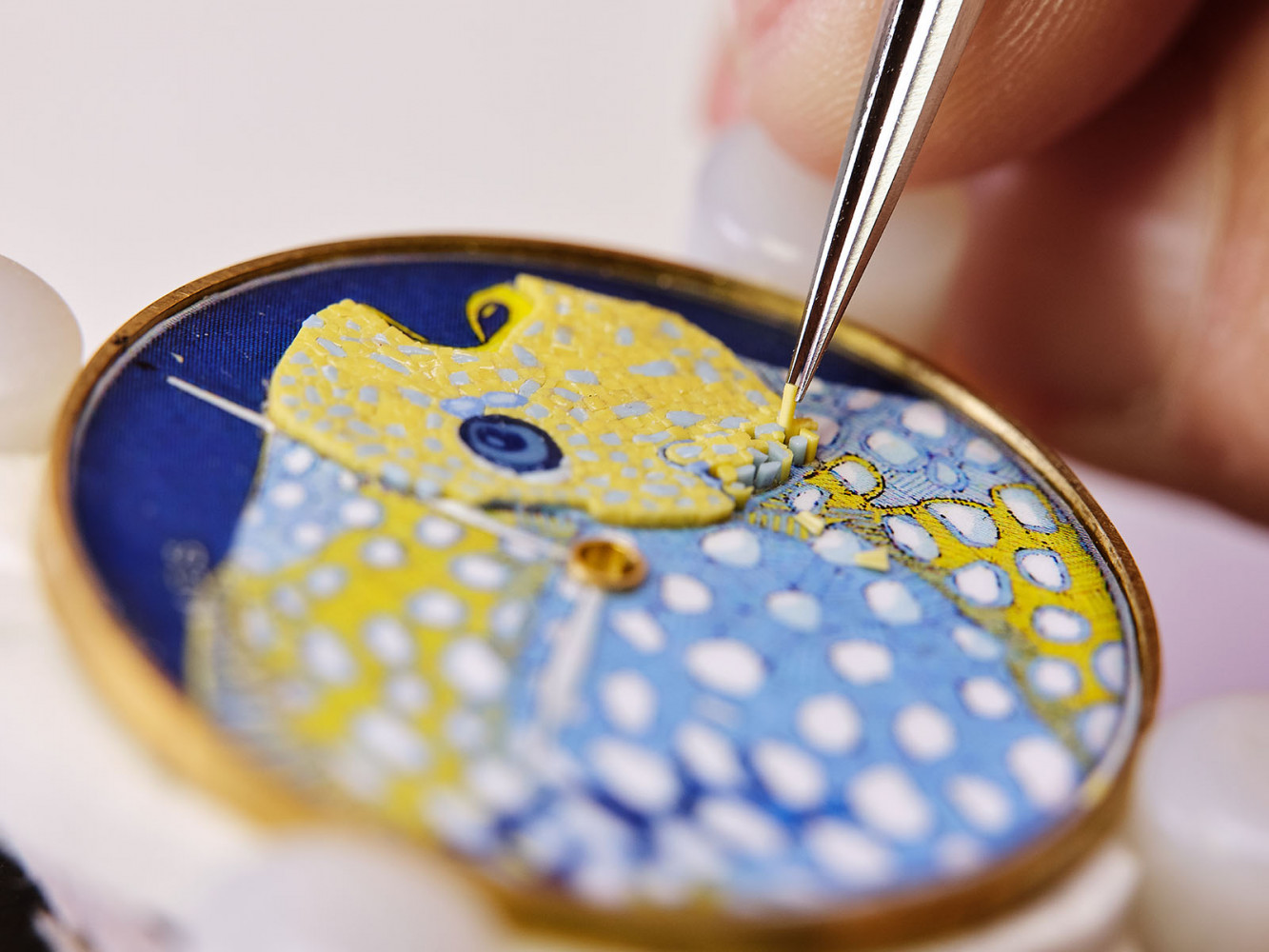 Hermès Arceau Grands Fonds is powered by the automatic Manufacture Hermès H1837 movement, which provides hour and minute functionality. The caliber is contained inside of the 41mm white gold case with transparent case-back. The movement oscillates at a frequency of 4Hz, and provides around 50 hours of power reserve.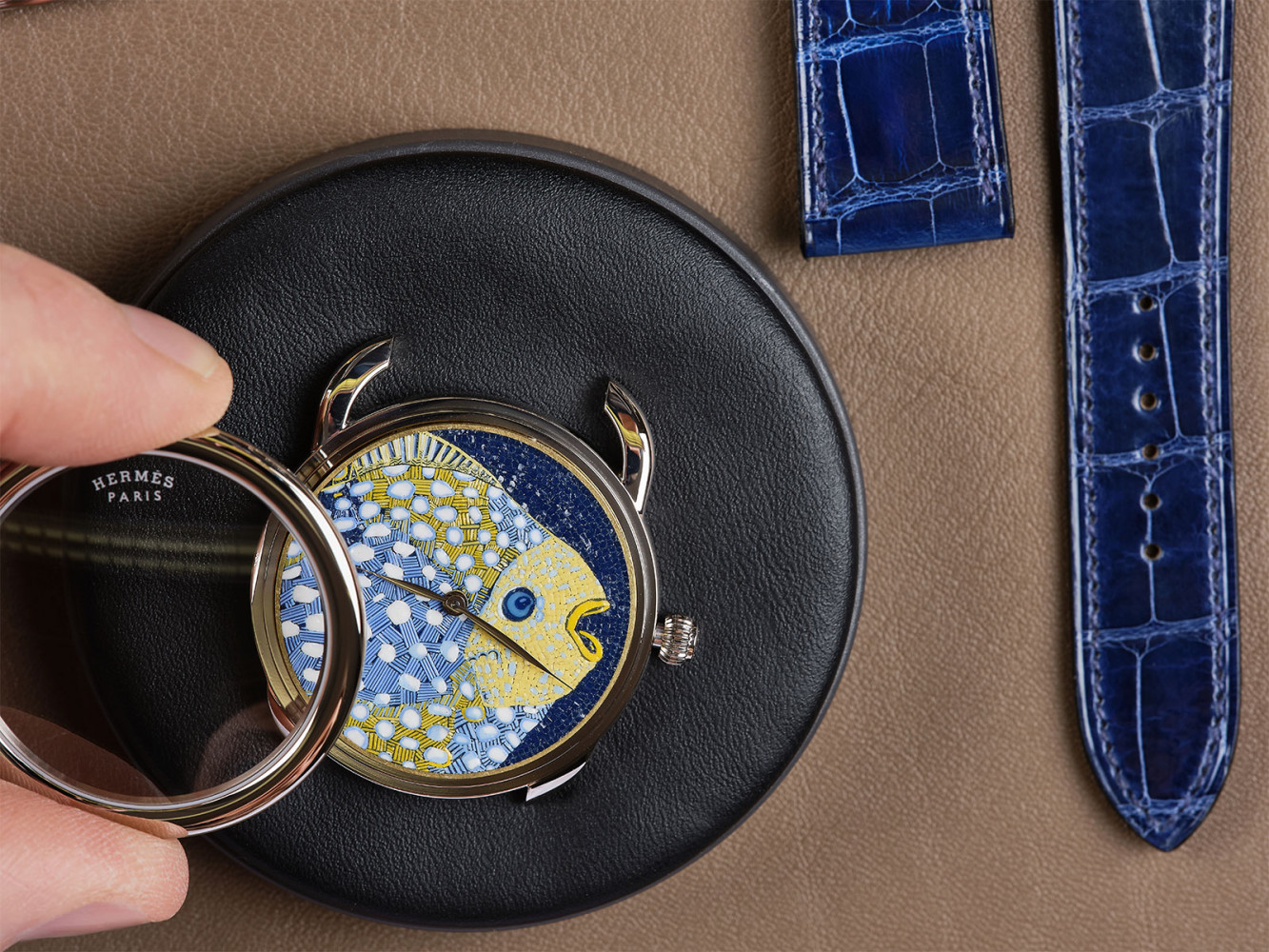 Hermès Arceau Grands Fonds is issued in a six piece limited edition. It features a sapphire blue alligator strap that matches the turquoise shade of the dial. Photos courtesy of Hermes - Arceau Grands Fonds ©David Marchon.
Hermes collections
Advertisement
Right now 100+ watches on sale!
Latest News from Hermes