Marina Milojević
|
09.17.15
|
06:03 AM
The house of MB&F has recently launched the Arachnophobia timepiece, a time machine developed in collaboration with L'Epée 1839 – Switzerland's only specialized high-end clock manufacture.
As announced by the brand, Arachnophobia is an imaginative creation inspired by a giant spider sculpture named Maman (mother in French), created by Louise Bourgeois (1911 - 2010) in bronze, stainless steel and marble. The monumental sculpture, measuring 9.27 x 8.91 x 10.24 meters, has been installed in a number of different locations around the world.
In 2015, MB&F founder Maximilian Büsser, known for his appreciation of art, decided to honor the late French-American artist with a special series of clocks inspired by the famous Maman sculptures. Büsser chose a high-end L'Epée clock movement and reimagined it as the mechanical head and torso of a spider. The body of the mechanical arthropod is fitted with a black dome with white numerals depicting the hours and minutes. The exquisitely-finished, almost completely unveiled movement is actually a time-displaying abdomen with a power reserve of eight days.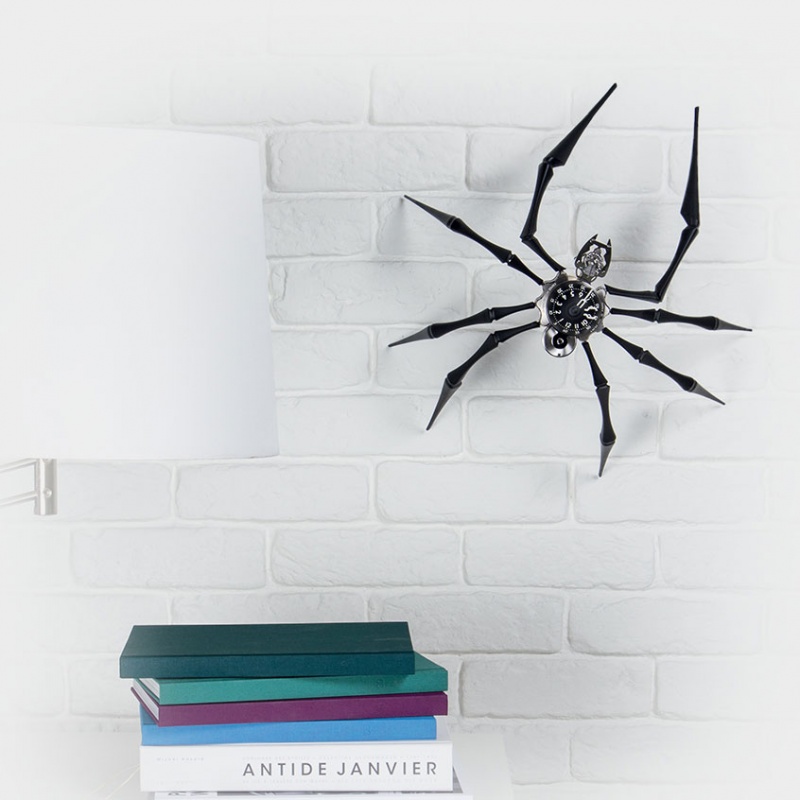 The head of the spider accommodates the regulator with its oscillating balance wheel, while the other end of the creature houses the mainspring barrel. Eight long spider legs are attached to the abdomen. When the legs are fully extended, Arachnophobia measures no less than 203 mm in height. The legs can be rotated so that Arachnophobia can stand upright on a desk or on a wall. The diameter of the clock, with legs flat, is 405 mm, while the movement measures 75.3 x 134.9 x 63.8 mm.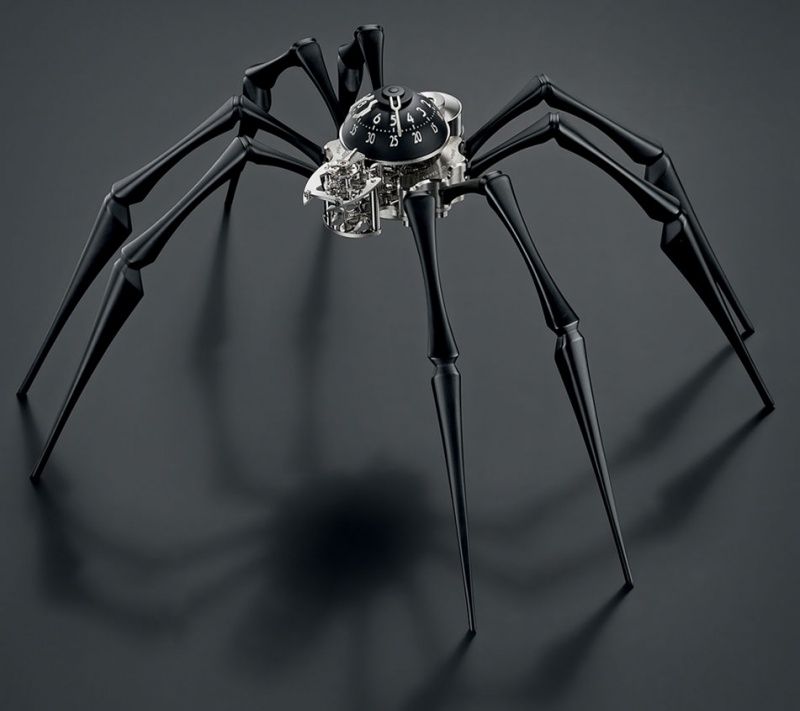 There are two different editions of MB&F Arachnophobia available - black or 18k yellow gold-plated. Depending on the version, the mechanism is made in palladium-plated brass or gold-plated brass. This L'Epée in-house designed and manufactured movement beats at a frequency of 18,000 vibrations per hour, providing about 8 days of power reserve. The movement is assembled from 218 components and 11 jewels, with winding and time setting system positioned on the underside of the clock. The movement finishing includes Côtes de Genève, anglage, polishing, sand-blasting, circular and vertical satin finishing. Gold-plated version of MB&F Arachnophobia weighs 1.96 kg, while the black version is 0.98 kg.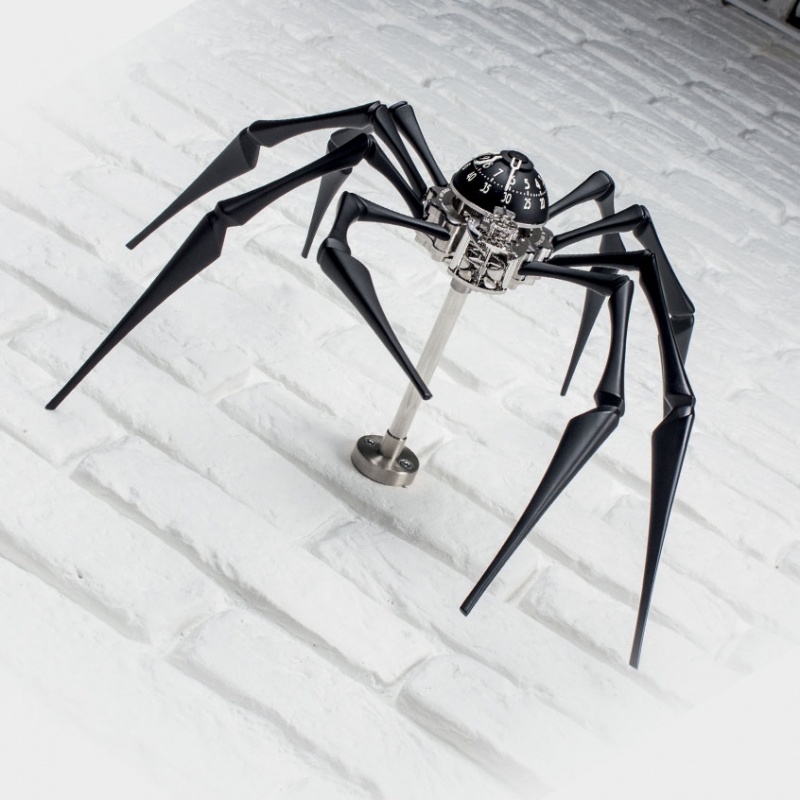 76.6000/114 ARACHNOPHOBIA BLACK PALLADIUM-PLATED BRASS
LIMITED EDITION
76.6000/011 ARACHNOPHOBIA GOLD 18K YELLOW GOLD PLATED BRASS
LIMITED EDITION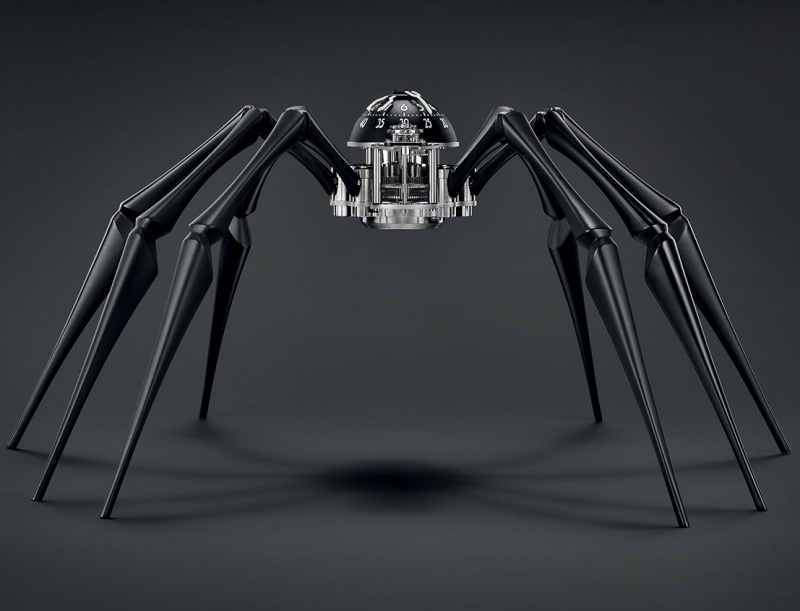 Author: Marina Milojevic Pinterest
If you like our blog why don't you join our Facebook page or follow us on Twitter @luxoiscom.
If you use one of my articles on your own website or blog, then please credit me and provide a link back to the original.
MB&F collections
Advertisement
Right now 92 watches on sale!
Latest News from MB&F