Marina Milojević
|
06.01.17
|
03:44 PM
The Swiss watchmaker Richard Mille and the greatest clay-court player in history, Rafael Nadal, are celebrating 9 years of friendship this year. The Spanish star is a Richard Mille brand ambassador, while the watchmaker has been working alongside Nadal for several years to support the Rafa Nadal Foundation.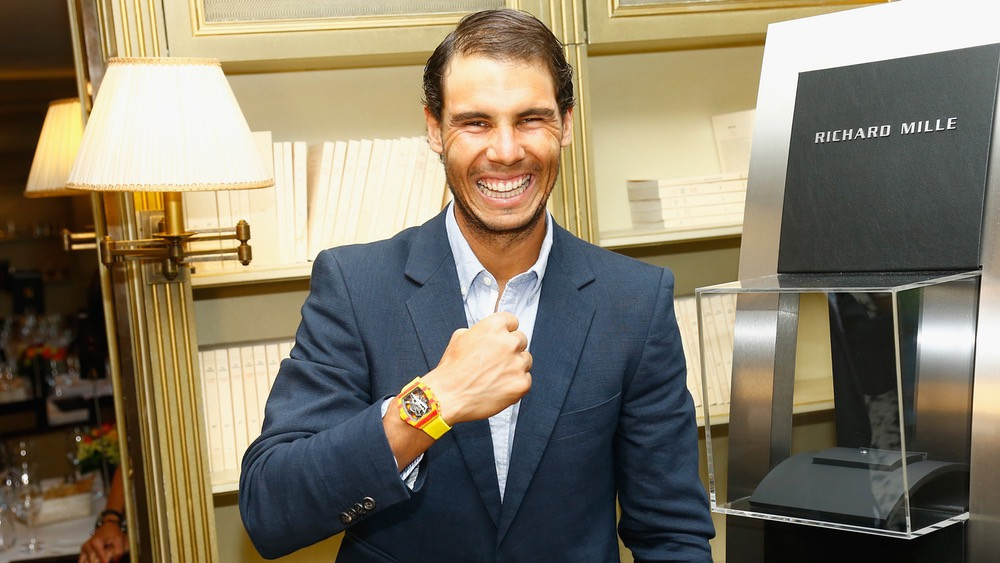 Since 2010, two friends have developed a full line of extraordinary sports watches turning their friendship into one of the most exciting and unique collaborations in history. The latest addition to the Richard Mille x Rafael Nadal collection is the third timepiece in the Richard Mille line created in partnership with Nadal.
The watch was unveiled just a couple of days ago, ahead of the French Open (Roland Garros) tournament. Just like its predecessors, the new RM 27-03 Tourbillon has been specifically designed to serve his master on court: it is light, robust, and comfortable. However, the new model pushes the limits of technical performance even further, featuring one important innovation – it is capable of withstanding especially violet shocks up to 10,000 g's.
In the terms of aesthetics, the watch conveys the Spanish tennis champion's playful spirit and pays homage to his native Spain. The watch is presented in a striking red and yellow Quartz TPT® case (measuring 47.77mm x 40.3mm x 12.75mm) that evokes the colors of the Spanish flag. The intense bursts of color are obtained by impregnating fine layers of silica just 45 microns thick with tinted resin, and then heating them to 120°C. The quartz fibers used in the case are anallergic and highly resistant to UV rays, they are lightweight yet highly resistant to shocks, and water resistant to 50 meters.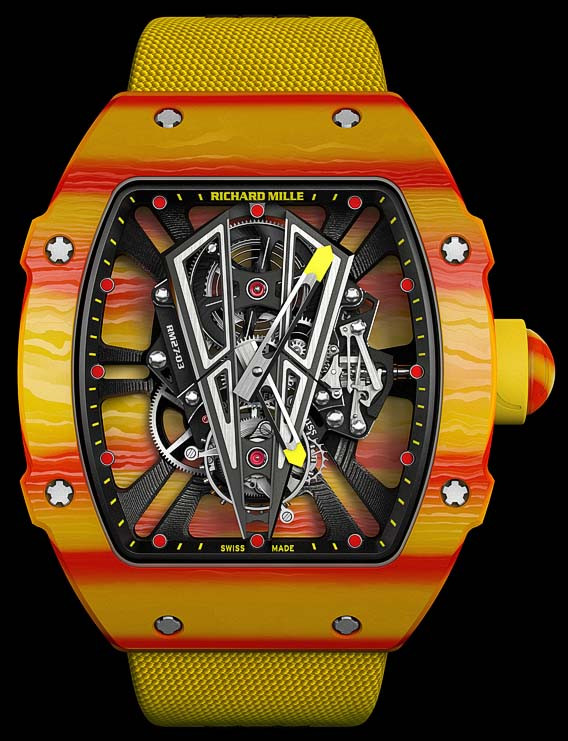 Richard Mille RM 27-03 Tourbillon for Rafael Nadal is equipped with a rapid winding barrel that provides 70 hours of power reserve. The finely decorated movement reveals hand-polished tapered anglage and satinated surfaces, set against finely microblasted elements. The skeletonized bridges encircling the barrel, the balance wheel and the mechanical winding tourbillon beating at 3 Hz together evoke the forward-facing head of a bull, which is yet another symbol of Spain and Nadal's chosen emblem.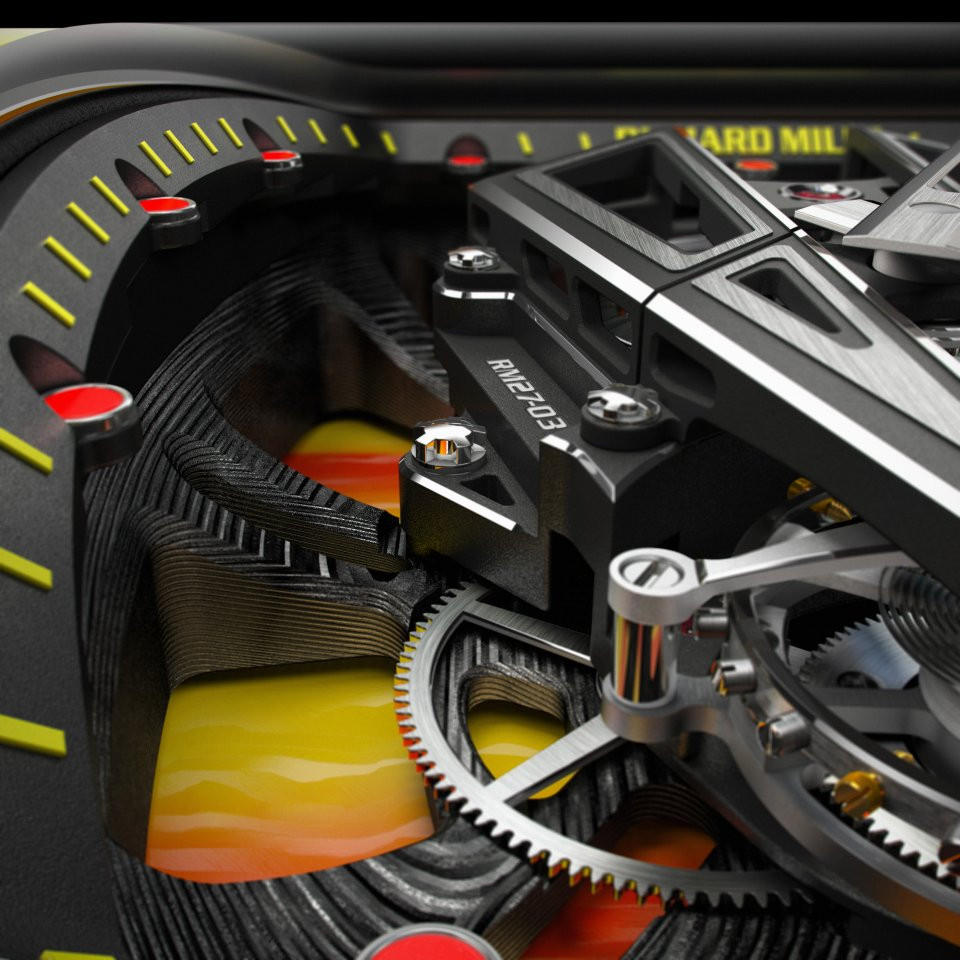 Richard Mille RM 27-03 Tourbillon for Rafael Nadal is produced in a very special limited edition comprising only 50 pieces, and priced at $725,000. For more information, please visit Richard Mille website.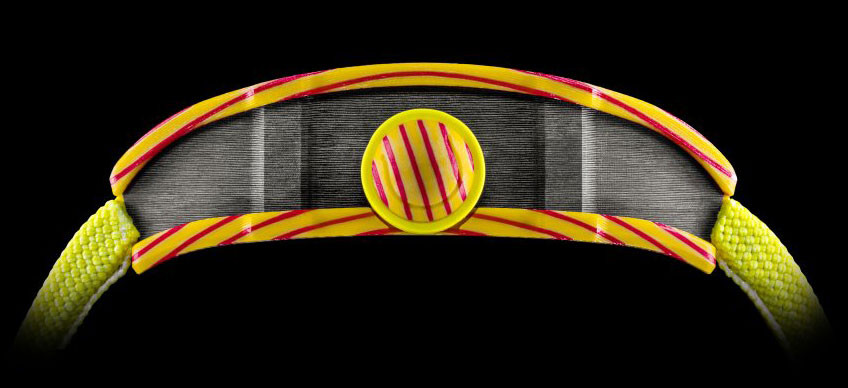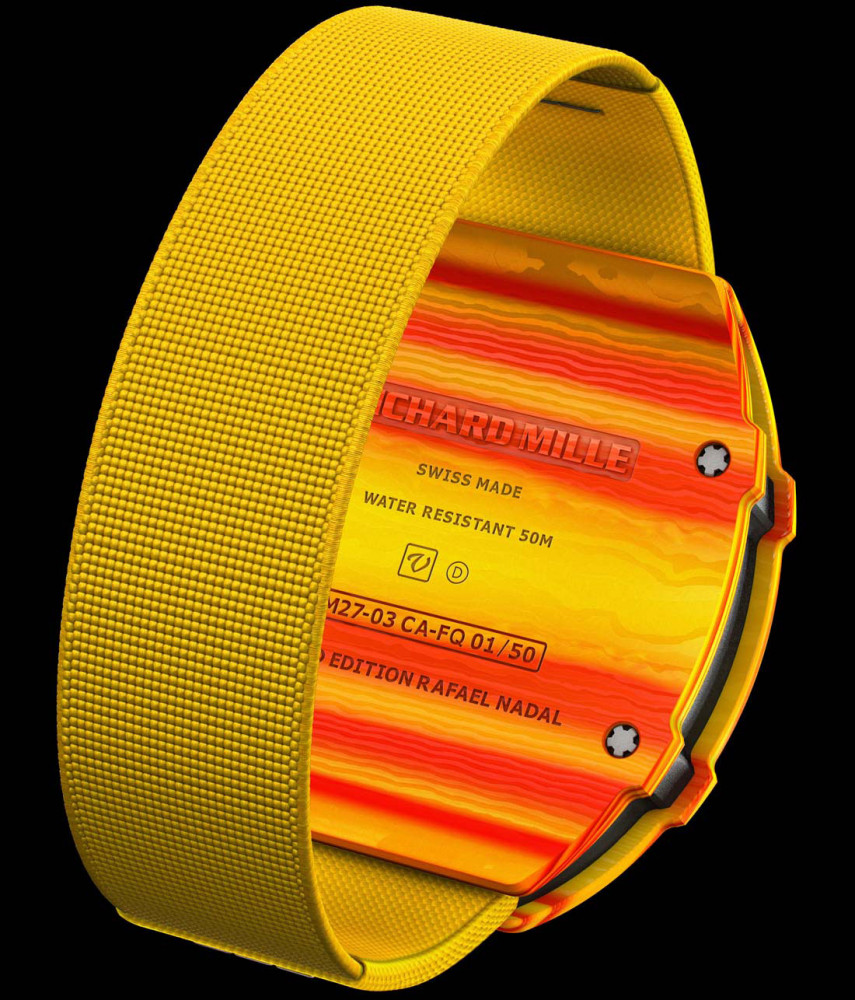 For more Rafael Nadal watches see:
Richard Mille RM 35-02 Rafael Nadal
Richard Mille RM 27-02 Tourbillon Rafael Nadal
Richard Mille Tourbillon RM 27-01 Rafael Nadal
Richard Mille Rafael Nadal RM 035 Watch
Richard Mille collections
Advertisement
Right now 100+ watches on sale!
Latest News from Richard Mille