Marina Milojević
|
11.21.17
|
08:44 PM
The house of Ulysse Nardin celebrates Chinese New Year with the latest addition to the Classico Collection. Dog, the eleventh creature of the Chinese zodiac, after the Rooster, and before the Pig, is taking the throne in February 2018. To celebrate this special occasion at the turn of the traditional lunisolar Chinese calendar, Ulysse Nardin adds a gorgeous new dial to the Classico Collection. The Year of the Dog timepiece reveals a determined, intelligent, and brave canine, executed using the centuries old enameling methods.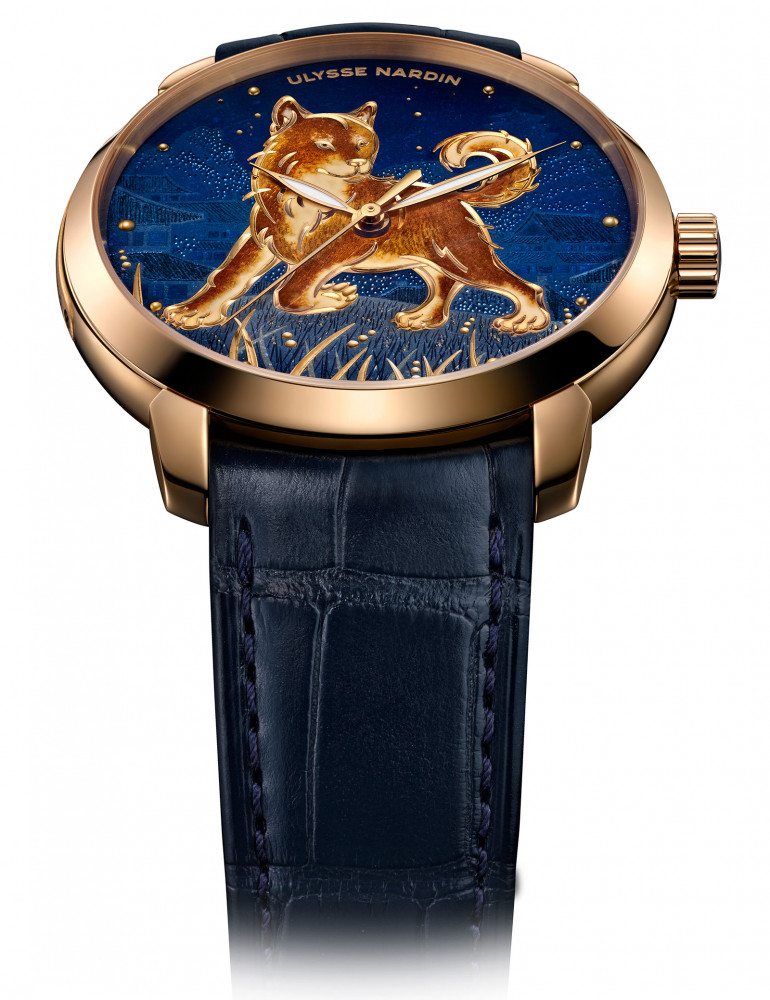 The lively depiction of the dog is created in-house at Donzé Cadrans, using the Grand Feu enameling technique, and by the skilled hand of an experienced artisan. Every enamel dial is a unique piece, a glass melted together with natural pigments and heated to their melting point of 800 – 1200 Celsius until it liquefies and bonds to metal. The molten mixture is set to cool and bond on a dial plate and the process is repeated for each new enamel layer. The enamel artist creates endless varieties of color by experimenting with different ratios of pigment and silica.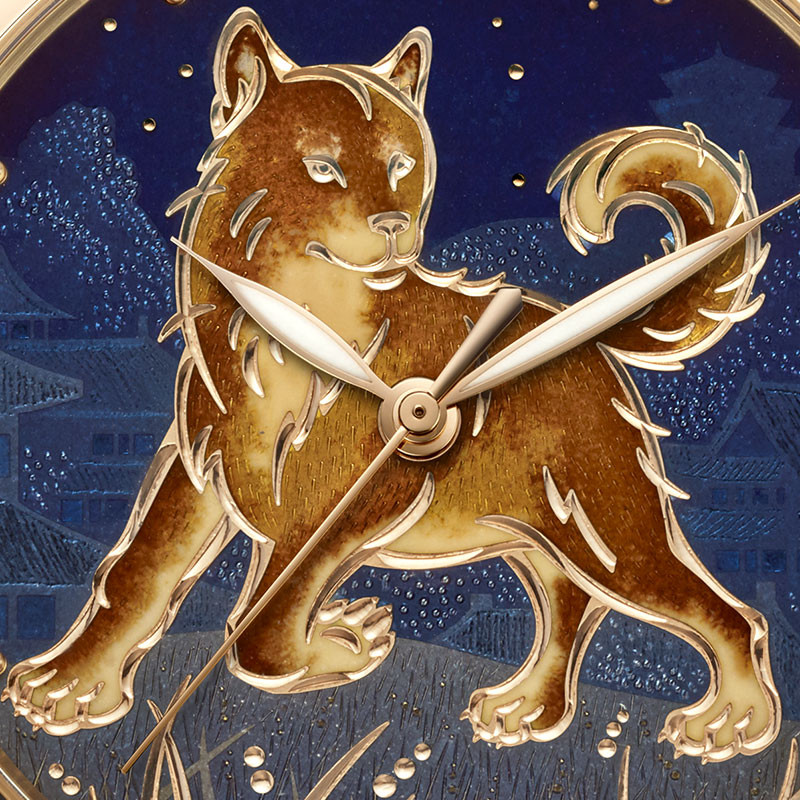 This particular dial is made using Grand Feu enamel, which means that the artisan doesn't paint the motif directly on the dial plate, but applies more oxides on the dial in gold. The dial is then fired several times, allowing the motif and nuances of the colors to appear bit by bit. The technique is combined with Champlevé enameling, which involves the carving of cells with a chisel directly on the dial, to be filled with different colored enamels. In the final step, the artisan proceeds with enhancing the motif by chiseling all the metal parts on the surface.
Ulysse Nardin Classico Dog is crafted in rose gold and it measures 40 mm in diameter. The watch is powered by the self-winding UN-815 movement, which is COSC-certified and endowed with a 42-hour power reserve. The unique Grand Feu Champlevé enamel timepiece is available in a limited edition of 88 pieces, water-resistant to 50 m, and held in place with an alligator strap.
Ulysse Nardin Classico Dog, reference 8152-111-2/DOG, is priced at CHF 39'800. For more information, please visit ulysse-nardin.com.
Ulysse Nardin collections
Advertisement
Right now 100+ watches on sale!
Latest News from Ulysse Nardin