Marina Milojević
|
03.01.18
|
11:54 PM
Earlier this year, on the occasion of the SIHH watch salon, the house of Ulysse Nardin introduced the latest generation of its iconic Freak model. The first automatic watch in the Freak Collection – named Freak Vision – was updated with a new self-winding system named "Grinder", equipped with a super-light silicon balance wheel with nickel mass elements and stabilizing micro-blades, and packed in a freshly redesigned, even more slender case.
This time, Ulysse Nardin is releasing two unique Freak Vision models named after the famous snorkeling reef of Coral Bay in Western Australia. Both of them showcase a new decorative bonding technique and Ulysse Nardin's signature micropainting.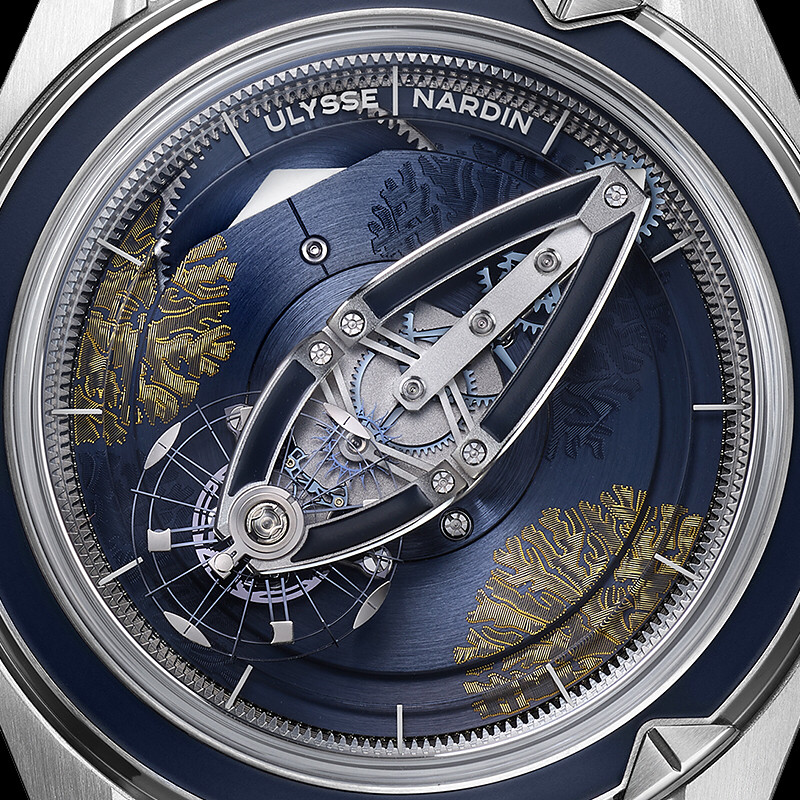 Ulysse Nardin, a brand known for its spirit of innovation, introduces another new technique called bonding. Adopted from the electronics industry, bonding uses thousands of 24-carat gold threads to create meticulously delicate patterns. In electronics, bonding is used in computer chip production to convey electricity. In watchmaking, Ulysse Nardin uses it to create complex new designs.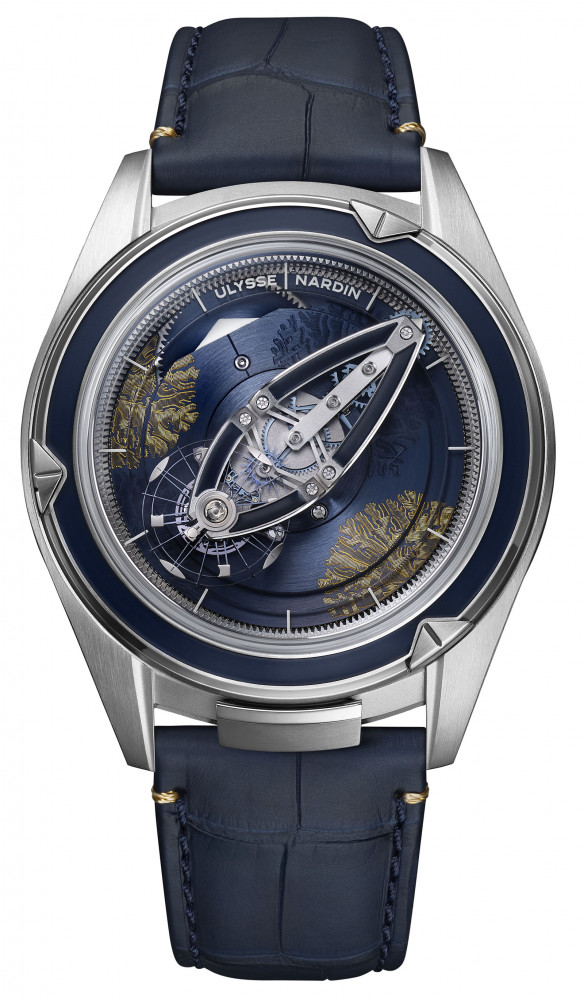 A bonding machine squeezes thin gold threads on each side of the dial d, one after another, to draw a coral reef motif on the watch movement's barrel spring bridge. The threads are all tied only at the top and bottom, but not its center. To create blue and yellow gold coral reef patterns, the watchmaker used a chemical vapor disposition process in blue, and then the yellow gold threads are bonded to the dial.
The second version of this one-of-a-kind model highlights the art of miniature painting. The dial was first prepared with a CVD blue surface treatment before the master artisan applied and mixed red and white acrylic painting directly on the dial. Tiniest details were hand-painted using extremely fine brushes. The complexity of the motif required about 20 hours of painting time. The dial was then heated in an oven at 90 degrees between each color application.
Ulysse Nardin Freak Vision Coral are unique, on-demand watches. Each of them has two bar tack loop stitches on their straps in matching yellow gold or coral red, and a gear train bridge and escapement bridge in matching color. Other color possibilities can also be explored on demand. For more information, please visit ulysse-nardin.com.
Ulysse Nardin collections
Advertisement
Right now 100+ watches on sale!
Latest News from Ulysse Nardin