Marina Milojević
|
04.06.16
|
01:17 AM
On the occasion of the BaselWorld watch and jewelry show, the house of Louis Moinet presented its new creation – the Sideralis timepiece, a watch described as an interstellar inverted double tourbillon.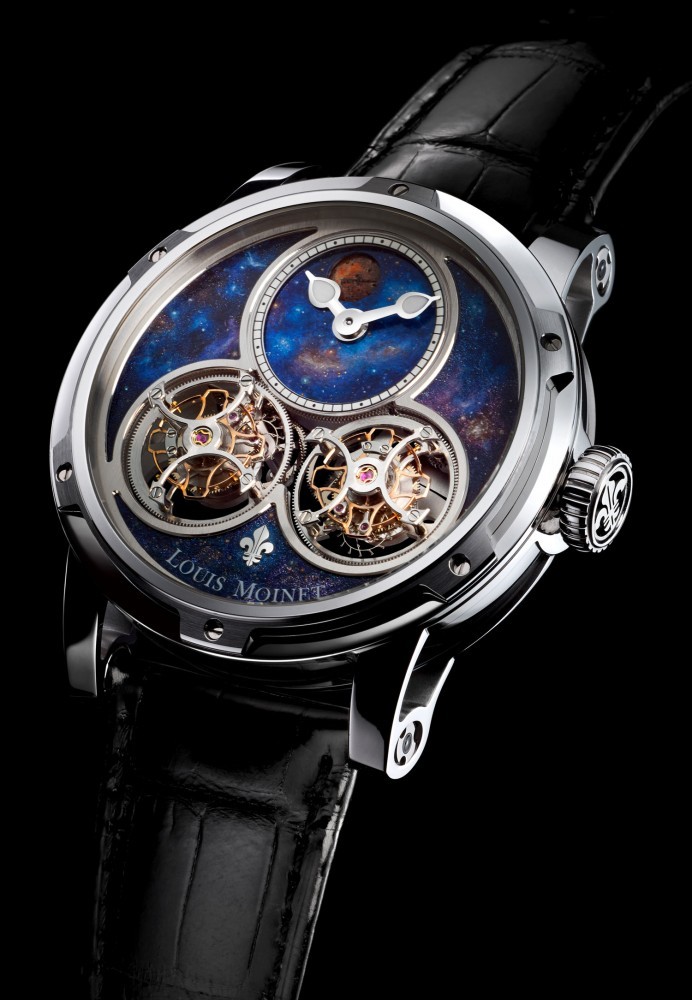 The Sideralis timepiece is built around two extraordinary tourbillons, both of them oversized with their cages measuring 14,9 mm. This is the largest assembly of two tourbillons ever created, which adds a captivating visual aspect to the watch, allowing the watch lovers to admire and contemplate horological art in all its splendor.
The tourbillons are positioned above the movement, and even above the dial, placed in two raised, fully visible cages. In this way, the balance wheels and their gorgeously fashioned screws are fully revealed. Another special feature of the watch is that is tourbillons rotate in opposite direction. However, this is not only for aesthetic reasons – the counter-rotation generates the animating power required for the Sideralis complication: a time dial, positioned at 12 o'clock, embracing two discs, one on the top of the other.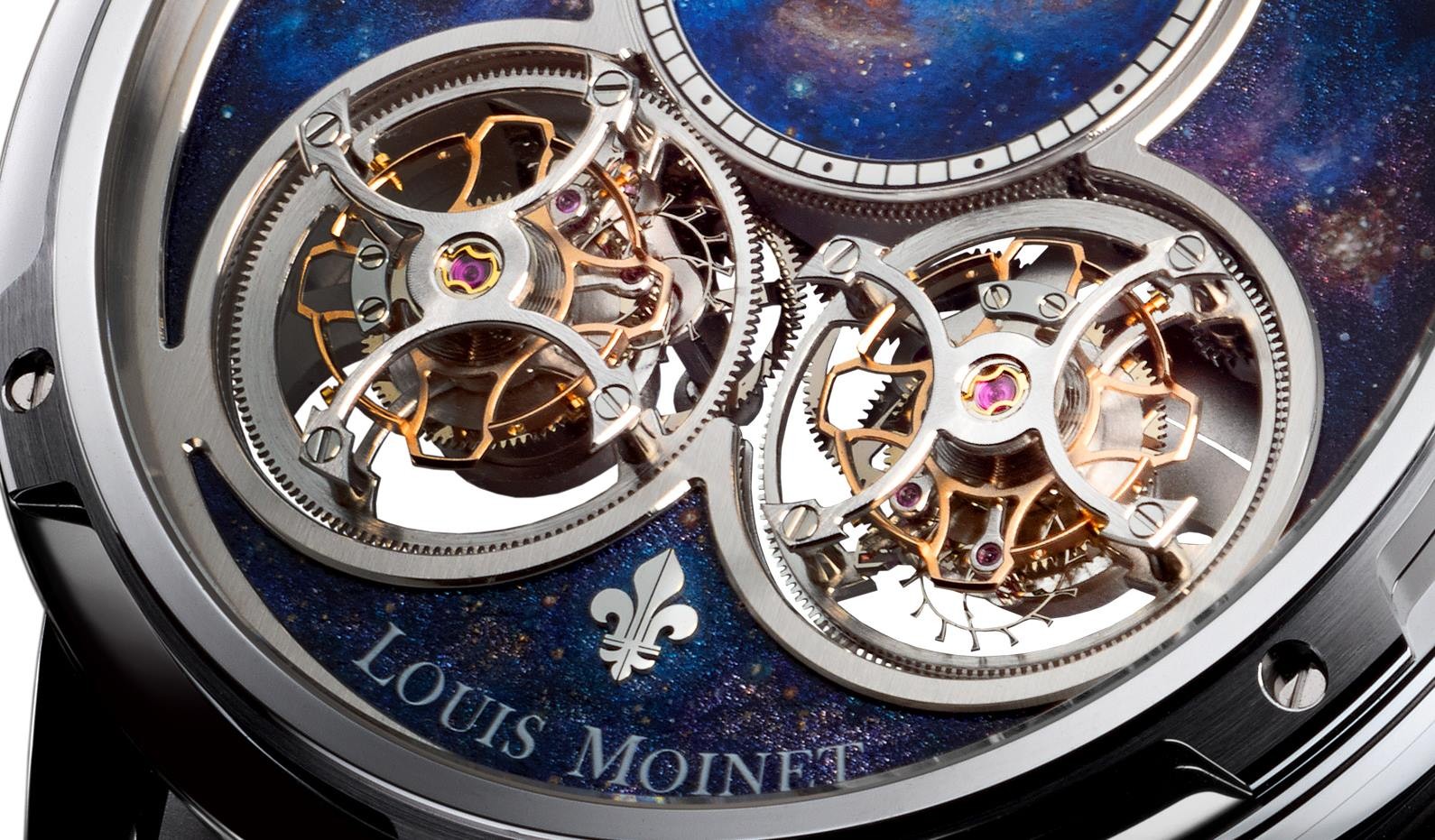 For the first time ever, a watch complication is driven by a double tourbillon. The top disc, mounted on a hand-painted aventurine dial, features a hand-painted illustration depicting the universe and its stellar constellations. The disc completes one counter-clockwise rotation every 60 seconds. At the top of the upper disc, there is a circular opening through which three planets painted on the lower disc - Mars, Mercury and the Moon - can be admired. The bottom disc rotates in the opposite direction, but at the same speed.
As explained by Jean-Marie Schaller, the founder and CEO of Les Ateliers Louis Moinet, each of the micro-paintings includes genuine dust from the heavenly body in question: a fragment of Mars, moon dust, and extremely rare fragments of the legendary meteorite Sahara 99555, which is considered as the "Rosetta Stone" of our solar system (one that gives a clue to understanding). It's the oldest known to mankind, believed to have come from Mercury and to be four and a half billion years old.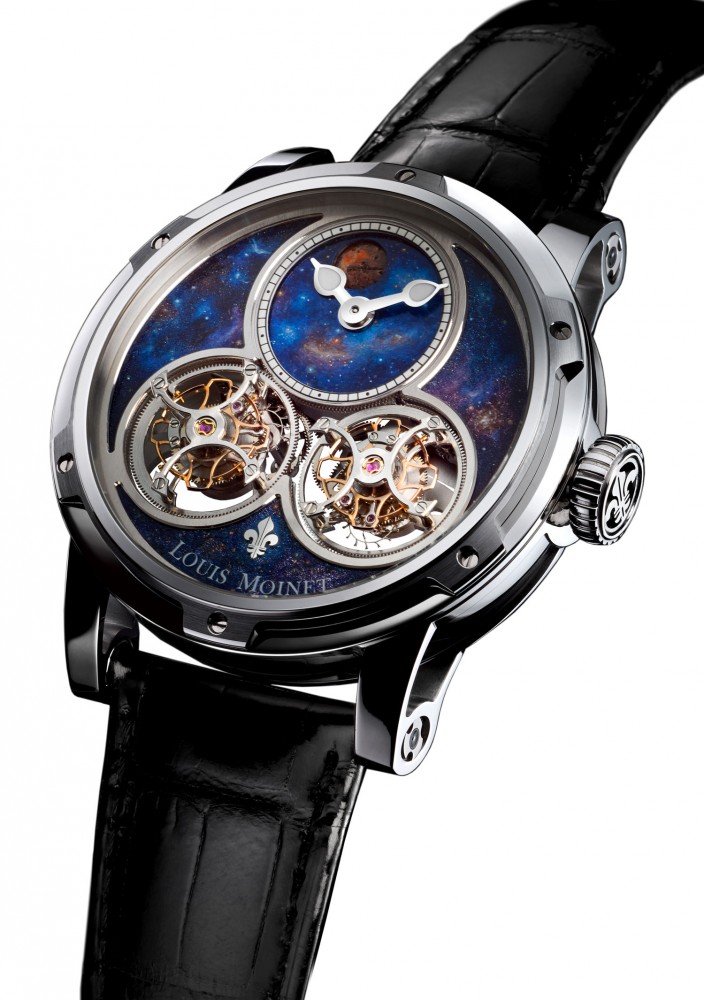 The inverted double tourbillon is protected by two patents, same as the Sideralis caliber, which is completely exclusive to Louis Moinet. The Sideralis timepiece by Louis Moinet, is made of grey gold, and it measures 47.4 mm in diameter. Its manually-wound movement, Caliber LN46, beats at a frequency of 21.600 vibrations per hour, and provides about 72 hours of power reserve. The movement is mounted on 36 jewels, and protected from the ingress of water to up to 30 meters.
The Louis Moinet Sideralis timepiece is mounted on a black alligator strap with folding clasp. The watch is issued in a limited edition of just 28 watches.
Louis Moinet collections
Advertisement
Right now 32 watches on sale!
Latest News from Louis Moinet