Marina Milojević
|
06.16.17
|
12:48 AM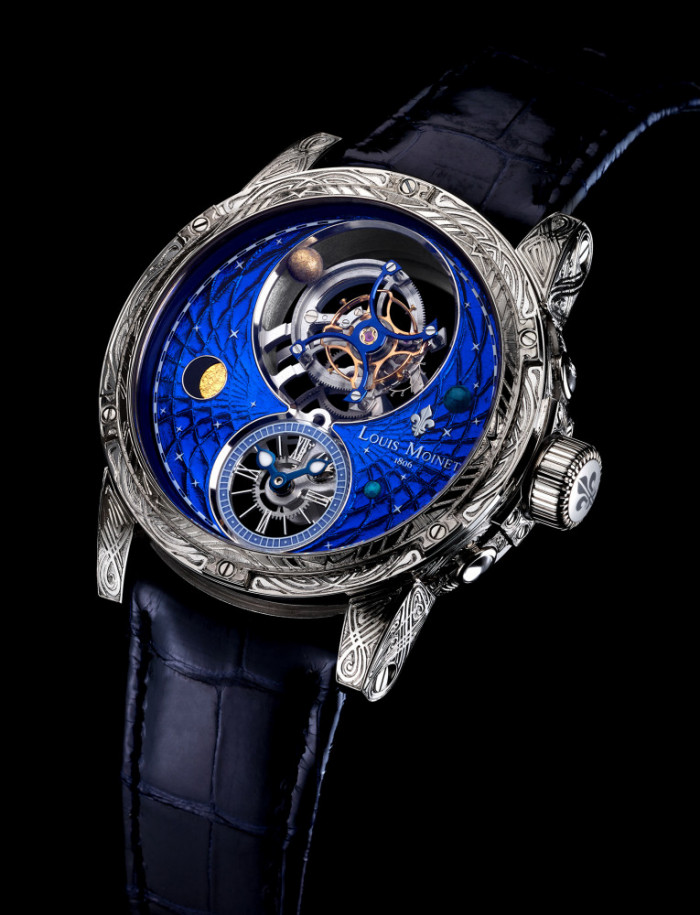 The house of Louis Moinet introduces the world's first satellite tourbillon, named Space Mystery. The watch is a powerful tribute to the astronomical passion of Louis Moinet, and what makes it truly unique is that its cage is balanced by means of a tiny planet that revolves around it. After having shown off fragments of the Moon, Mars, and the oldest known rock in the solar system, Louis Moinet now incorporates the carbonaceous CM chondrite meteorite into its latest creation. These authentic fragments of a mysterious meteorite hold traces of amino acids – possibly one of the first forms of life in the universe. Space Mystery is the first timepiece bearing races of amino acids, the basic requirement for all lifef orms, and this particular meteorite could even be the proof of extraterrestrial life.
"The origin of the carbonaceous CM chondrite meteorite is a mystery. The presence of non-terrestrial amino acids could indicate that it originated outside our solar system over 4.5 billion years ago," explains Jean-Marie Schaller, the founder of Les Ateliers Louis Moinet. "This was an exceptional creative catalyst for us – and represented a huge responsibility, too. It's not every day that you get a chance to display the origins of life in the Universe."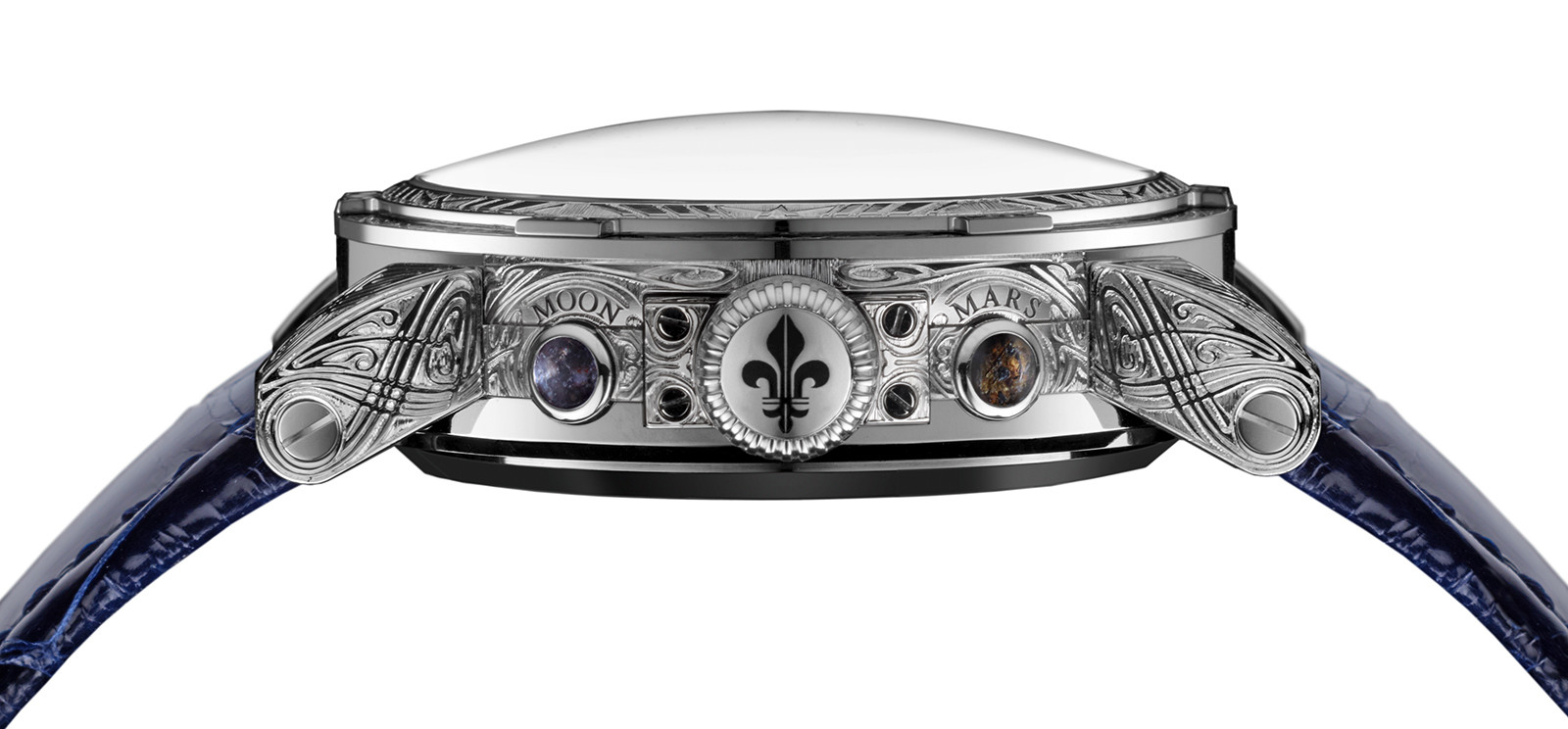 The first thing that captures the attention is the large tourbillon positioned at 12 o-clock. The one-minute flying tourbillon is suspended in the very middle of a generous dial opening, measuring 13.59mm in diameter, with its cage balanced by a small planet in orbit around it. Its balance wheel and bridge have been crafted in authentic Louis Moinet style, the upper part is in blued titanium. Visible at 9 o'clock is the authentic fragment of the amino acid meteorite. The off-center hours and minutes indication is placed at 6 o'clock. The watch is powered by the exclusive caliber LM48, manufactured with Tec-Ebauches. This hand-wound movement beats at a frequency of 21,600 vibrations per hour, offering about 72 hours of power reserve. The exhibition case-back allows the wearer to enjoy a view of the movement.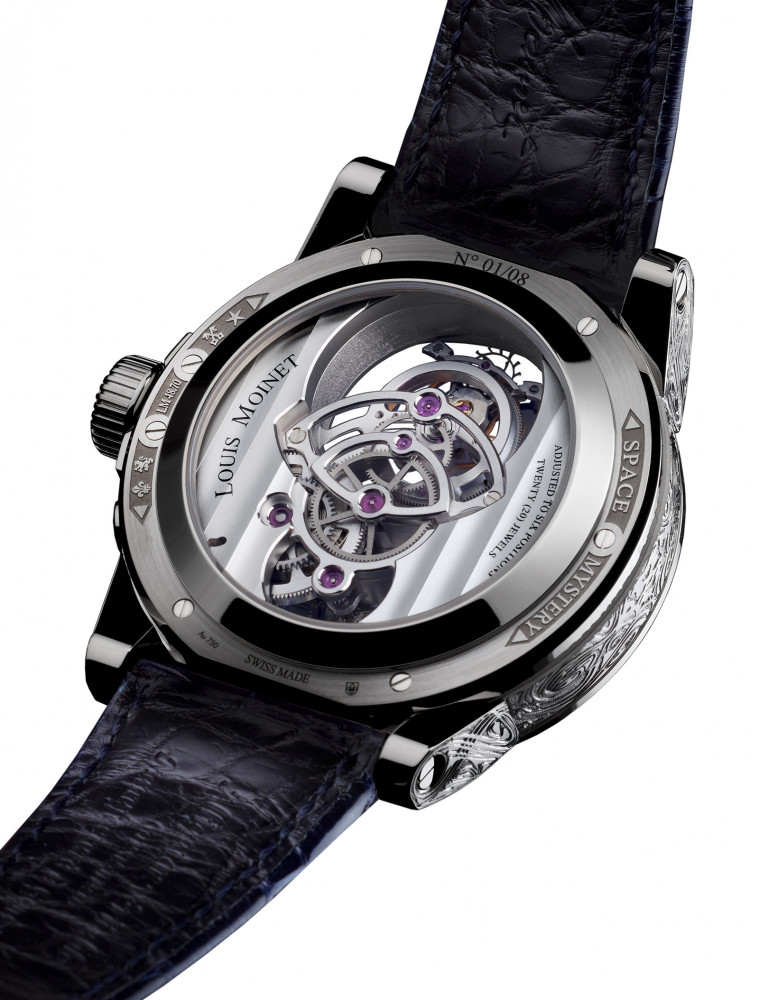 There will be four editions of Space Mystery, each comprising 8 watches. Two of them are in white gold, and remaining two are in rose gold. Each of them features a magnificent blue dial in Magic Blue, a hue whose exact composition remains a closely guarded secret. The Space Mystery case is entirely hand-engraved and hand-polished. On either side of the crown, each caseband will include two other authentic fragments of heavenly bodies – one from Mars and the other from the Moon. This exclusive edition is limited to 8 pieces worldwide, because the number is a visual reminder of the infinity symbol.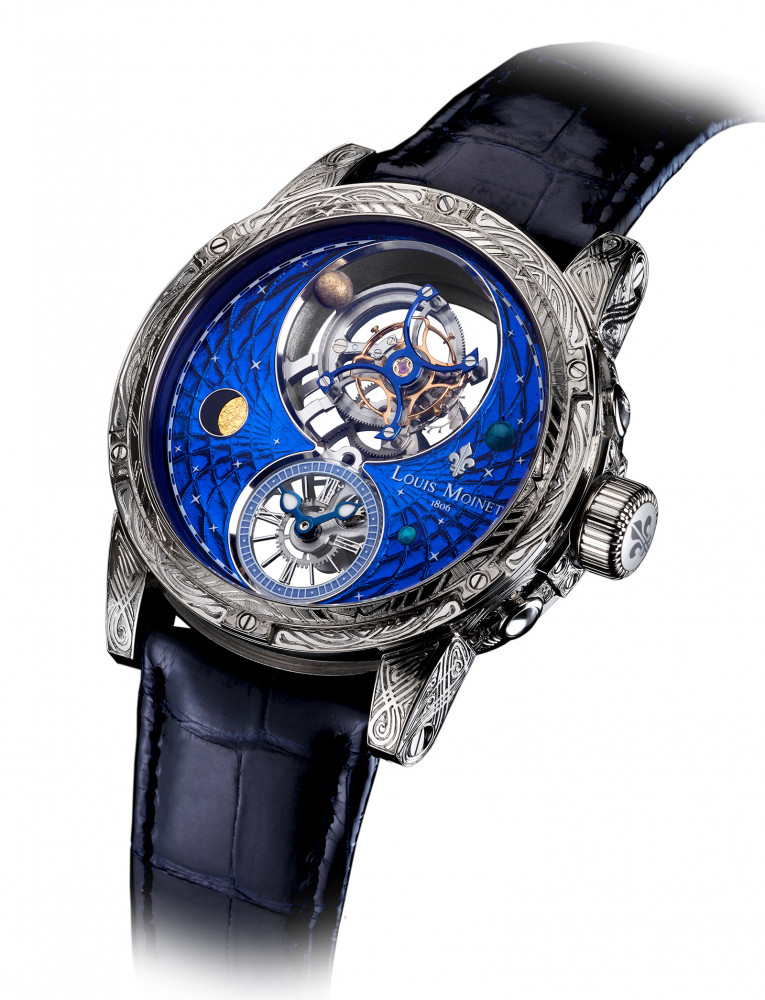 Louis Moinet Space Mystery is priced at CHF 175,000, or CHF 195,000 for the engraved version. For details about this watch, visit Louis Moinet website.
Louis Moinet collections
Advertisement
Right now 32 watches on sale!
Latest News from Louis Moinet