Marina Milojević
|
12.27.12
|
03:19 AM
F.P. Journe has recently launched a new piece of the Souveraine collection - the Chronomètre Optimum.
The watch was announced earlier this year, with a photo teaser, and described as a creation designed in attempt to achieve the ultimate goal in mechanical watchmaking – a quartz precision using the old-school techniques. F.P. Journe Chronometre Optimum is a symbol of the very essence of precision. The watch combines the finest components ever used in watchmaking, and it is envisioned as the brand's most accurate timepiece ever created!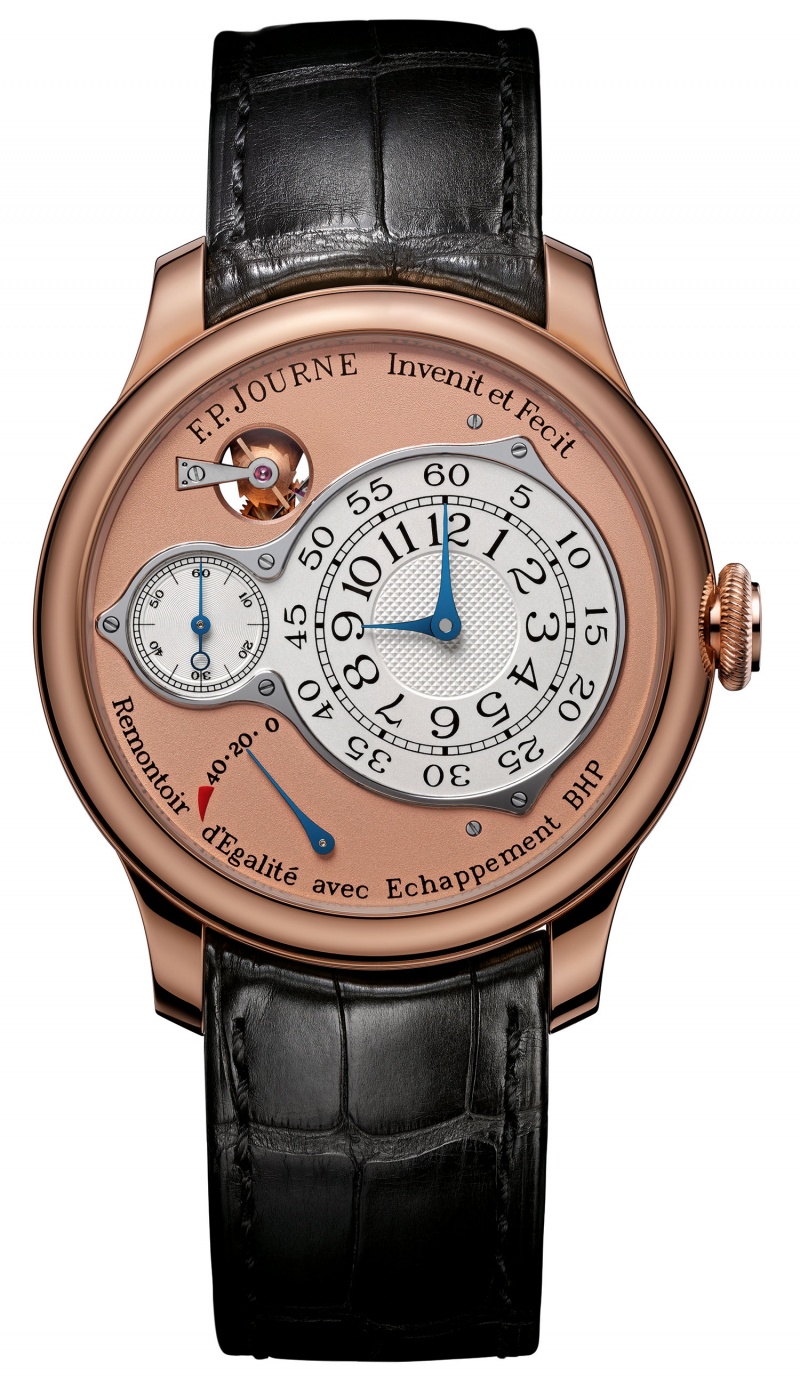 The watch movement features a double barrel with its two springs and a patented constant-force remontoire that balances the driving force applied to the escapement to make it constant. For those of you who are not familiar with the function of the remontoire, let me note that this is a small secondary source of power which is used in precision clocks and watches to increase the accuracy by evening out variations in drive force. The patented bi-axial-escapement functions without oil, and it starts up on its own without any lubricant, which results in far greater output than with the standard escapements - 50 hours without loss of amplitude.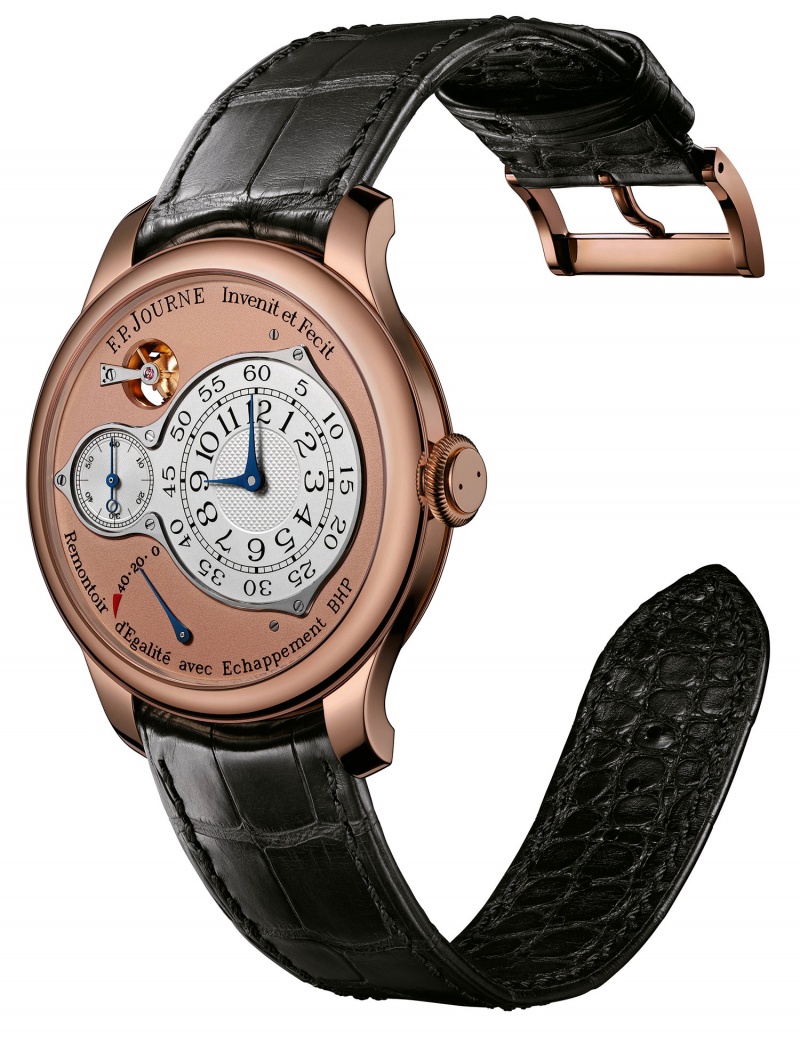 F.P. JOURNE Chronometre Optimum is available in a couple of variants: with a 40 or 42 mm Platinum or 18ct red Gold case, with a white Gold or red Gold dial, on a leather strap, Platinum or 18ct red Gold bracelet. The dial of the watch reveals separate counters and tracks for hour, minute and small second displays as well as the visible wheel of the constant-force remontoire. The indicator at 9 o'clock is used for small seconds, while the power reserve indicator rests at 6 o'clock position.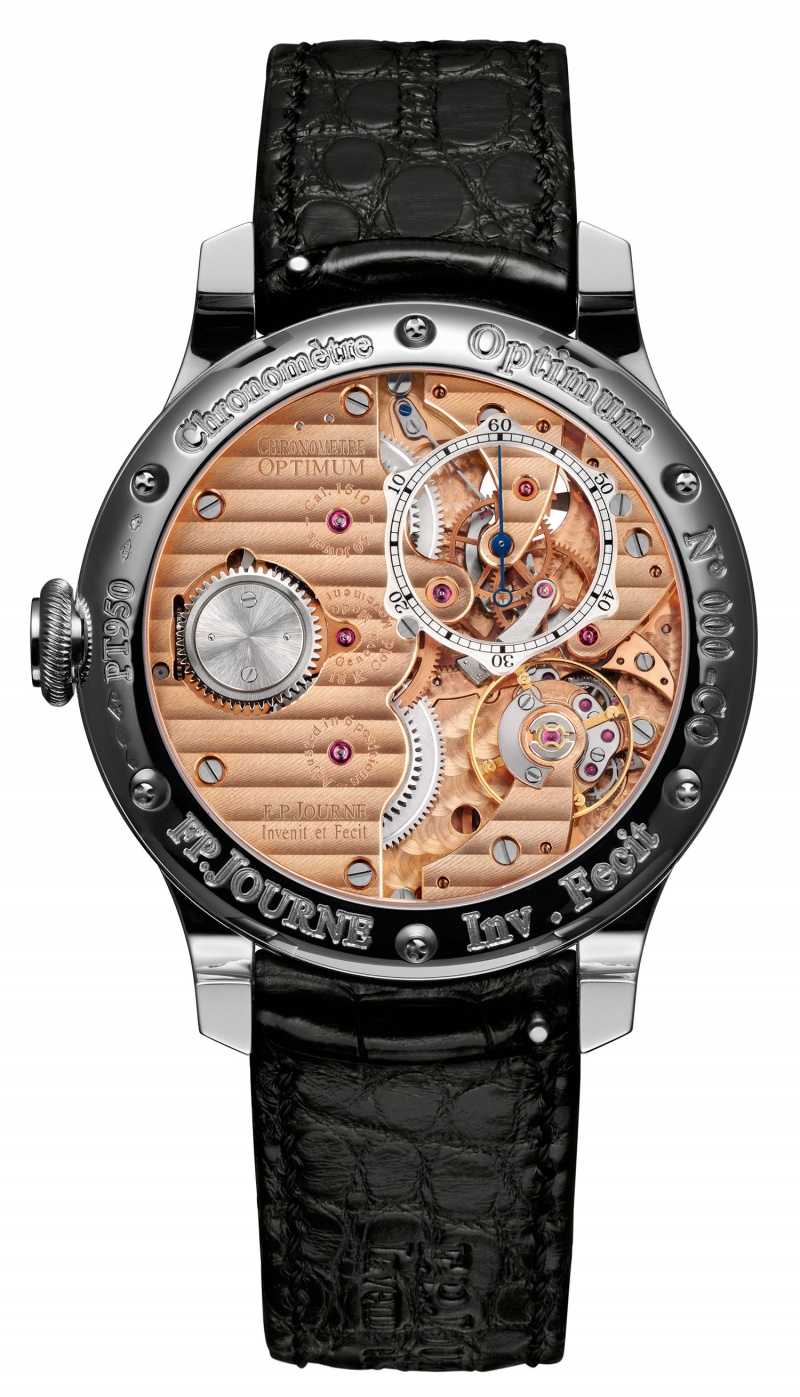 The watch is powered by manually-wound movement Calibre 1510. The mechanism is, just like the rest of the F.P. Journe movements crafted in 18-carat rose gold. It offers 70 hours of power reserve, and it is gorgeously decorated with circular graining on baseplate, Cotes de Geneve on the bridges, polished screw heads with chamfered slots and pegs with polished rounded ends. According to the press release, the escapement with arbor and wheels particularly interesting because it is inspired by that of A.L. Breguet created in the XVIII Century.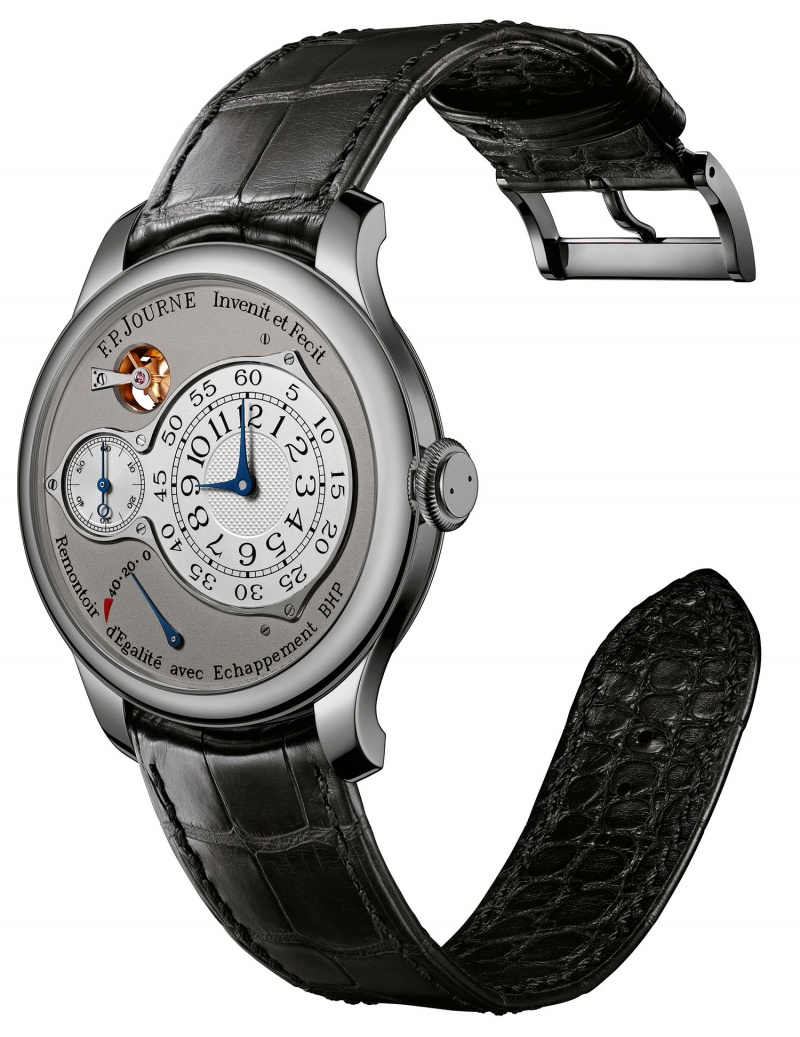 F.P. JOURNE Chronometre Optimum (40mm) in Platinum is priced at 91,800 CHF, while the rose gold version retails at 85,800 CHF.
Author: Marina Milojevic
If you like our blog why don't you join our Facebook page or follow us on Twitter @luxoiscom.
If you use one of my articles on your own website or blog, then please credit me and provide a link back to the original.
F. P. Journe collections
Advertisement
Right now 100+ watches on sale!
Latest News from F. P. Journe