Marina Milojević
|
07.16.11
|
03:01 AM
The leading French auction house, Artcurial Briest-Poulain- F.Tajan, announces a historic sale for 29 November 2011: <b>Jaeger-LeCoultre Unique Auction</b>
Jaeger-LeCoultre supports the event by an extract from the archives for every timepiece in the sale. Among many exceptional pieces, Jaeger-LeCoultre will present the unique Atmos 561 by Marc Newson, world known and respected designer. This is the world's only clock movement that runs on thin air. As you can see on the image, the design of this clock is balanced and simple, and the case is sculptured as a Baccarat crystal bubble. The movement is actually powered on changes in temperature, which allows the clock to run for years without the need to move it, wind, it or change batteries. This is possible due to the combination of gas and liquid ethyl chloride, locked inside the crystal capsule. As the temperature rises, the gas expands and compresses the internal spring. As the temperature lowers, the gas dilates and the spring relaxes. Brilliant!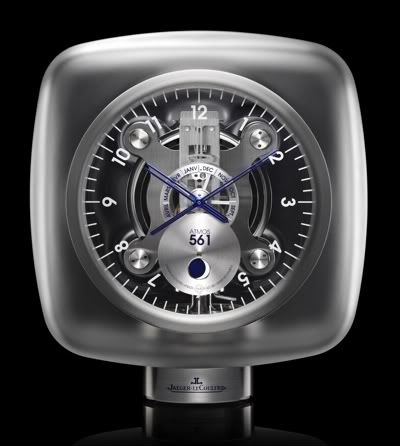 To make the case of this clock, Baccarat first applied unpolished technique to the outer surface of the crystal. The crystal is then immersed into acid baths to get this characteristic sandblasted crystal effect. During this phase, certain areas of the watch are protected to get several shades of crystal.
This is the central piece of the auction, and its first viewing is scheduled for July 23-26, at the Hôtel Hermitage in Monte Carlo. The second viewing will take place in Geneva from November 11-14, and the final showcase will be at the Hôtel Marcel-Dassault in Paris from November 24-28, prior to the auction on Tuesday 29 November 2011 (7pm).
The watch is sold in aid of charity, to the benefit of AMM, Monaco Association against Duchenne Muscular Dystrophy. Other watches in this special auction include Reverso, Duoplan, and even Memovox collection of 40 timepieces made between 1950 and the late 1970s: the very first Memovox diving watches, a 1959 Master Mariner Deep Sea with chocolate dial; and the remarkable 1968 Polaris equipped with special triple-back case.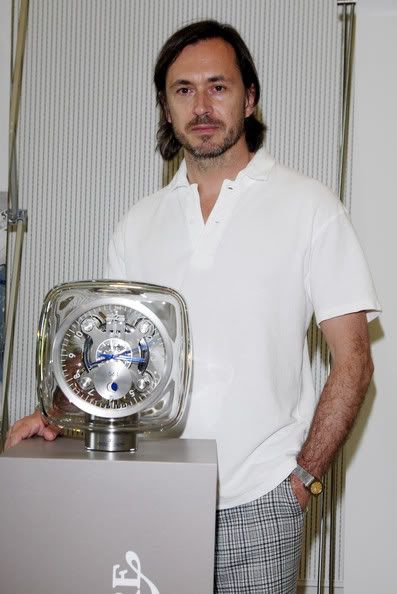 Marc Newson Presents Jaeger LeCoultre's Atmos 561 Clock
Viewing:

MONTE CARLO: Hôtel Hermitage – 23-26 July 2011 (partial sale viewing)
GENEVA: 11-14 November 2011
PARIS: Hôtel Marcel-Dassault – 24-28 November 2011
Jaeger-LeCoultre collections
Advertisement
Right now 100+ watches on sale!
Latest News from Jaeger-LeCoultre