Marina Milojević
|
11.05.14
|
01:20 AM
As announced a couple of days ago, Patek Philippe celebrates its 175th anniversary this year. To mark the occasion, the famous Swiss luxury watch manufacturer presents a dedicated collection of celebratory timepieces, and one of them stands out in particular – the amazing Grand Complication Grandmaster Chime.
The 175-year-old manufacture honors its anniversary in a spectacular way, by issuing a series of special watches, ranging from simpler Multi-Scale Chronographs and World Time Moon models, to the Chimming Jump Hour and the most complex Grand Complication Grandmaster Chime, a timepiece endowed with no less than 20 different complications. The Grand Complication Grandmaster Chime reference 5175, is a 2.5 million CHF timepiece, available in only six exemplars worldwide. The Grandmaster Chime is the first double-face wristwatch ever created by Patek Philippe. The watch can be worn either facing up, emphasizing the time and the sonnerie functions, or reversed, to place focus on the full instantaneous perpetual calendar. Patek has embedded the reversing mechanism into the lugs of the case, which makes it very simple and easy to change the face. The current time and date, which are the most practical indications, essential to timekeeping, are displayed on both dials.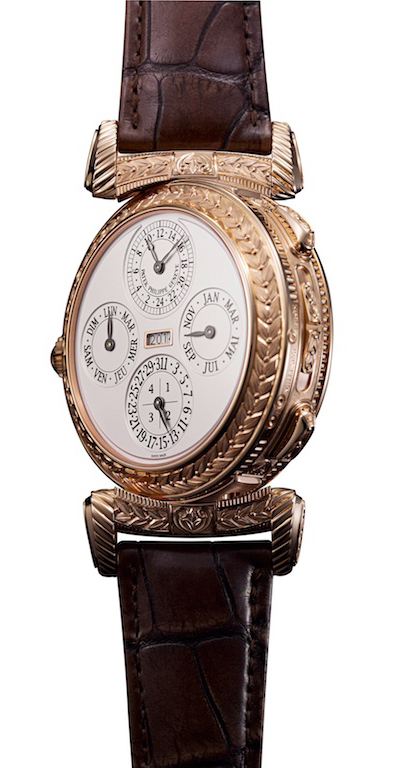 Patek Philippe Grandmaster Chime Ref. 5175 reversing mechanism in action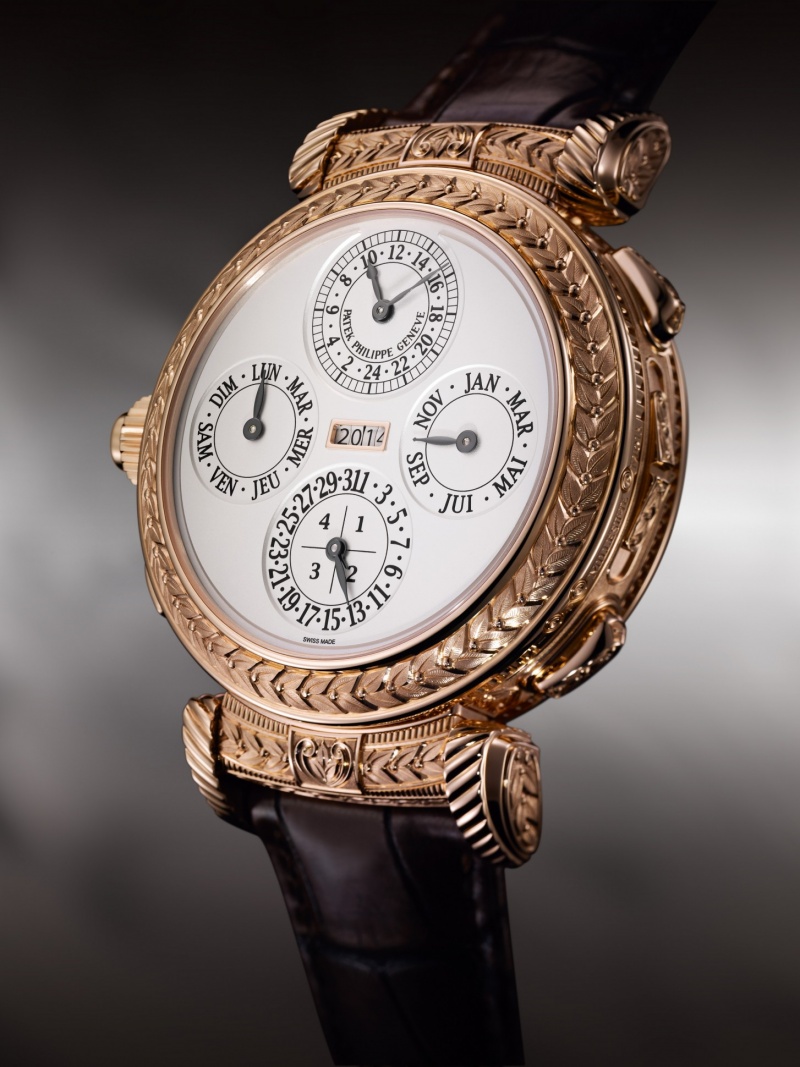 The double-faced Grandmaster Chime bring together no less than 20 complications in a case of 47mm in diameter. This is one of the most complex watches ever created, as it includes Grand Complications such as a Grande and Petite Sonnerie, a minute repeater, an instantaneous perpetual calendar with a four-digit year display, a second time zone, and two patented introductions to the world of chiming watches: an acoustic alarm that strikes the alarm time, and a date repeater that sounds the date on demand. All of the functions are in perfect harmony, and none of them interrupts or blocks the other, thanks to the mechanical isolators that disturb the flow of power to the rest of the mechanisms, while others are active.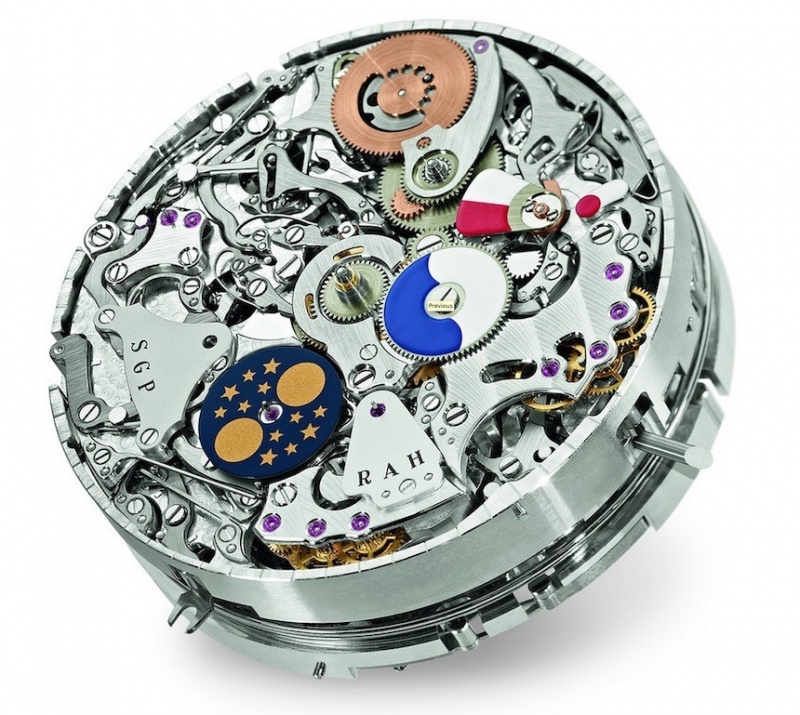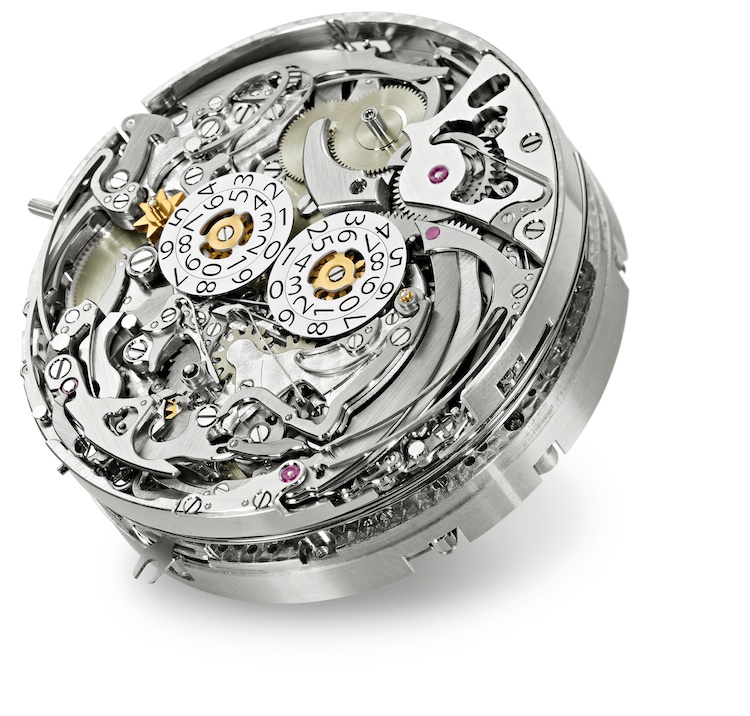 Patek's engineers have spent 100,000 hours to develop, produce and assembly the Grandmaster Chime, of which 60,000 hours was only for the movement. This highly complex mechanical marvel is built from 1366 individual parts, which are assembled and nestled in a case that is made of 214 separate components. To sum up, each Grandmaster Chime timepiece is made of 1580 components, and due to its complexity, only seven of these commemorative masterpieces are available for purchase.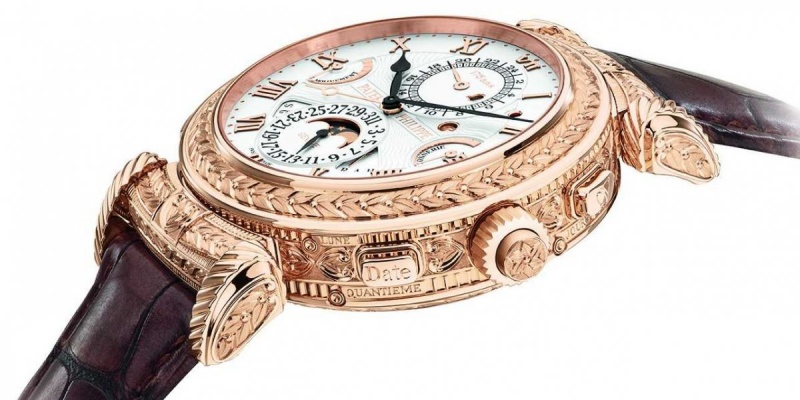 Patek Philippe Grandmaster Chime Ref. 5175 is made of 18-karat rose gold. The case is fitted with sapphire crystals on both sides, but these protect it only from dust and moisture – the watch is not water resistant. Its round golden case features a patented mechanism on the axis from 12 to 6 o'clock, and it is hand-decorated with Laurel wreath motif on the bezel. Both dials are silvery white opaline in color.
The time-side dial features a central guilloche pattern, applied golden Roman numerals, and indications for local time hour and minute, second time zone, alarm time, analog perpetual date, moon phases, strikework power-reserve indicator, movement power-reserve indicator, strikework mode display, crown position indicator, strikework isolator display (chimes enabled/disabled), and alarm ON/OFF.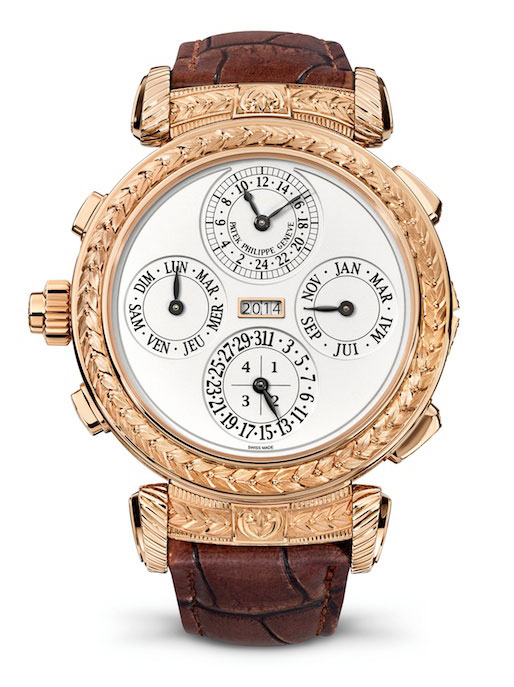 The calendar-side dial features a centrally-positioned gold frame for the four-digit year display. There are also four subsidiary dials for the 24-hour display, day, month, date, and leap-year cycle.
The indicators are driven by the manually wound mechanical movement Caliber GS AL 36-750 QIS FUS IRM, with 3 gongs and 5 different time strikes (Grande and Petite Sonnerie, minute repeater, alarm with time strike, date repeater), while each of the quarter-hour chimes has its own melody. In addition, the watch shows power reserve indicators for both the movement and the strike train, while its movement's power reserve lasts for a minimum of 72 hours. The movement beats at 25,200 semi-oscillations per hour, and it uses the innovative Spiromax balance spring made of silicon. The use of modern materials brings non-magnetic properties to the hairspring, which enables the movement to perform equally well at all power levels…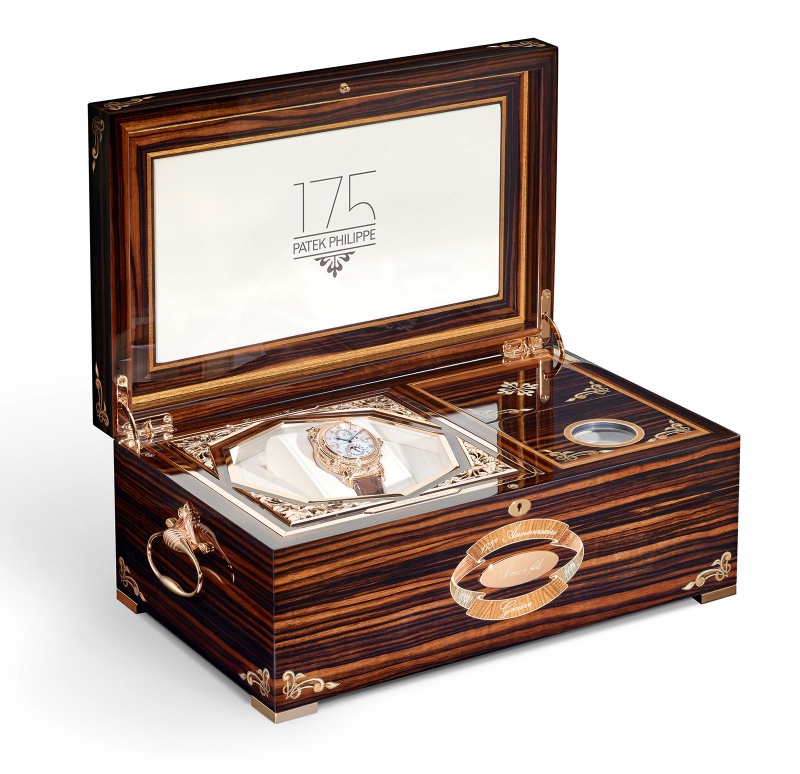 A special presentation box made from Madagascan ebony and seventeen other types of wood
Patek Philippe Grandmaster Chime Ref. 5175 is mounted on a brown alligator leather strap with 18-karat fold-over clasp, which is fully engraved by hand. The watch arrives in a special presentation box made from Madagascan ebony and seventeen other types of wood. The box is decorated with gold hand-engraved insets, and it features a commemorative 175th anniversary medallion. One of the watches from the 7-piece series will be held in the Patek Philippe museum in Geneva, while the other six will be offered to connoisseurs at a price of 2.5 million Swiss Francs per watch.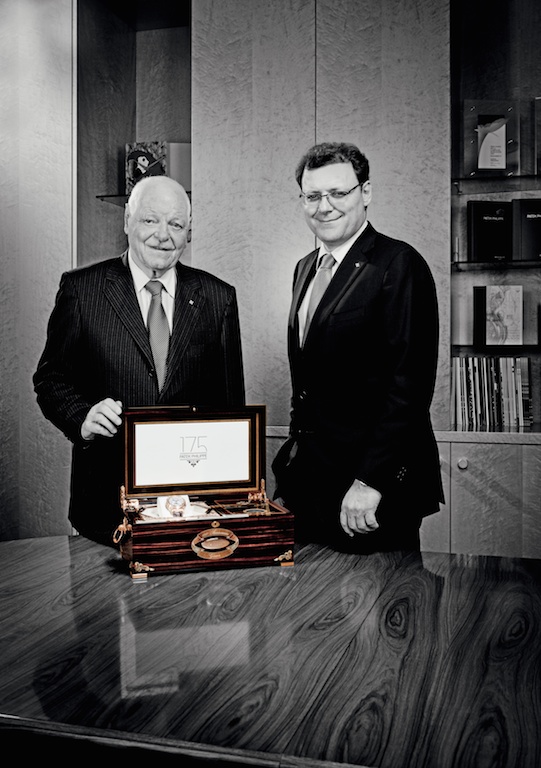 Patek Philippe Grandmaster Chime Ref. 5175 presented by Philippe and Thierry Stern
Patek Philippe 5175R-001 - 20 complications
1. Grande Sonnerie
2. Petite Sonnerie
3. Minute repeater
4. Strikework mode display (Silence/Grand Sonnerie/Petite Sonnerie)
5. Alarm with time strike
6. Date repeater
7. Movement power - reserve indicator
8. Strikework power - reserve indicator
9. Strikework isolator display
10. Second time zone
11. Second time zone day/night indicator
12. Instantaneous perpetual calendar
13. Day - of - week display
14. Month display
15. Date display (on both dials)
16. Leap year cycle
17. Four- digit year display
18. 24 - hour and minute subdial
19. Moon phase
20. Crown position indicator (RAH)
Author: Marina Milojevic
If you like our blog why don't you join our Facebook page or follow us on Twitter @luxoiscom.
If you use one of my articles on your own website or blog, then please credit me and provide a link back to the original.
Patek Philippe collections
Advertisement
Right now 100+ watches on sale!
Latest News from Patek Philippe