Marina Milojević
|
08.12.19
|
09:26 PM
The house of Bulgari has recently introduced the Monete secret watches, a trio that pays homage to the Maison's classical Greek and Roman roots. The model is designed with one of the Bulgari's famous motifs – the Monete. This time, Bulgari used ancient Roman and Greek coins to recreate something contemporary with what is immortal. The medallions originate from the times of turbulence in the Roman Empire after the death of Constantine the Great, when three of his sons - Constantine II, Constans and Constantius II - co-ruled.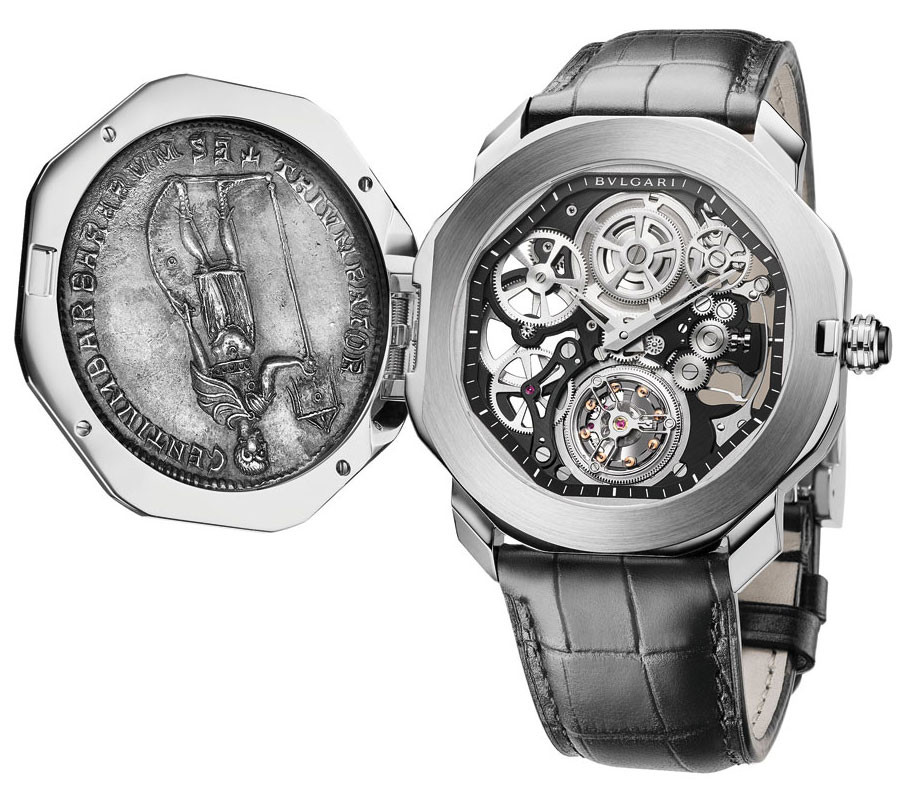 The first Monete secret watches were introduced two years ago, while some of the oldest Monete jewelry pieces date back to the 1960's. They have been worn by numerous celebrities, including Grace Kelly and Elizabeth Tailor. This year, on the occasion of the Bulgari Brand Event, which took place in June in Capri, the brand introduced two Octo Roma Monete watches in rose gold or platinum, and an exclusive pendant watch for ladies.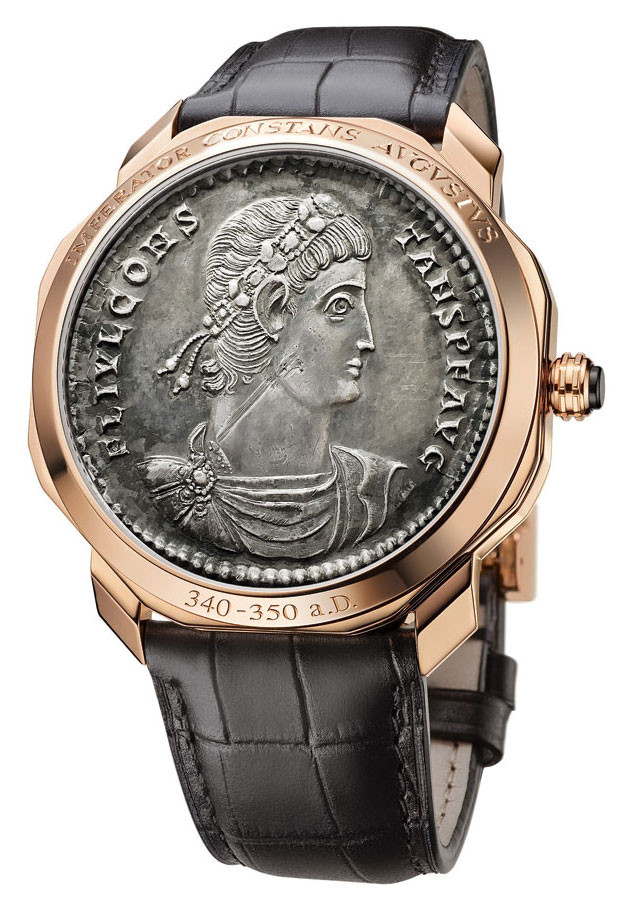 The first Bulgari Octo Roma Monete in rose gold is graced with a Roman coin from the 4th century featuring a relief of the Emperor Constans. The back side of the coin shows the Concordia, or harmony, evoking the story of the three brothers who knew how to rule together in peace for many years.
The coin used for the platinum version also shows Constans, while the reverse reveals a scene from the ruler's victory celebration over the Franks, along with the inscription: "TRIVMFATOR GENTIVM BARBARARVM" meaning: "triumphator over the barbarian nations".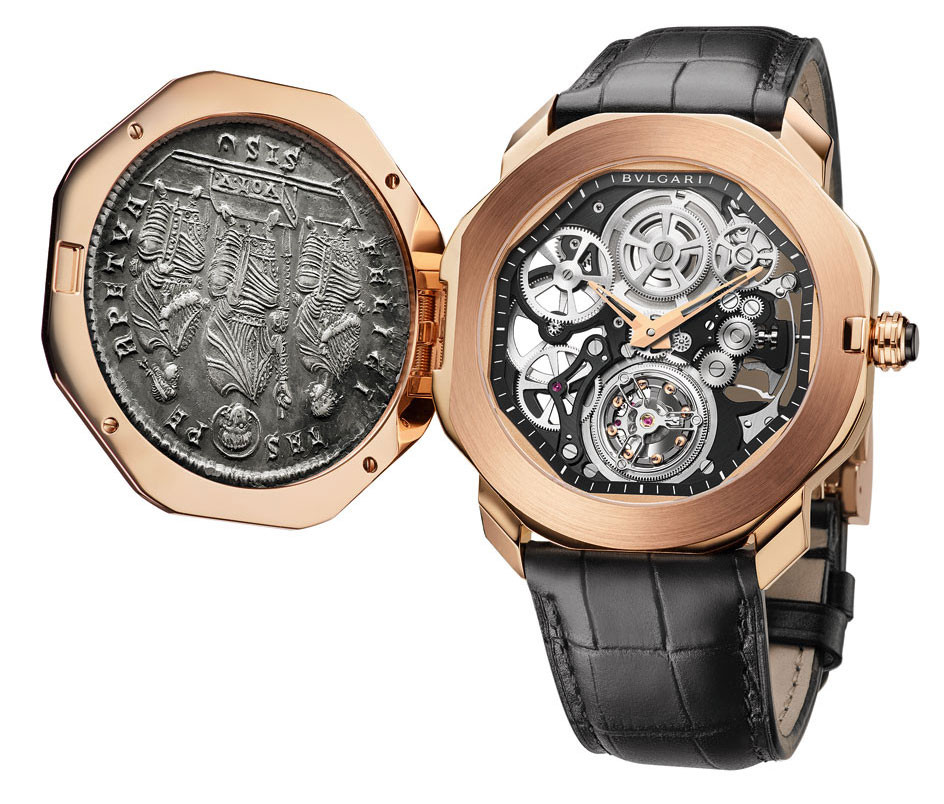 Both watches are presented in 44mm octagonal cases and fitted with an ultra-slim skeleton flying tourbillon movement, caliber BVL 268 SK. The manual-winding movement is only 1.95 millimeters' thick, it has a sapphire baseplate and a tourbillon cage mounted on ball bearings. The 253-component mechanism is mounted on 11 jewels, it oscillates at 21,600 vph, ensuring around 52 hours of power reserve. To tell the time, and also admire the finely executed movement, the wearer needs to press a dedicated button, which opens the face cover. These are unique watches, one in 18k rose gold and one in platinum, priced at CHF 530,000 and CHF 550,000, respectively.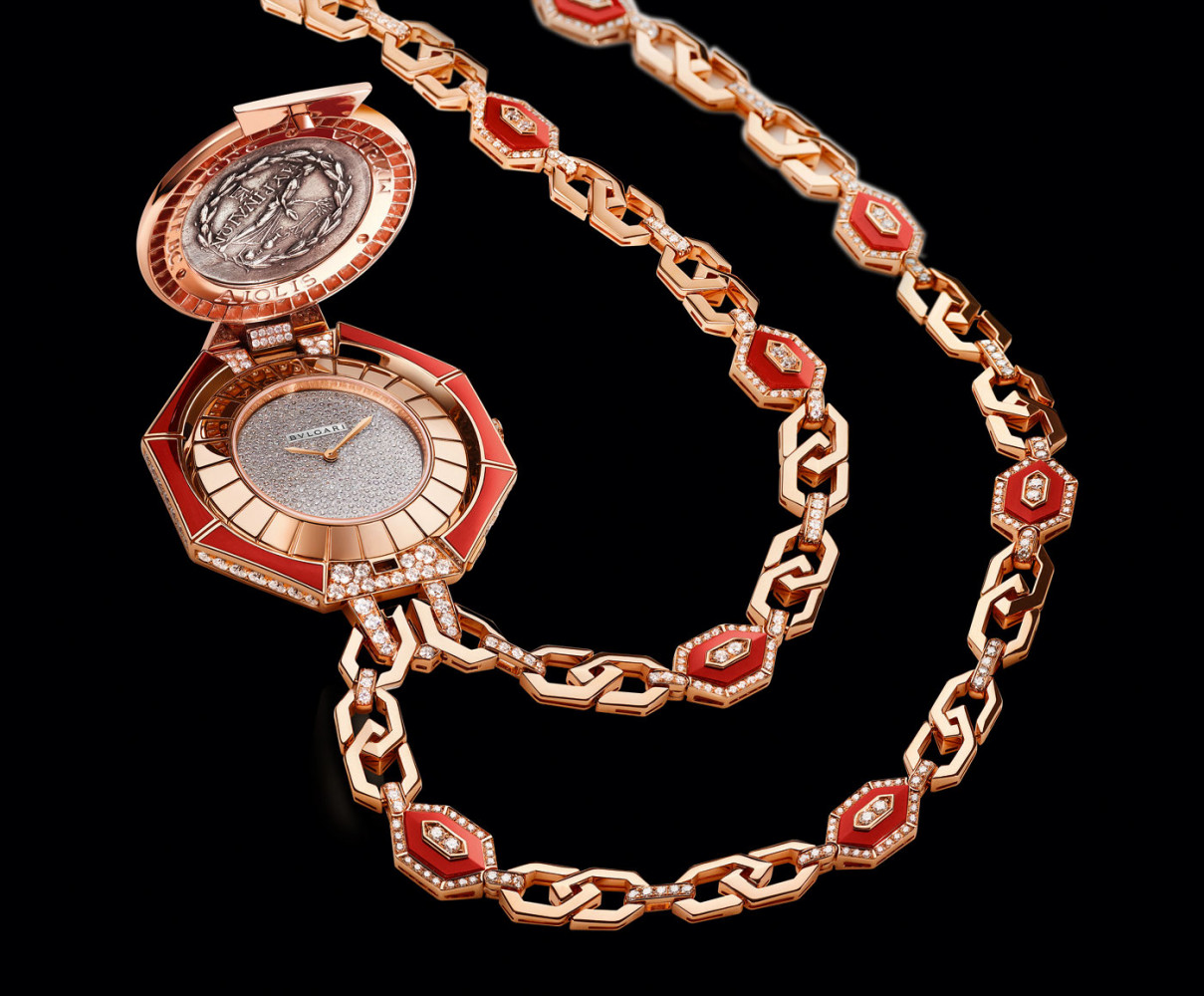 Lastly, there is a Monete high jewelry pendant secret watch in a rather large 41mm octagonal case adorned with coral and diamonds and an ancient silver Greek coin from 2nd century BC depicting the head laureate of Apollo of Grynion. The reverse side shows the god Apollo in relief. The pendant watch is quartz powered and suspended from a 90-centimeter gold chain. The bezel and the dial are graced with elements made of hand-cut rubrum coral sourced from Sardinia, and some brilliant-cut diamonds.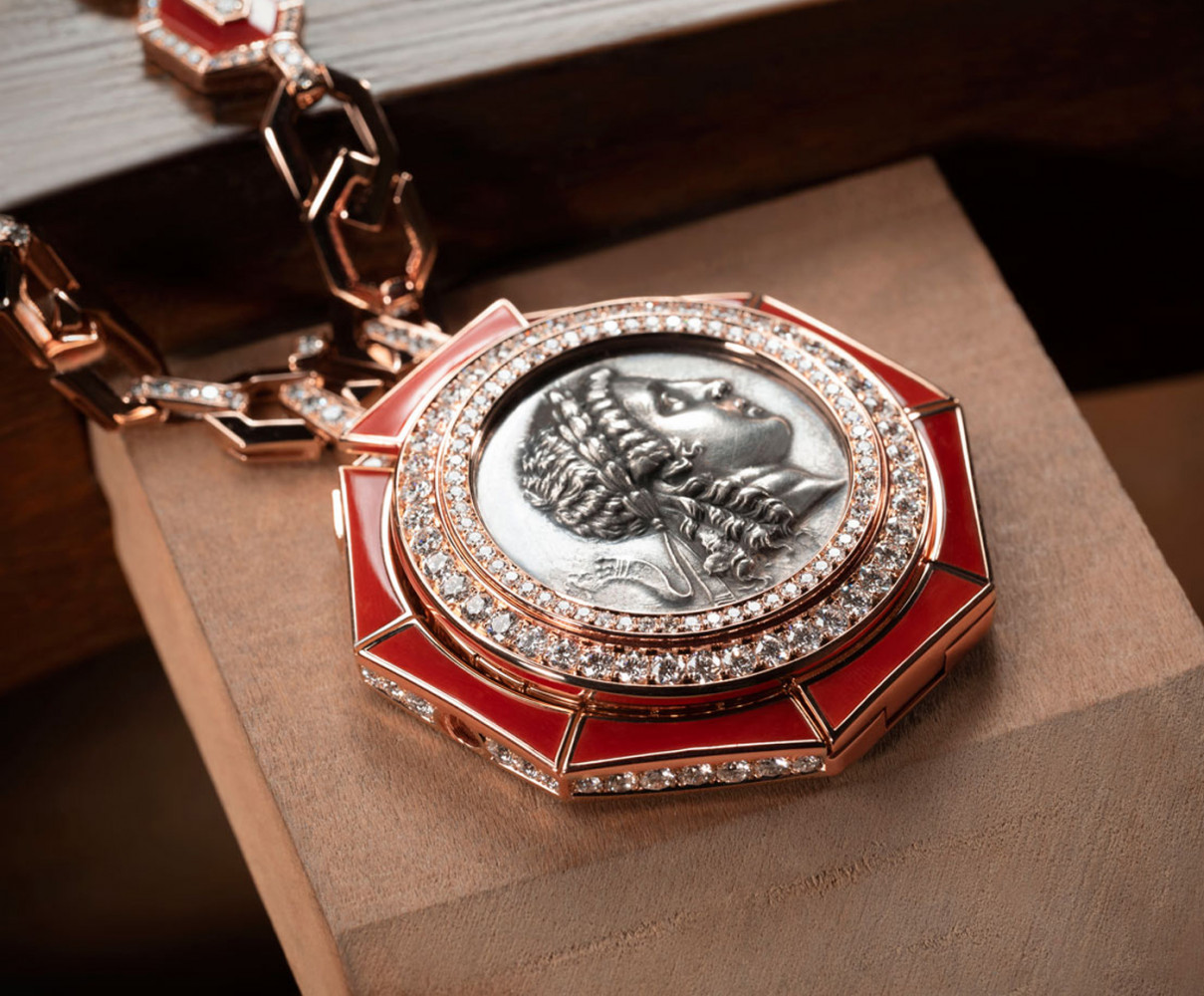 For more information, please visit bulgari.com.
Bulgari collections
Advertisement
Right now 100+ watches on sale!
Latest News from Bulgari