Marina Milojević
|
01.09.15
|
04:57 AM
January sees the launch of Cartier's new masterpiece – the beautiful, limited edition Ronde Louis Cartier XL with panthères filigrane artwork.
Cartier Ronde Louis Cartier XL Panthères Filigrane, which was announced a couple of weeks ago, will be officially unveiled during the Salon International de la Haute Horlogerie, in Geneve. This exquisite model is created in Cartier's new workshop Maison des Métiers d'Art, which is situated at the very heart of Swiss watchmaking industry – La Chaux-de-Fonds. With this new model, Cartier revisits the ancient technique of filigree, which is an extremely delicate kind of decorative metalwork, made using miniscule beads or twisted threads, which are soldered together to the surface of the metallic object. The word filigree is derived from Latin filum, which means meaning thread and "granum" grain. This old technique developed into a special branch of jewelry in modern times, even though it originates from ancient Mesopotamia, since 3.000 BC, but the most prized example of filigree work, distinguished by its extraordinary complexity, dates from Portuguese decorative traditions of the 17th and 18th centuries.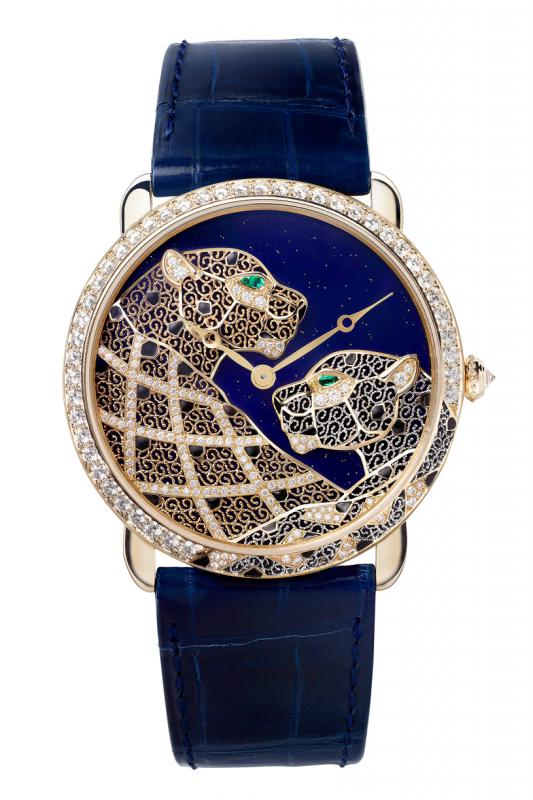 In 2015, Cartier reinvents the ancient technique of filigree by adapting it to the limited size of a watch dial. In addition, the brand transcends the known realms of this craft by experimenting with the most precious materials such as gold, platinum and diamonds. To make this possible, Cartier had to design and produce very special tools to beat gold and platinum into very thin micro-threads. The threads were twisted, rolled, curled, and then cut into very small rings that were fused together using the openwork filigree technique, which allows the elements of the design to be attached on the sides, rather than onto the base.
Cartier Ronde Louis Cartier XL panthères filigrane is issued in a special limited edition comprising of 20 individually numbered pieces. Each and every one of these precious dials requires more than a month of work. It reveals a couple of panthers whose delicate fur is rendered in black lacquer interwoven with fine golden wires, diamonds and platinum. The eyes are made of green emeralds.
Cartier Ronde Louis Cartier XL panthères filigrane is made of 18-carat yellow gold, and it measures 42mm in diameter. This manually wound watch is powered by the mechanical caliber 430 MC, and it is only 8mm thick. The crown is beaded adorned with a brilliant cut diamond, while the dark blue alligator strap features a yellow gold clasp with brilliant cut diamonds. The watch is water resistant to 30 meters.
For more information about Cartier's new models for 2015, see our recent previews:
Author: Marina Milojevic If you like our blog why don't you join our Facebook page or follow us on Twitter @luxoiscom.
If you use one of my articles on your own website or blog, then please credit me and provide a link back to the original.
Cartier collections
Advertisement
Right now 100+ watches on sale!
Latest News from Cartier