Marina Milojević
|
10.21.16
|
01:51 PM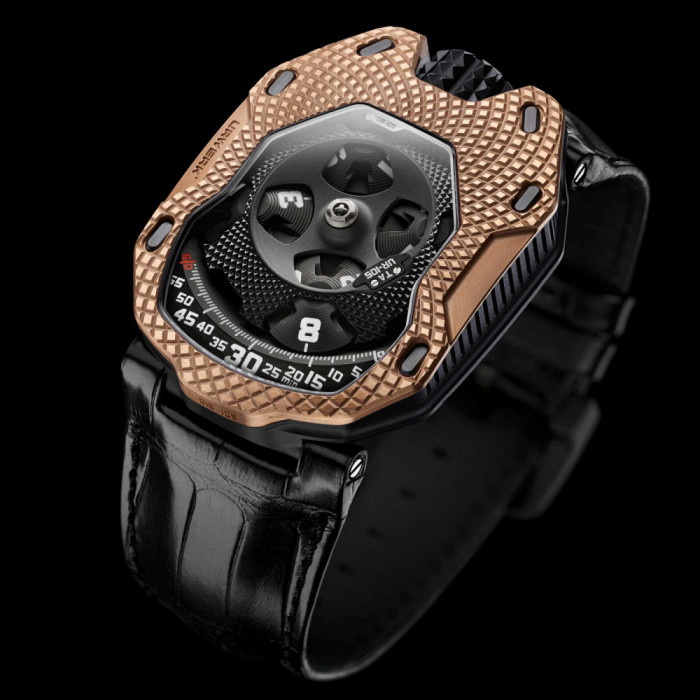 Urwerk has just released yet another version of its avant-garde UR-105 model. This extraordinary timepiece, which unites all of Urwerk's iconic technical and aesthetic codes, is now offered in an ultimately luxurious, red gold version, paying a subtle tribute to Martin Frei's love of gold. This is how Frei, Urwerk's co-founder and chief designer, explained the inspiration behind the Raging Gold UR-105: "There's always this little inner voice that reminds me how much I love this metal. Beyond the march of technology, changes in fashion, new functions, new materials; gold is always gold. It's forever. It's the metal that lights me up."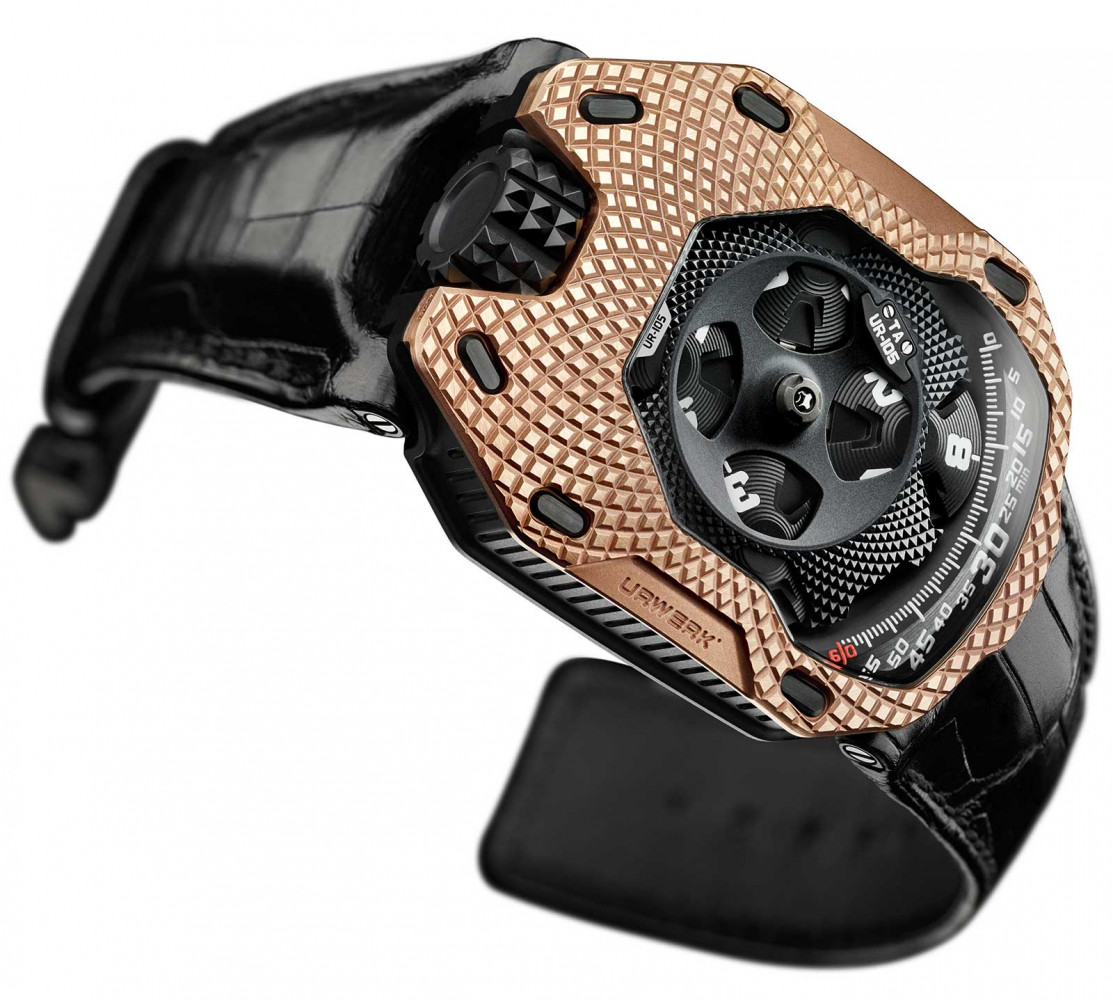 The most prominent feature of the new model is its shield-like bezel made of red gold. The golden plate, which is placed on top of the titanium case, is decorated with fine engravings, using the classic Clous de Paris pattern. This guilloche design consists of hollowed lines that intersect to form small pyramidal shapes, or hobnails. What Urwerk wants is to engage as many of our senses as possible – not only that the watch is a pleasure to look at, but it is also a pleasure to touch.
In technical terms, the Raging Gold model is just the same as any other watch from the UR-150TA lineup. It belongs to the revolving satellite collection, which has been an emblematic feature of Urwerk for more than 18 years. The TA postscript designates the "Turbine Automatic" system, which uses dual air turbines, visible from the back of the case, to optimally regulate the movement's automatic winding.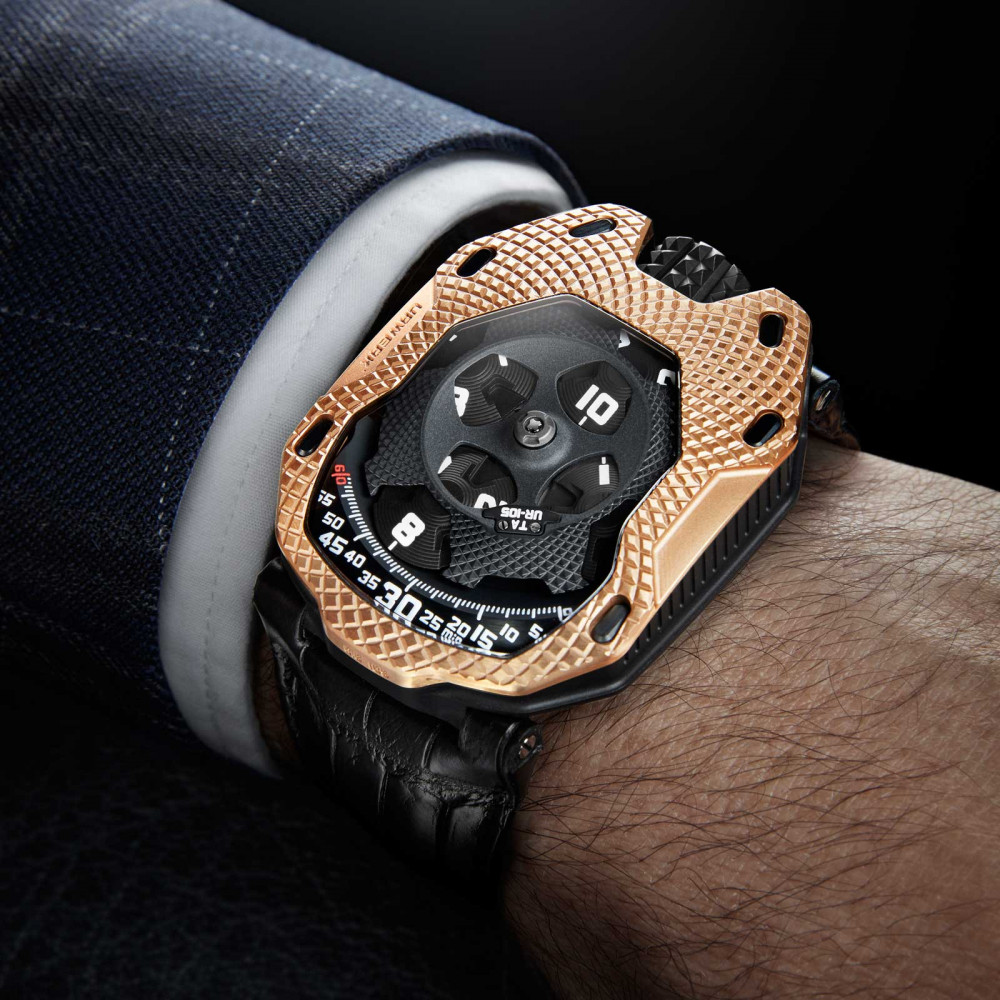 The time-telling function is facilitated via four satellites, each stamped with three hour numerals. The numbers continually expose themselves as they travel along the minute track to display the time. The movement's automatic winding is regulated by turbines that appear on the back of the case. When the lever is switched to FULL, the winding rotor reacts to even the slightest movement of the wrist. In the RED (reduced position) the rotor's movements are dampened to avoid excessive tension in the mainspring. In the STOP mode, the mechanism is disengaged and watch can be wound only manually, via the crown.
Urwerk Raging Gold UR-105TA is available in a limited edition of 22 pieces. The watch is water resistant to 30 meters of depth, and it comes mounted on a black lacquer alligator leather strap. The watch retails at around 70,000 CHF (without taxes). More information at Urwerk.com
Urwerk collections
Advertisement
Right now 9 watches on sale!
Latest News from Urwerk