Marina Milojević
|
09.17.18
|
02:56 AM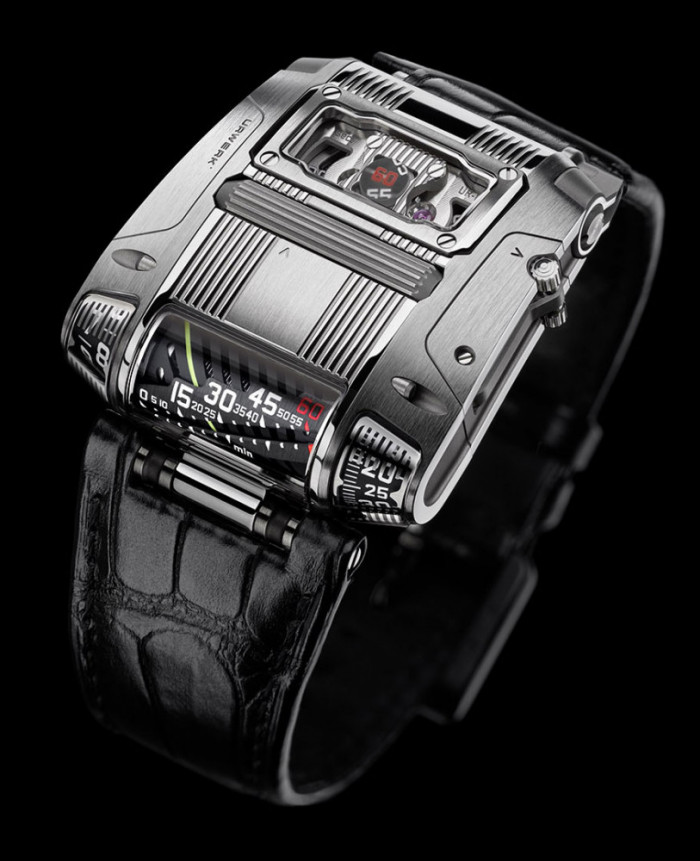 Urwerk's Special Projects collection welcomes a new addition, the highly original Urwerk UR-111C, a watch that abandons Urwerk's signature theme of wandering-hour indications in favor of a completely unconventional display.
With the new UR-111C, Urwerk aims to connect the wearer and his horological machine, to create a bond between a man and a mechanism. The watch becomes a part of its wearer, a tool that gives him information in return for energy.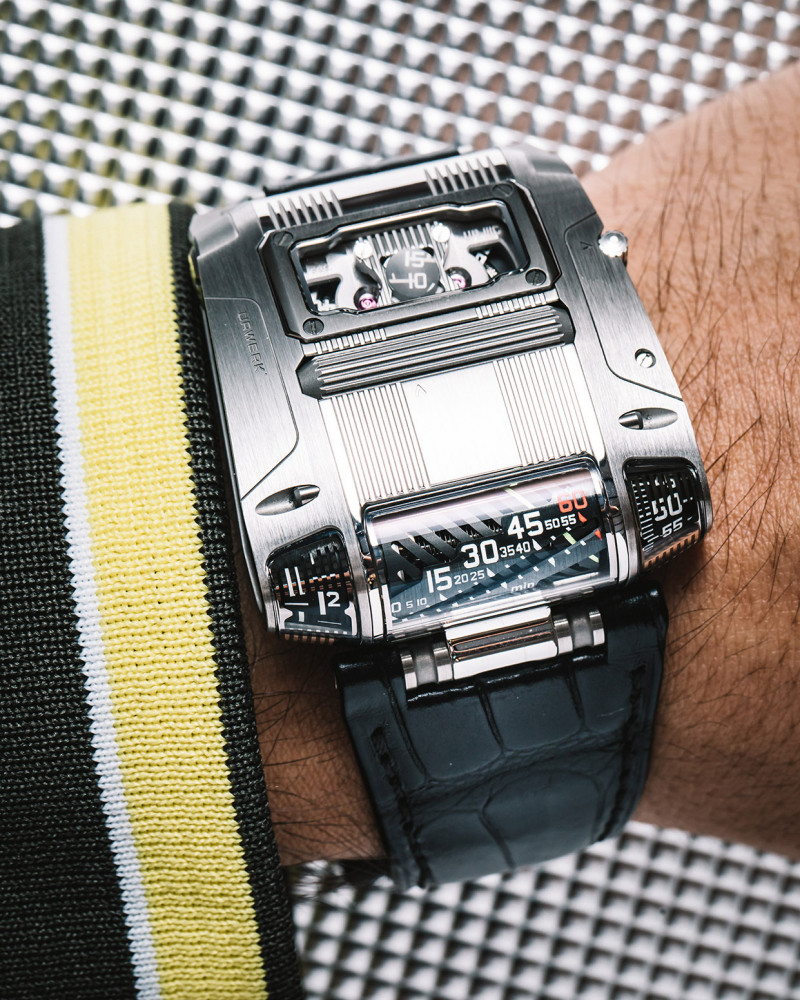 With this interesting concept in mind, Urwerk designed a special roller that is integrated into the top of the case, above and parallel to the winding stem. Instead of using the conventional crown, the watch is wound by rolling the cylinder with a finger. Even though it looks simple, this innovation actually relies on miniature gearing, complex articulations and intermediate wheels to connect the controls to the winding stem. Setting the time is also performed in a similar manner - instead of pulling out a crown, the wearer can swing out a lever from the side of the case and turn the roller in either direction.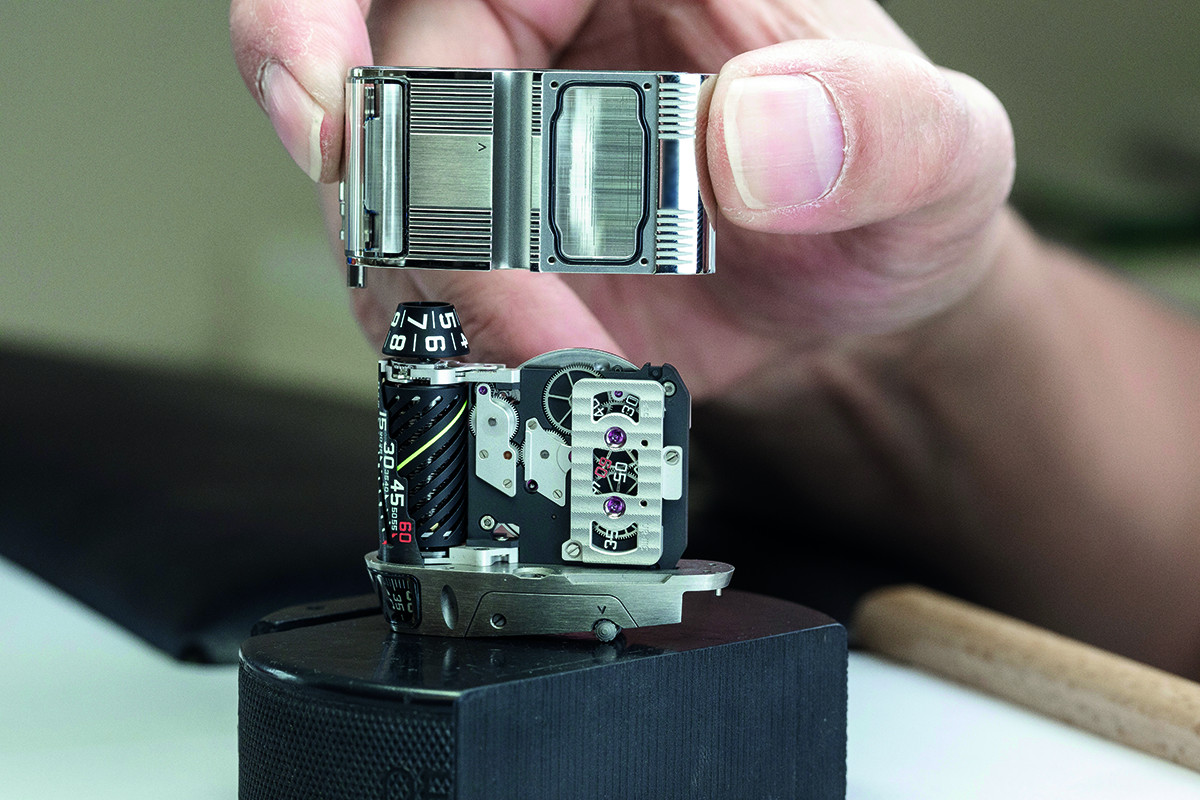 A descendent of the UR-CC1 Cobra watch, the UR-111C indicates minutes in two different ways, both linearly and digitally. The hours and two displays of the minutes are positioned along the side of the case, so the wearer can see them without turning the wrist. The watch face reveals two conical displays - the jumping digital hours on the left side, and running minutes on the right, framing the retrograde linear indication of the minutes.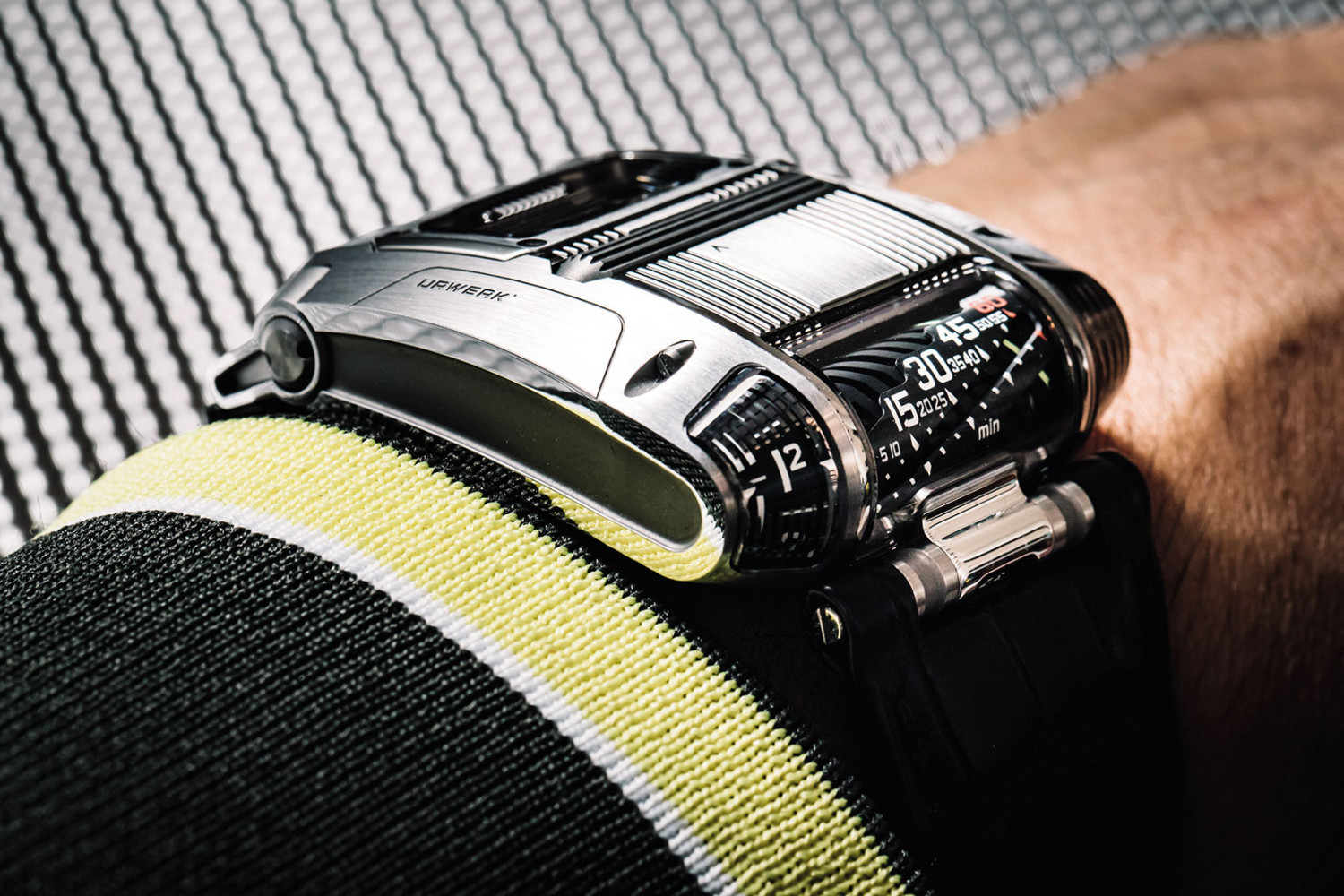 The linear track of the display is even more interesting than that on the UR-CC1 King Cobra. Curved and angled, it inclines diagonally across its aperture, so the cylinder rotates 300 degrees around its axis to bring the helix to the 60th minute. The minutes jump back to zero after cylinder has completed its rotation.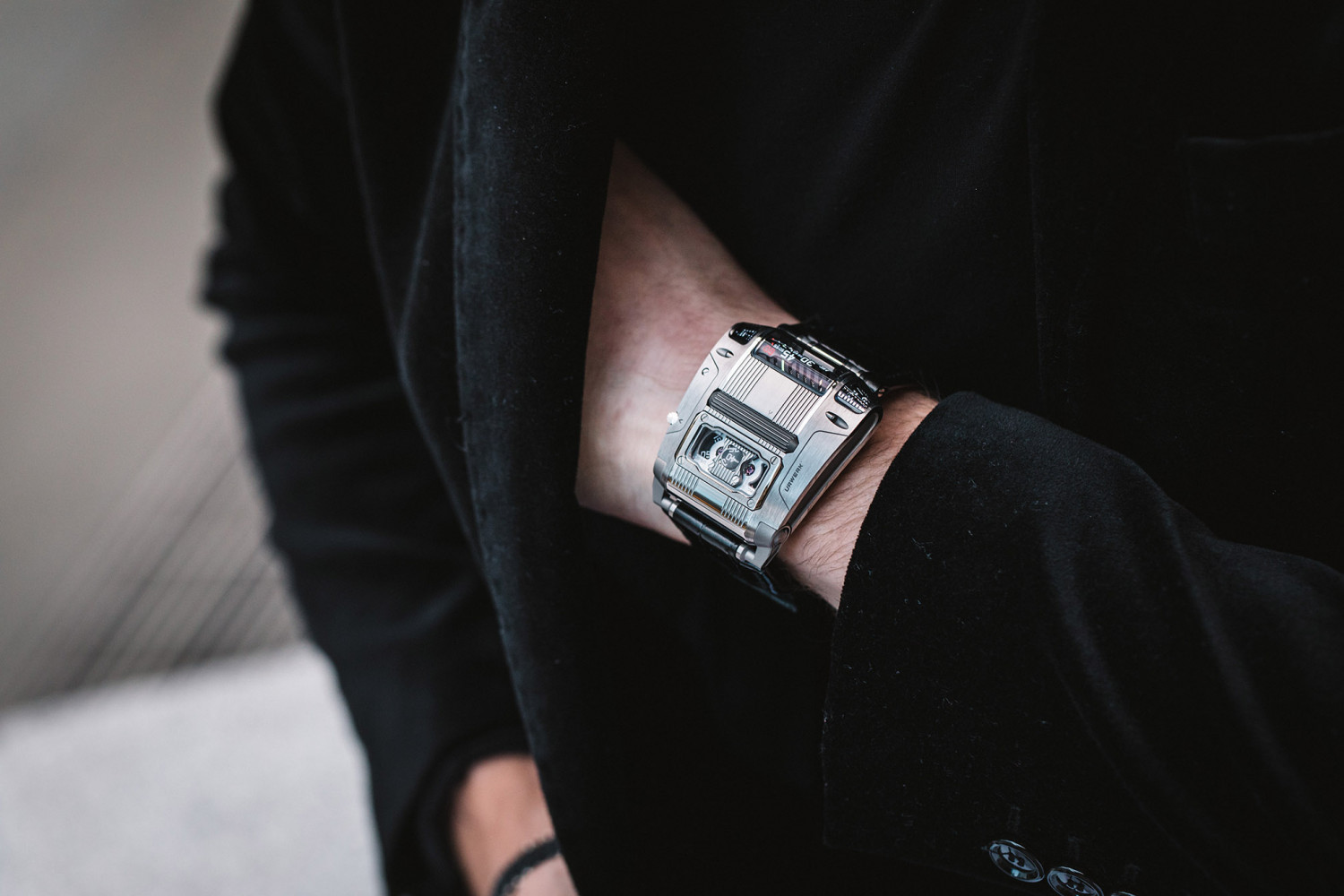 On top of the watch, underneath a "magnifying crystal", is the unusual digital seconds display that uses two tiny wheels - 10, 20, 30, 40, 50 and 60 on one wheel, and 5, 15, 25, 35, 45 and 55 on the other – each passing alternately across a circular window. The magnifying glass is actually a dense cluster of precisely aligned optical fibers, an image conduit, which makes the seconds numerals appear strangely close to the eye – a first in watchmaking!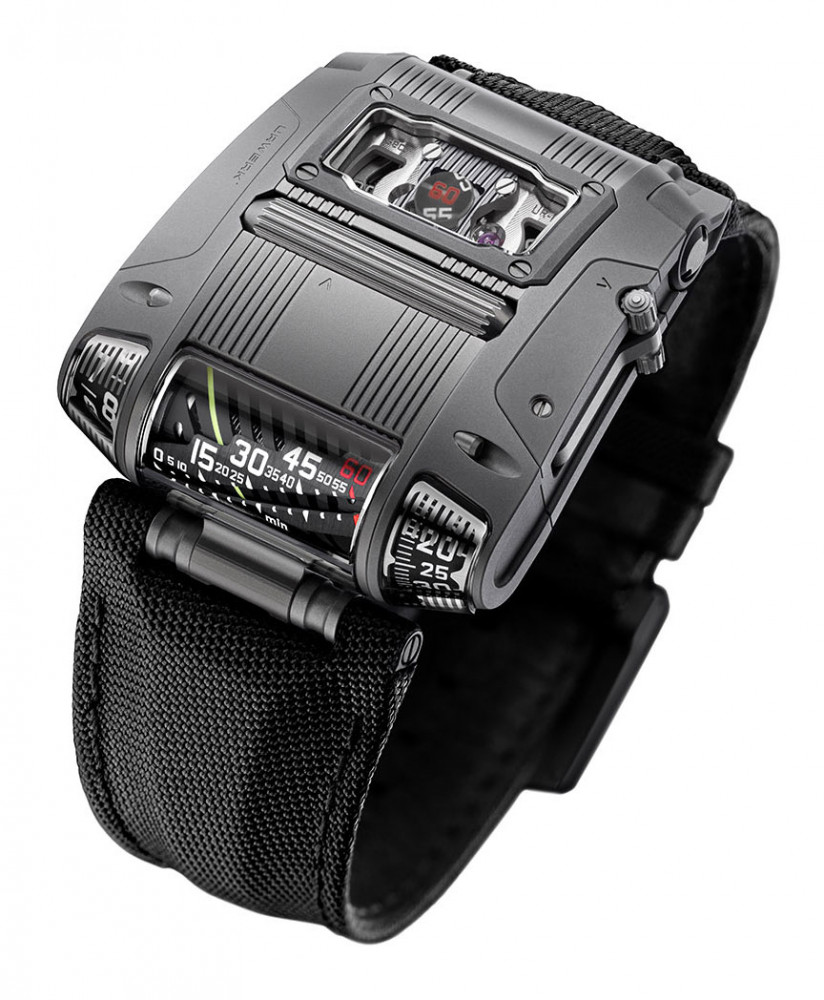 Urwerk's new UR-111C is available in two versions – polished or gunmetal steel. This generously proportioned watch measures 42mm in width, 46mm in length, and has a thickness of 15mm. The watch is powered by the high-frequency automatic movement (4Hz) equipped with 48 hours of power reserve. A sapphire case-back reveals its fine finishing including Geneva stripes, circular graining, and sanding.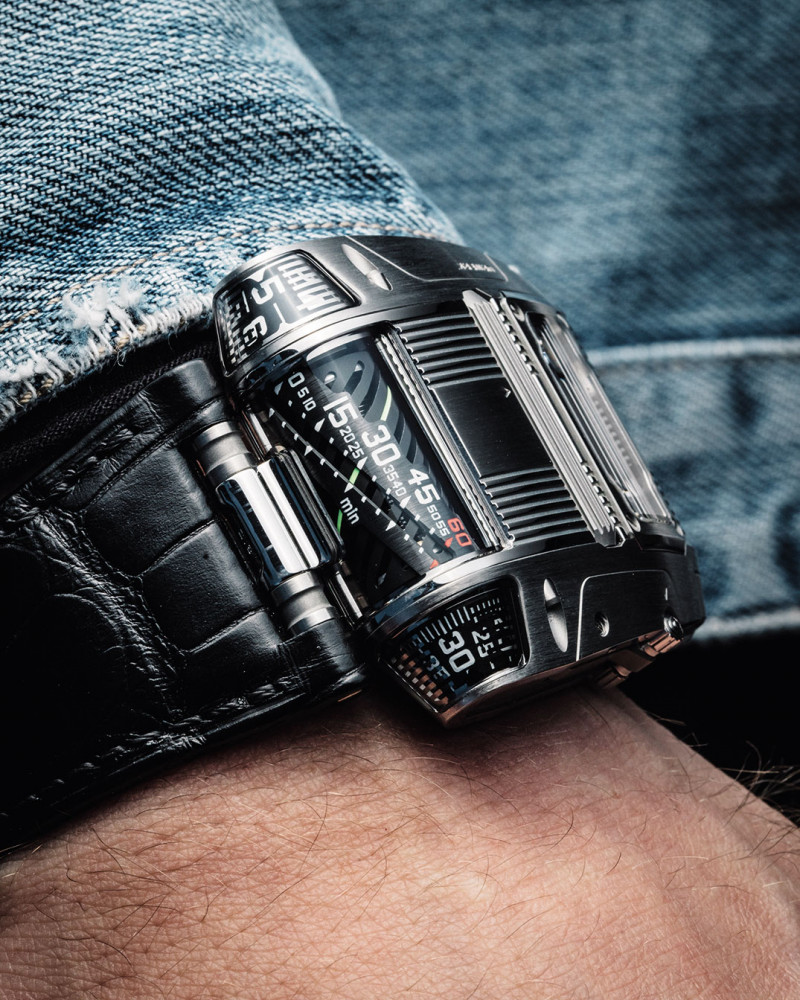 The Urwerk UR-111C is produced in a limited run of 50 pieces, 25 per each version. The price is same for both of them - 130,000 CHF, tax excluded. - Urwerk.com.
Urwerk collections
Advertisement
Right now 9 watches on sale!
Latest News from Urwerk